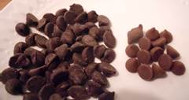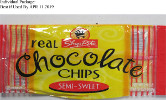 OU Kosher Alert – Update: ShopRite Chocolate Chips
September 5, 2017 from the OU:
ShopRite ShopRite Real Chocolate Chips Semi-Sweet, 24 oz. bag, Wakefern- Keasbey, NJ:
This product is certified as OU Pareve and has been recalled. A few bags with Best if Used By APR 12, 2019, were found to contain a small amount of Kosher Dairy chocolate chips. The vast majority of bags from this lot contained pareve chocolate chips exclusively. A second lot, with a Best if Used By APR 11 2019 has been recalled out of an abundance of caution.
If someone has severe dairy allergies, these guidelines should not be followed and a product baked after May 18, 2017, should not be consumed.
If a consumer baked with the chocolate chips, it does not affect the kosher status of their oven or utensils. Unless one specifically noticed light colored milk chocolate chips, the item baked may be considered pareve.
Unused chocolate chips from the above mentioned "best buy" codes should not be used and returned to the place of purchase.
FDA alert about the same problem:
Wakefern Food Corp. Voluntarily Recalls ShopRite Semi-Sweet Real Chocolate ChipsOU Kosher Alert ShopRite Chocolate Chips
September 1, 2017 from the FDA:
Wakefern Food Corp. has initiated a voluntary recall of its ShopRite brand Semi-Sweet Real Chocolate Chips. The chips were sold in 24 oz. bags bearing a UPC bar code of 041190 02668 and Best if Used By dates of April 11, 2019 and April 12, 2019.
The recall was issued because the package may contain milk chocolate chips, and milk is not declared in the ingredient statement.
The product was sold in ShopRite, The Fresh Grocer and other retail stores located throughout the Northeast. Wakefern has contacted ShopRite and The Fresh Grocer Price Plus Club customers who have purchased this product to alert them to the recall.
Customers who purchased the chocolate chips may return them for an immediate refund or replacement
Customer questions or concerns about the recall can be directed to 1-800-ShopRite (1-800-746-7748) Monday – Friday from 8 a.m. to 6 p.m. and from 9 a.m. to 5 p.m. on Saturday and Sunday.