K A S H R U T . C O M©
The Premier Kosher Information Source on the Internet
---
HOME | PASSOVER | CONSUMER | COMMERCIAL | TRAVEL | ZEMANIM | LINKS | ARTICLES | RECIPES | HUMOR | E-MAIL LIST

---
Consumer Kashrut Alerts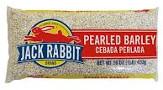 Insect infestation alert on Jack Rabbit Barley
December 25, 2017 from the COR Detroit:
JACK RABBIT BARLEY with code dates 06Jul18L and 22Sep18L has been found to be infested, and should not be used without checking the product thoroughly.  Each entire bag should be examined by placing a small pile of barley - about two ounces at a time - on a white paper plate (not plastic, which creates a shine) with a very good overhead light that illuminates the plate. Use a finger or a fork to drag a small amount of barley away from the pile, spreading that barley in a single layer. Visually inspect the spread-apart barley, looking for webbing, black insects and white or tan worms between or under the kernels. Repeat this until the entire pile has been checked. Then do the same for the rest of the barley in the package.  
Consumers who store barley or other grains for extended amounts of time are advised to store these products in the refrigerator or freezer in order to prevent infestation
The information posted is from secondary sources. We cannot take responsibility for the accuracy of the information.
Copyright © kashrut.com. Permission is granted to reprint these alerts in hardcopy print media if kashrut.com is credited as the source of the information.
כל האומר דבר בשם אומרו, מביא גאלה לעולם אבות ו"ו