K A S H R U T . C O M©
The Premier Kosher Information Source on the Internet
---
HOME | PASSOVER | CONSUMER | COMMERCIAL | TRAVEL | ZEMANIM | LINKS | ARTICLES | RECIPES | HUMOR | E-MAIL LIST

---
Consumer Kashrut Alerts
Kashrut infomation on Snyders of Hanover Pretzel Products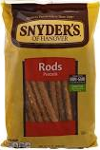 February 28, 2018: From the OU:
The following Snyders of Hanover products, are labeled OUD, but in fact, its true status, at the present time, is DE (Dairy Equipment):
Gluten Free Pretzels
Mini Pretzels Fat Free
Any Unflavored Pretzel
Braided Twists Pumpernickel & Onion
Broken Olde Tyme Pretzels
Cinamon Sugar Pretzel Poppers
Cinnamon Sugar Sweet Pretzel Pieces
Corn Tortilla Chips
Firecracker Bbq Pretzel Pieces
Gluten free Mini Pretzels
Gluten Free Pretzel Sticks, Honey Mustard and Onion
Honey Mustard & Onion Nibblers gluten free
Honey Wheat Braided Twists
Honey Wheat Sticks
Jalapeno Flavored Sourdough Hard Pretzel Pieces
Korn Krunch BBQ
Korn Krunch Hot Chili Lime
Mini Pretzels
Mini Pretzels Fat Free Unsalted
Natural Garden Veggie Sticks
No Salt Round Pretzel Snaps
Old Fashioned Dipping Stick Pretzels
Peanut Butter Pretzel Sandwiches
Plain Pretzels
Pretzel Pieces, Hot Buffalo Wing
Pretzel Pieces, sweet chili
Salted Olde Tyme Pretzels
Sourdough Hard Pretzels
Sourdough Nibblers
Pretzel Poppers
Pretzel Rods
Pretzel Snaps
Pretzel Spoonz
Corn and Restaurant Style Tortilla Chip
Dairy equipment products may be eaten after meat, but not with meat. The OU recommends that consumers reconfirm this information every three months at kosherq@ou.org or at 212-613-8241.
The information posted is from secondary sources. We cannot take responsibility for the accuracy of the information.
Copyright © kashrut.com. Permission is granted to reprint these alerts in hardcopy print media if kashrut.com is credited as the source of the information.
כל האומר דבר בשם אומרו, מביא גאלה לעולם אבות ו"ו