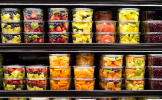 FDA Investigating Multistate Outbreak of Salmonella Adelaide Infections Linked to Pre-Cut Melons
June 14, 2018 - FDA:
FDA advises consumers not to eat recalled fresh cut watermelon, honeydew melon, cantaloupe, and fresh-cut fruit medley products containing any of these melons. Products have been distributed in Alabama, California, Florida, Georgia, Illinois, Indiana, Iowa, Kansas, Kentucky, Maryland, Michigan, Minnesota, Missouri, Nebraska, North Carolina, North Dakota, Ohio, Pennsylvania, South Dakota, Tennessee, Virginia, West Virginia, and Wisconsin. The products were packaged in clear, plastic clamshell containers under several different brands or labels and distributed to Costco, Jay C, Kroger, Payless, Owen's, Sprouts, Trader Joe's, Walgreens, Walmart, Whole Foods/Amazon. Other retail locations may be added to the list.
---
Caito Foods, LLC Voluntarily Recalls Fresh Cut Melon Products Because of Possible Health Risk
Trader Joe's , Whole Foods, Sprouts + More Recall Fresh Cut Melons for Salmonella (US/GA, IL, IN, KY, MI, MO, NC, OH)
June 9, 2018 - FDA and stopfoodborneillness.org
Caito Foods is voluntarily recalling fresh cut watermelon, honeydew melon, cantaloupe and fresh-cut mixed fruit containing one of these melons, produced at the Caito Foods facility in Indianapolis, because these products have the potential to be contaminated with Salmonella.
Reports of illnesses linked to these products are under investigation, and Caito Foods is voluntarily recalling the products out of an abundance of caution. The company has been advised by the CDC that it has linked 58 illnesses to the strain of Salmonella under investigation. Caito Foods has ceased producing and distributing these products as the company and FDA continue their investigation. The products were packaged in clear, plastic clamshell containers and distributed in Georgia, Illinois, Indiana, Kentucky, Michigan, Missouri, North Carolina and Ohio.
Because it is possible that products shipped between April 17 and June 7, 2018 could still be on store shelves, this recall extends to both retailers and consumers.
The potential that these products are contaminated with Salmonella was discovered through analyzing reports made by state departments of public health. Caito Foods has ceased producing and distributing these products as the company and FDA continue their investigation.
Consumers seeking information may call 844-467-7278 Monday through Friday, 6 a.m. to 10 p.m. CT and Saturday and Sunday, 6 a.m. to 6 p.m. CT.
Retailers and wholesale customers should check their inventories and shelves to confirm that none of the products are present or available for purchase by consumers or in warehouse inventories. Please contact 844-467-7278 Monday through Friday, 6 a.m. to 10 p.m. CT and Saturday and Sunday, 6 a.m. to 6 p.m. CT to arrange for disposal or return of the product.
This recall is being conducted with the knowledge of the U.S. Food and Drug Administration. The recalled products are here: