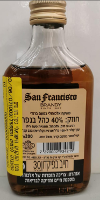 June 15, 2020 from health.gov.il
Upon inspection by the Food Service in the Health Bureau, Center District, the denatured substance of the tertiary butyl alcohol type, which may cause skin or eye irritation, was found in the product:
San Francisco Brandy-Flavored Spirit, 200 ml U
nder the Exclusive Supervision of Lev HaSharon Rabbinate
Manufacturer's Name: Arak Gat Winery Ltd.
Barcode: _7290002934219
Consumers in possession of this product are urged not to consume it.
Arak Gat Winery Ltd. is recalling the product from the marketing venues in coordinated efforts with the Food Service in the Ministry of Health.
Please refer to your inquiries to yekev.arak.gat@gmail.com or 0522645800.