K A S H R U T . C O M©
The Premier Kosher Information Source on the Internet
---
HOME | PASSOVER | CONSUMER | COMMERCIAL | TRAVEL | ZEMANIM | LINKS | ARTICLES | RECIPES | HUMOR | E-MAIL LIST

---
Consumer Kashrut Alerts
Israeli Allergy Alert - Lev HaTeva CORN CRACKER NO WHEAT AND 5 CEREALS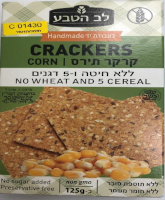 November 11, 2020 from health.gov.il
L. B. ZOHAR COMMERCE AND MARKETING COMPANY LTD. RECALLS THE PRODUCT: CORN CRACKER NOWHEAT AND 5CEREALS
Upon testing, conducted by the Food Service of the North District Health Bureau as part of random testing, a presence of gluten traces was discovered, which were not listed in the "information regarding allergens" section of the label.
Product: CORN CRACKER NOWHEAT AND 5CEREALSBarcode: 7290012795176
Manufacturer Name: L. B. ZOHAR COMMERCE AND MARKETINGLtd.
Distributer name: Naturefood.
Expiry dates included: 26.11.20 -30.04.21
Consumers allergic to gluten and other allergens listed on the product label are asked not to consume them.
Lev Hateva" factory, in coordination with the Food Service at the Ministry of health,recalls the productfrom marketing ways. You maycontact us by phone: 052-8029334/5
The information posted is from secondary sources. We cannot take responsibility for the accuracy of the information.
Copyright © kashrut.com. Permission is granted to reprint these alerts in hardcopy print media if kashrut.com is credited as the source of the information.
כל האומר דבר בשם אומרו, מביא גאלה לעולם אבות ו"ו