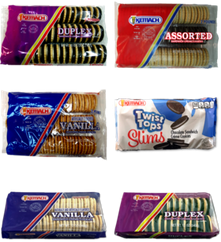 Chodosh Alert - Kemach Sandwich Cookies & Kemach Updates
February 15, 2021: from Mrs. Rosskamm, The Guide to Chodosh, Hot Line 718-305-5133. Email: yherman20@gmail.com and www.kemach.com:
"Due to unforeseen circumstances our latest production of Sandwich Cookies which historically has always been made with winter wheat and had no potential to be Chodosh was produced with spring wheat. As such the following products produced recently with the following code dates on them are CHODOSH even if the package says Yoshon on it."
25oz. Vanilla, Assorted, or Duplex (Code date: 033 21)
12oz. Vanilla and Duplex (Code date: 032 21)
Twist Top SLIMS (Code date: 039 21)
"We are doing our best to make sure we do not sell any where the word "Yoshon" on the package has not been crossed out, however the potential for human error always exists."
Kemach Chodosh Updates are here