K A S H R U T . C O M©
The Premier Kosher Information Source on the Internet
---
HOME | PASSOVER | CONSUMER | COMMERCIAL | TRAVEL | ZEMANIM | LINKS | ARTICLES | RECIPES | HUMOR | E-MAIL LIST

---
Consumer Kashrut Alerts
Kashrus Alert & Clarification - UK Costco/Kirkland Signature Batch Cooked & Crinkle Cut Himalayan Salt Potato CRISPS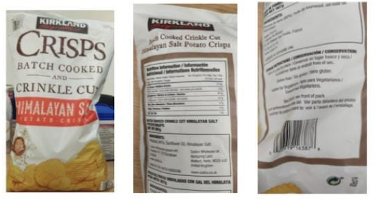 June 11, 2021: From the LBD Twitter:
Kirkland Signature Crisps Crinkle Cut Himalayan Salt sold at CostcoUK have been labelled in error with the Kof K logo, but are in fact #kosher certified by KLBD. Future batches will bear the KLBD Parev logo.
June 7, 2021: From the Kof-K:

Costco/Kirkland Signature brand Batch Cooked Crinkle Cut Himalayan Salt Potato CRISPS, stating "Made in United Kingdom" on the back of the bag, bear an unauthorized KOF-K symbol and are not KOF-Kosher certified. Corrective actions are being taken. The KOF-K does not certify any Costco/Kirkland Signature brand Potato Chips/Crisps made in the United Kingdom.

The KOF-K certifies a number of different varieties of Potato CHIPS with the Costco/Kirkland Signature brand made in the USA when bearing the KOF-K symbol.
The information posted is from secondary sources. We cannot take responsibility for the accuracy of the information.
Copyright © kashrut.com. Permission is granted to reprint these alerts in hardcopy print media if kashrut.com is credited as the source of the information.
כל האומר דבר בשם אומרו, מביא גאלה לעולם אבות ו"ו