K A S H R U T . C O M©
The Premier Kosher Information Source on the Internet
---
HOME | PASSOVER | CONSUMER | COMMERCIAL | TRAVEL | ZEMANIM | LINKS | ARTICLES | RECIPES | HUMOR | E-MAIL LIST

---
Consumer Kashrut Alerts
Israeli Kashrut Alert - Chiba Bakery - Jerusalem
J
June 3, 2021 from the Chief Rabbinate Religious Council Jerusalem: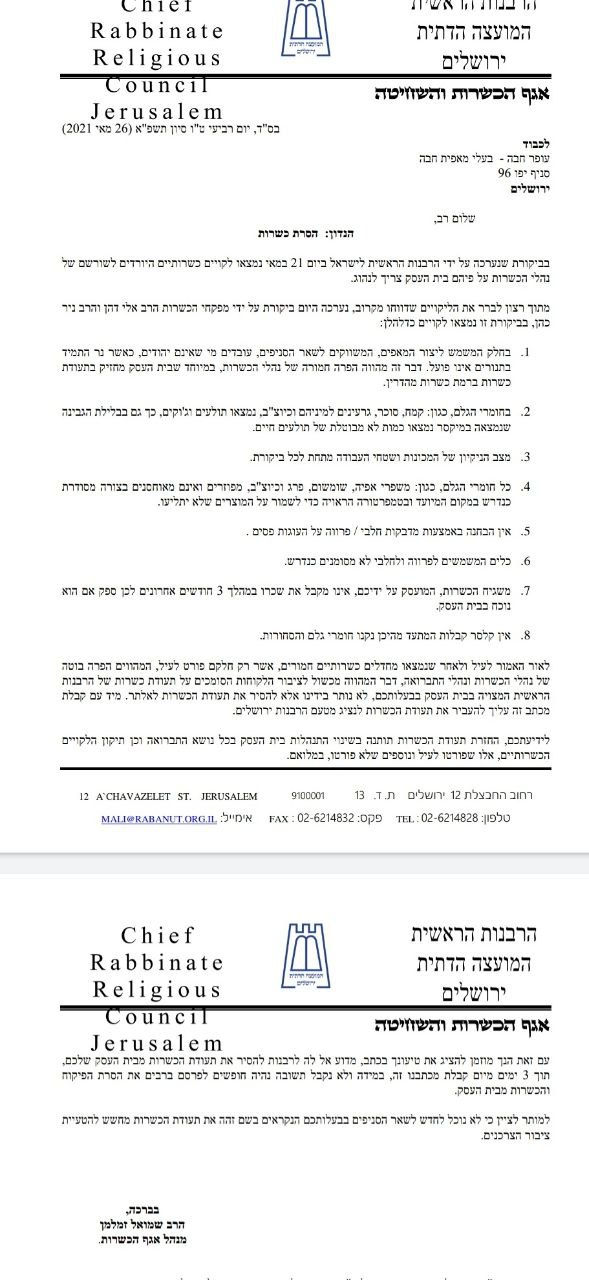 Rough Translation: Letter to Chiba Bakery in Jerusalem from the Rabbanut informing them they're losing hashgacha effective immediately due to numerous flaws -- bugs in the flour, no receipts to show where ingredients were bought, parve/milchigs dishes being mixed, mashgiach hasn't been paid in months.
The information posted is from secondary sources. We cannot take responsibility for the accuracy of the information.
Copyright © kashrut.com. Permission is granted to reprint these alerts in hardcopy print media if kashrut.com is credited as the source of the information.
כל האומר דבר בשם אומרו, מביא גאלה לעולם אבות ו"ו