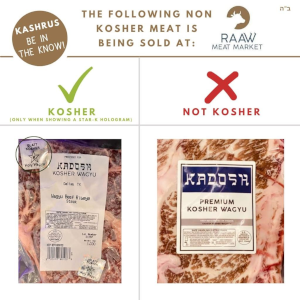 November 23, 2021 from Kosher Miami:
The Star K has issued an alert regarding Raaw Meat Market, located at 18519 W Dixie Hwy in Aventura. While the store was selling Star K certified Kadosh brand Kosher Wagyu meat that was labeled properly with the Star K hologram, they were also selling what they were labeling as "Kadosh Premium Kosher Wagyu", but without the Star K certification and hologram. It has been reported to KM that the meat without the Star K is not kosher meat. See below graphic received by KM. If you have indeed purchased meat from the store without the Star K hologram, please consult with your local Orthodox Rabbi as to what to do with your dishes and pots.
---
November 22, 2021 from the Star-K:
It has come to our attention that a store in South Florida has been selling STAR-K certified and sealed Kadosh Kosher Wagyu Brand Beef in retail packages while also displaying the Kadosh name on other packages of meat that don't bear a STAR-K. Consumers are advised to be aware that meat items without STAR-K seals are not certified by STAR-K.
In order to protect Kosher consumers from confusion, STAR-K is discontinuing future certification of all Kadosh branded meats. For more information, please contact STAR-K at info@star-k.org.
Product was sold at Raaw Meat Market in Miami.