K A S H R U T . C O M©
The Premier Kosher Information Source on the Internet
---
HOME | ALERTS | CONSUMER | COMMERCIAL | PASSOVER | TRAVEL | ZEMANIM | LINKS | ARTICLES | RECIPES | HUMOR | E-MAIL LIST

---
Consumer Kashrut Alerts
Corrected Kashrus Information Talenti Dairy-Free Sorbettos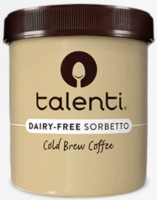 Ed. note: Talenti is now certified as kosher by the Kof-K and the OU. The company is using up the old packaging with the OUD. The Kof-K is certifying many Talenti Sorbettos as DE. The Kof-K kosher certificate for the Talenti Sorbetto DE products is here.
---
January 3, 2022 from the OU in respose to a question from the editor:
Talento Dairy-Free Sorbetto bears an OU-D and is Dairy.
The information posted is from secondary sources. We cannot take responsibility for the accuracy of the information.
Copyright © kashrut.com. Permission is granted to reprint these alerts in hardcopy print media if kashrut.com is credited as the source of the information.
כל האומר דבר בשם אומרו, מביא גאלה לעולם אבות ו"ו