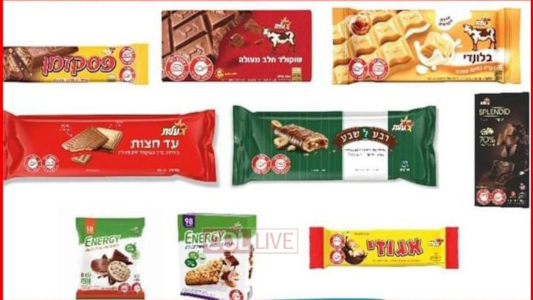 Israel: Strauss Expands Recall After Discovering Further Traces Of Salonella
April 27, 2022 from Matzav.com:
"Food giant Strauss issued a recall of its entire confectionery product line on Wednesday, days after the recall of its Elite brand chocolate products was announced.
"Affected gum brands joining a long line of Elite items already recalled include Must, Bazooka and Alma.
"Products included in the withdrawal were the popular Shokolad Para, Pesek Zman, Egozi and Kif Kef candy bars, and Bonbonniere candy boxes.
"After issuing its announcement on Monday, a $3.1 million class-action lawsuit against Strauss was filed and its stock nosedived three percent."
Israeli Health Alert: Strauss-Elite Chocolate Recall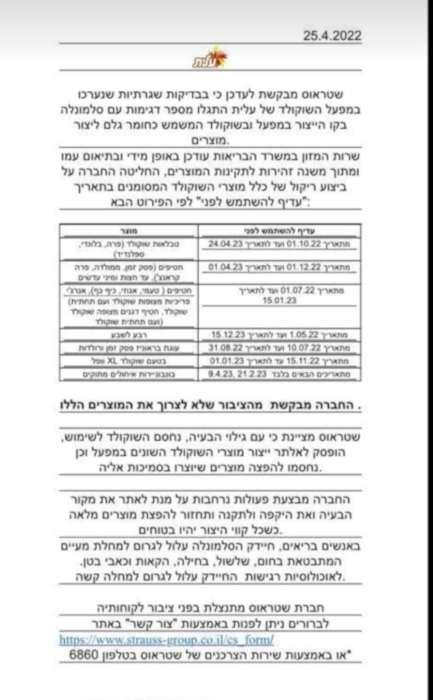 April 25, 2022 from Jerusalem Post:
"The Strauss Company is recalling a number of chocolates and snacks from its Elite brand after salmonella was found in samples from the production line and in chocolate used as a raw material for products.
"The production of chocolate products at the factory has ceased, the affected chocolate has been blocked from use and the distribution of products made in the area of the affected line has been ceased."
The following products have been recalled
Cow, Blondie and Splendid chocolate bars with expiry dates between October 1st, 2022 and April 24, 2023
Pesek Zman, Memulada, Cow Crunch Ad Chatzot and mini chocolate lentils with expiry dates between December 1, 2022 and April 1, 2023 .
"Ta'ami, Egozi, and Kif Kef snacks and Energy products with expiry dates between July 1, 2022 and January 15, 2023
Reva La'Sheva products with expiry dates between May 1, 2022 and December 15, 2023,
Pesek Zman brownies and roulades with expiry dates between July 10, 2022 and August 31, 2022,
chocolate Waffle XL products with expiry dates between November 15, 2022 and January 1, 2023,
"Best Wishes" Bonbonniere with expiry dates of February 21, 2023 or April 9, 2023