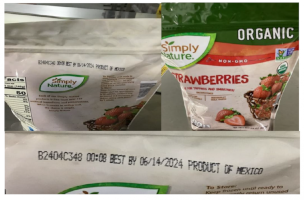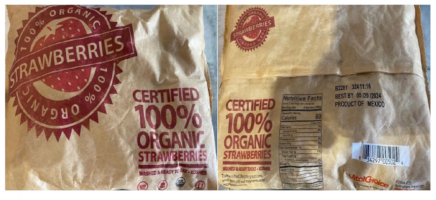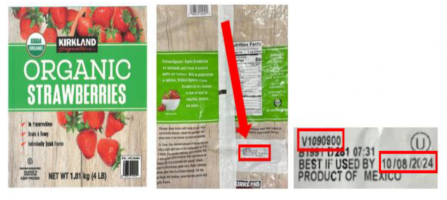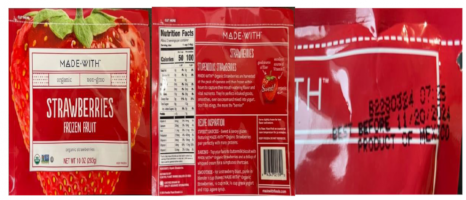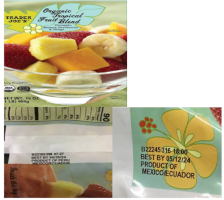 March 16, 2023 from the FDA:
Scenic Fruit Company of Gresham, Oregon is recalling frozen Organic Strawberries sold to Costco, Aldi, KeHE, Vital Choice Seafood, PCC Community Markets and frozen Organic Tropical Fruit Blend sold to Trader Joe's due to an outbreak of Hepatitis A illnesses.
The following products are subject to this recall. The lot codes and best by dates are found on the back of each bag (see attached pictures below):
Brand Name
Product Name
Net Wt.
UPC
Best By Dates
Best If Use Dates
Best Before Date
Distributed in States
Simply Nature
Organic Strawberries
24 oz.
4099100256222
6/14/2024
California, Minnesota,
Missouri, Ohio, Wisconsin.
Vital Choice
Organic Strawberries
16 oz.
834297005024
5/20/2024
Washington
Kirkland Signature
Organic Strawberries
4 lbs.
96619140404
10/8/2024
Alaska, Idaho, Montana,
Oregon, Utah, Washington.
Made With
Organic Strawberries
10 oz.
814343021390
11/20/2024
Illinois, Maryland
PCC Community
Markets
Organic Strawberries
32 oz.
22827109469
29/10/2024
Washington
Trader Joe's
Organic Tropical Fruit
Blend Pineapple,
Bananas, Strawberries
& Mango
16 oz
00511919
04/25/24
05/12/24
05/23/24
05/30/24
06/07/24
Nationwide
Link to CDC information: Outbreak of Hepatitis A Virus Infections Linked to Frozen Organic Strawberries is here
CDC, state public health and regulatory officials, and the U.S. Food and Drug Administration are investigating an outbreak of hepatitis A linked to frozen organic strawberries imported from certain farms located in Baja California, Mexico, by a common supplier. Frozen organic strawberries may be sold to a variety of retailers under multiple brand labels. Traceback and epidemiological investigations show that people with outbreak-associated cases in Washington purchased the same retail brand of frozen organic strawberries prior to becoming ill.