K A S H R U T . C O M©
The Premier Kosher Information Source on the Internet
---
HOME | ALERTS | CONSUMER | COMMERCIAL | PASSOVER | TRAVEL | ZEMANIM | LINKS | ARTICLES | RECIPES | HUMOR | E-MAIL LIST

---
Consumer Kashrut Alerts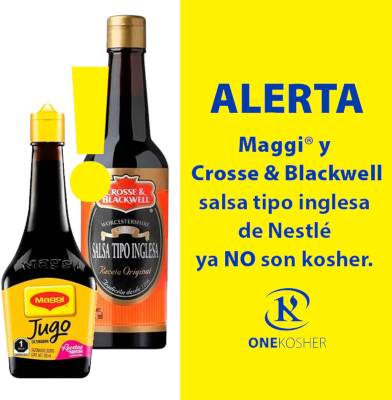 Mexican Kashrut Alert: 𝗠𝗮𝗴𝗴𝗶® 𝘆 𝗖𝗿𝗼𝘀𝘀𝗲 & 𝗕𝗹𝗮𝗰𝗸𝘄𝗲𝗹𝗹 𝘀𝗮𝗹𝘀𝗮 𝘁 𝗶𝗽𝗼 𝗶𝗻𝗴𝗹𝗲𝘀𝗮
May 17, 2023 from One Kosher:
Rough translation from Google Translate: The sauces 𝗠𝗮𝗴𝗴𝗶® 𝘆 𝗖𝗿𝗼𝘀𝘀𝗲 & 𝗕𝗹𝗮𝗰𝗸𝘄𝗲𝗹𝗹 𝘀𝗮𝗹𝘀𝗮 𝘁 𝗶𝗽𝗼 𝗶𝗻𝗴𝗹𝗲𝘀𝗮 by Nestlé is no longer kosher. If you bought them before Passover, you can finish them.
The information posted is from secondary sources. We cannot take responsibility for the accuracy of the information.
Copyright © kashrut.com. Permission is granted to reprint these alerts in hardcopy print media if kashrut.com is credited as the source of the information.
כל האומר דבר בשם אומרו, מביא גאלה לעולם אבות ו"ו