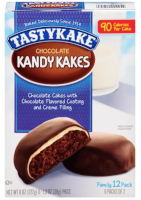 May 24, 2023 from the FDA:
Flowers Foods, Inc. (NYSE: FLO) is voluntarily recalling certain Tastykake® Chocolate Kandy Kakes due to undeclared peanuts. People who have an allergy or severe sensitivity to peanuts run the risk of serious or life-threatening allergic reaction if they consume this product.
The product being recalled was distributed on May 11, 2023 to retail customers in Pennsylvania, Delaware, Maryland, New Jersey, Virginia, and West Virginia. The packages have an "Enjoy By" date of June 5, 2023 on the side of the package, and UPC 0 25600 00225 4.
The recall was initiated after the firm discovered that certain packages of Tastykake® Chocolate Kandy Kakes contained Tastykake® Peanut Butter Kandy Kakes. The ingredient statement for the Chocolate Kandy Kakes does not declare that peanuts are in the product. No related illnesses or incidents have been reported to date. Following is information about the product involved in the recall. People allergic to peanuts should not consume this product if the "Enjoy By" date, UPC and/or Product Code below are printed on the package.
| PRODUCT DESCRIPTION | UPC # | "ENJOY BY" DATE |
| --- | --- | --- |
| Tastykake® Chocolate Kandy Kakes | 0 25600 00225 4 | June 5, 2023 |
Affected product should be discarded or may be returned to the place of purchase for a full refund. Consumers with questions may call Flowers' Consumer Relations Center at 1-866-245-8921. The center is open Monday through Friday – 8:00 a.m. to 5:00 p.m. Eastern Standard Time. Consumers also may contact the center via e-mail by visiting www.flowersfoods.com/contact/consumer