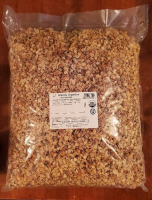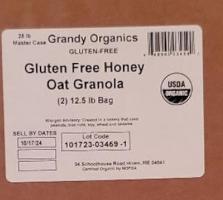 Grandy Organics Cancels Recall of Gluten Free Honey Oat Granola. Third Party Laboratory Error Resulted in Falsley Identifying Presence of Coconut
November 9, 2023: From the FDA
Grandy Organics, makers of organic granolas, nuts and trail mixes based in the rural town of Hiram, Maine, announced today that they have retracted their recall of Gluten Free Honey Oat Granola that was publicized over the weekend. After proper testing and cooperation with the FDA, all Grandy Organics products, including Gluten Free Honey Oat Granola, are proven safe to consume.
Grandy Organics provided repacked samples of the product to the potential distributor who in turn had it tested at their labs for their own Quality Assurance records. Friday November 3rd the distributor informed Grandy Organics that traces of coconut were discovered at 6 parts per million in the Gluten Free Honey Oat sample they were given. Because coconut is a dangerous allergen, Grandy moved quickly.
Concurrently, Grandy sent two additional batches of product out for testing to confirm there was no further contamination. What they learned from the third-party lab was incredible: There are known cross-reactivity events with certain ingredients that can cause a false positive when testing for the coconut allergen. Lab technicians are, in fact, trained to use a different testing procedure when these ingredients are present. Once the correct procedures were run, Grandy was notified that all products sent for testing were, in fact, free of allergens, as is stated on Grandy's packaging.
Previous alert is at here