Spicely Organics Recalls Organic Tarragon Because Of Possible Health Risk
October 16, 2017 from the FDA:
Organic Spices, Inc. dba Spicely Organics of Fremont, CA is recalling 0.4 oz. Organic Tarragon Lot No. OTW100134 because it has the potential to be contaminated with Salmonella, an organism which can cause serious and sometimes fatal infections in young children, frail or elderly people, and others with weakened immune systems.
The product was distributed in: Alaska, Arizona, California, Colorado, Hawaii, Illinois, Indiana, Kansas, Maryland, Michigan, Minnesota, Nevada, New Mexico, New York, Ohio, Oregon, Pennsylvania, Texas, Virginia, Washington and Wisconsin. It reached customers through retails stores and e-commerce.
The Spicely Organics organic Tarragon leaves were packaged in 0.4oz (11g) glass jars with black caps with marks "best if used by: 12/31/20 OTW100134".
The recall was initiated as a result of routine sampling program that revealed that the raw material contained Salmonella. To date there have been no reports of illnesses.
Consumers who have purchased this product can return it to the point of sale for a full refund.
If you have any questions, please contact us at 1-510-440-1044 ext. 1001 from Monday to Friday 7:00am – 2:30pm PST. We appreciate your assistance in this matter.

Pinnacle Birds Eye frozen pea recall
October 12, 2017 from FoodSafetyNews and FDA enforcement report:
"Referred to as "a very limited quantity" of frozen peas by the producer, the recall of almost 25,000 cases of product from retailers nationwide because of a Listeria risk wasn't worthy of public notification according to Pinnacle Foods and the FDA.
"The recall, voluntarily initiated by processed food giant Pinnacle Foods on Sept. 29, was made public when retailers, wholesalers and the U.S. Defense Commissary Agency started posting their own recall notices.
"Yesterday afternoon, an "Enforcement Report" by the Food and Drug Administration revealed the depth and breadth of the recall. Prior to that, the agency had not publicized the recall. FDA policy is to post food recalls on its website only after the recalling company has gone public with the situation."
"The New Jersey-based Pinnacle recalled 24,690 cases of the frozen Birds Eye peas from 21 states, according to the FDA document. The FDA did not report the volume in pounds. The recalled peas are in 13-ounce packages with the UPC number 14500-02253."
BULLETIN FROM THE GUIDE TO CHODOSH-CHOL HAMOED SUKKOS: CHANGES AND UPDATES TO THE PRELIMINARY GUIDE & additional changes
October 11, 2017 from Yoseph Herman, The Guide to Chodosh, Hot Line 718-305-5133. Email: yherman@earlthlink.net
Quaker oats. In all cereals made in the USA, both those that are cooked and those that are eaten cold, the Chodosh packing date for oats is Oct.1. For cooked cereals this results in the "Best if used by" date of Mar 25 19. For Quaker Life it is Sept 26 18. For Quaker cereals made in Canada we do not have any update yet. Therefore we still recommend the chumra date of Jan 11 19.
Post cereals, the Chodosh date for oats is Oct 15 18.
Nature Valley Granola bars Chodosh date on the package is Sept 8.
Malt-O-Meal cereals, the wheat is always winter and Yoshon. The packing date for Chodosh oats is Oct 15, for barley (not malt) Aug 31.
Cheerios made in Poland and sold in Israel are surely Yoshon up to the date on the package of Oct 7 18. This date may be extended to a later time in the future.
Meal Mart: all products are Yoshon. If there are any changes later in the season, those packages will have a Chodosh label on them.
Klein's Ice Cream products are all Yoshon with the possible exception of "Cigars".
Won Ton Co. wraps are Yoshon.
Heckers and Ceresota flours are from winter wheat. Malt Chodosh date is June 15 19 (for those who are makpid for malt in flour.)
October 16,2017 corrections from R Herman: "The Chodosh Bulletin I sent out during Chol Hamoed had an error. Life cereal contains wheat as well as oats. The Chodosh date should be Jul 24 18.
In addition note that Quaker oats made in Canada and sold in the US, such as some of the instant oats packets, have a Chodosh date of Feb 26 19."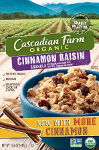 General Mills Issues Voluntary Recall of Cascadian Farm Organic Cinnamon Raisin Granola Cereal
October 9, 2017 from the FDA:
Cascadian Farm Organic Cinnamon Raisin Granola cereal produced on July 15 and 16, 2017 is being recalled because the product may contain almonds, an undeclared nut allergen.
General Mills will recall affected Cascadian Farm Organic Cinnamon Raisin Granola cereal produced on those dates from customer warehouses and store shelves. Consumers with nut allergies should not consume products bearing the affected code dates and should contact General Mills for a replacement or full refund.
This voluntary recall includes Cascadian Farm Organic Cinnamon Raisin Granola cereal with the following "BETTER IF USED BY" code dates and the plant code JK:
Cascadian Farm Organic Cinnamon Raisin Granola cereal
Products containing almonds can cause illness or severe reactions for individuals with nut allergies.
Consumers requesting refunds or calling with further questions should contact General Mills Consumer Services at 1-800-624-4123.

Whole Foods Market Issues Nationwide Allergy Alert on Undeclared Peanuts in 365 Everyday Value Organic Raisin Bran
October 6, 2017 from the FDA:
Whole Foods Market stores is voluntarily recalling 365 Everyday Value Organic Raisin Bran because the product contains undeclared peanuts that were not listed on the product label.
The affected product was sold in Whole Foods Market stores in the U.S. and online at Amazon.com. The product was packaged in 15 oz. boxes labeled 365 Everyday Value Organic Raisin Bran with UPC code 9948243903 and best-by date of June 4, 2018. The issue was discovered after Whole Foods Market determined the packaging contained Peanut Butter Cocoa Balls instead of Organic Raisin Bran. All affected product has been removed from store shelves and online. No reactions have been reported to date.
Customers who purchased this product at Whole Foods Market can bring a valid receipt into stores for a full refund. Customers who purchased the product online will receive additional information via email. Consumers with additional questions can call 1-844-936-8255 between the hours of 7:00 a.m. and 10:00 p.m. CST, Monday through Friday, or 8:00 a.m. and 6:00 p.m. Saturday through Sunday.
OU Kashrus Advisory
October 3, 2017 from the OU:
The Queens JCC is sponsoring a Street Fair on October 9. The OU symbol was mistakenly included on some flyers. The Orthodox Union will not be certifying this event and consumers should ascertain the kosher certification status of the foods offered at the Fair. Chag Sameach.

British Kashrut Alert - Nestle Dairy Box
September 29, 2017: From the London Beth Din Twitter Feed:
Nestle Dairy Box listed as Dairy has been replaced with a new Classic Collection which contains E120 & is therefore Not Kosher.
Ed. note: E120 is carmine.
Kashrus Advisory - Jell-O Cheesecake Pudding & Pie Filling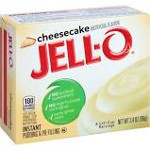 September 26, 2017 from the OK:
Jell-O Jell-O Cheesecake Instant Pudding & Pie Filling and Jell-O Cheesecake Reduced Calorie Instant Pudding & Pie Filling, Kraft Heinz Company
Kraft Heinz has decided to change the kosher status of the following two products from Pareve to Dairy :
Jell-O Cheesecake Instant Pudding & Pie Filling
Jell-O Cheesecake Reduced Calorie Instant Pudding & Pie Filling
New packaging bears the OK D symbol as required. Any remaining products bearing a plain OK symbol are pareve. Please be advised that Shake 'N Bake Ranch & Herb and Shake 'N Bake Crispy Buffalo have been mistakenly labeled with the OK Pareve symbol instead of the OKD symbol. These products are certified kosher and dairy, as per the ingredient list and allergen statement.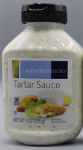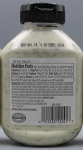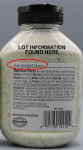 Silver Spring Foods, Inc. Voluntarily Recalling Waterfront Bistro Tartar Sauce Due To Possible Mislabeling and Undeclared Allergen
September 26, 2017 from the FDA:
Silver Spring is voluntarily recalling Waterfront Bistro Tartar Sauce because there is a chance an incorrect back label was attached to the product, which does not correctly identify ingredients that could pose an allergen risk; specifically egg.
he recalled product has a Best By date of JUL 31 18 S3551 or AUG 28 18 S3351 and an incorrect UPC barcode: 21130 12242 (Hot Cocktail Sauce). No other Silver Spring or Waterfront Bistro products are affected by the recall. Silver Spring is taking the extra precautionary measure of issuing this recall so that consumers who may have purchased the product are properly made aware.
The recalled product is retailed under the Brand name Waterfront Bistro Tartar Sauce and is distributed at Albertsons, Amigos, Jewel-Osco, Lucky, Market Street, Pak N Save, Pavilions, Randall's, Safeway, Shaw's, Star Market, Tom Thumb, United Supermarkets, & Vons stores in the following states: Arizona, Arkansas, California, Delaware, Florida, Hawaii, Iowa, Idaho, Illinois, Indiana, Louisiana, Maine, Maryland, Massachusetts, Montana, Nebraska, Nevada, New Hampshire, New Mexico, North Dakota, Oregon, Rhode Island, South Dakota, Texas, Utah, Vermont, Virginia, Washington, Washington DC, Wyoming. he recall was initiated after production checks at our manufacturing facility found the incorrect back label for Hot Cocktail Sauce instead of Tartar Sauce. The manufacturing lot of labels from our supplier was also utilized in the production dates/lot codes of BEST BY: JUL3118 S3351 and BEST BY:AUG2818 S3351. The defect identified was caused by a temporary breakdown in our label supplier's production and quality control processes.
Consumers who have the recalled product in their possession and are allergic to egg should not consume the item. The product can be returned to the place of purchase for a full refund. Consumers with questions should contact Silver Spring Foods at 1-800-826-7322 Monday through Friday from 7:30 am to 4:30 pm Central Standard Time or via Customerservice@silverspringfoods.com. Consumers may also call our Recall hotline at 1-800280-1968. Customers can also call Albertsons Companies Customer Service at 1-877-723-3929 at any time.
The following product with a Best By date of JUL 31 18 S3351 or AUG 28 18 S3351 and an incorrect back label is subject to this recall. The best by date can be found on the back of the bottle:
Kashrus advisory - Skinny Pop Aged Cheddar popcorn and Skinny Pop White Cheddar Flavored Popcorn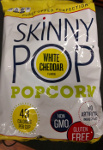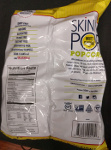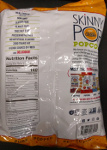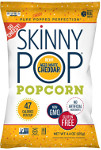 September 19, 2017 - from a reader and confirmed by the cRc:
Please be award that Amplify Foods makes 2 similar but different Skinny Pop products. The Skinny Pop Aged Cheddar popcorn is correctly labeled as cRc Dairy and the Skinny Pop White Cheddar Flavored Popcorn is correctly labeled as cRc Pareve.