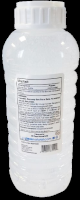 TECH 361 Issues Voluntary Nationwide Recall of All Clean Hand Sanitizer and Moisturizer and Disinfectant Due to The Potential Presence of Undeclared Methanol (Wood Alcohol)
July 6, 2020 from the FDA
ITECH 361 is voluntarily recalling 18,940 bottles of All Clean Hand Sanitizer, Moisturizer and Disinfectant sold in one liter bottles to the consumer level. The products are being recalled due to the potential presence of methanol (wood alcohol).
The product is used as a hand sanitizer and moisturizer and is packaged in one (1) liter plastic bottles with UPC Code 628055370130. All Clean Hand Sanitizer and Moisturizer was distributed Nationwide to wholesale distributors and retailers.
ITECH 361 is notifying its distributors by a Notice of a voluntary recall and consumers via this press release. ITECH 361 is arranging for return/replacement or refund of all recalled products.
Consumers/distributors/retailers that have the product subject to this recall should stop using All Clean Hand Sanitizer, Moisturizer and Disinfectant and return it to the place of purchase.
Consumers with questions regarding this recall can contact Corina Enriquez by phone number (888)405-4442 or e-mail at corina@itech361.com, Monday through Friday beginning July 6, 9:00a.m. to 5:00 p.m. (MDT). Consumers should contact their physician or healthcare provider if they have experienced any problems that may be related to using this product.