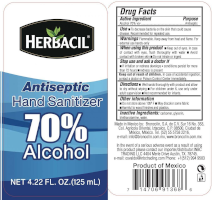 Broncolin S.A. de C.V. Issues Voluntary Nationwide Recall of Herbacil Antiseptic Hand Sanitizer 70% Alcohol Due to Potential Presence of Undeclared Methanol (Wood Alcohol)
July 27, 2020 from the FDA
Broncolin S.A. de C.V is voluntarily recalling all lots of Herbacil Antiseptic Hand Sanitizer 70% Alcohol to the consumer level. The products are being recalled due to the potential presence of methanol (wood alcohol).
The product is an alcohol-based hand sanitizer used to reduce bacteria that potentially cause disease when soap and water are not available and is packaged in 4 bottle sizes; 4.22 fl. oz. (125ml), 8.4 fl. oz. (250 ml), 16.9 fl. oz. (500 ml) and 33.8 fl. oz. (1 Liter). It is a clear plastic bottle with a pump or squeeze cap. All package sizes are labeled with a blue label identifying INBC Trading LLC 4404 Merle Drive, Austin, TX 78745 as the Importer/Distributor (see attachments). Herbacil Antiseptic Hand Sanitizer 70% Alcohol was distributed by the importer/distributor between April 26, 2020 to May 18, 2020 , to wholesalers in Arizona, California, Florida, Georgia, Illinois, Maryland, New Jersey, New York, North Carolina, South Carolina, and Texas and further distributed Nationwide in the USA.
Broncolin S.A. de C.V via INBC Trading LLC is notifying all US customers by email and is arranging for the return of all recalled products. Consumers, distributors, and retailers that have recalled Herbacil hand sanitizer, should stop using and return to the place of purchase.
Any questions regarding this recall can be directed to INBC Trading LLC at 1-512-241-9034 and/or handsanitizer@inbctrading.com, Monday-Friday, 8:00 am-5 pm CST. Consumers should contact their physician or healthcare provider if they have experienced any problems that may be related to taking or using this drug product.