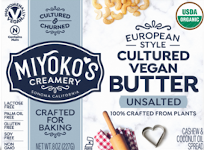 Does The Miyoko's Creamery Lawsuit Verdict Spell The End of Plant-Based Labelling Restrictions?
August 23, 2020 from the Vegconomist
"Almost two years ago, the California Department of Food and Agriculture ordered Miyoko's Creamery to stop using terms like "butter" and "lactose-free" on its product packaging. But it had targeted the wrong company."
"Reluctant to change its packaging at great expense, Miyoko's filed a lawsuit claiming that the restrictions violated its First Amendment rights. Last week, the case was finally resolved, with Judge Richard Seeborg agreeing that Miyoko could continue to use the terms "butter", "lactose-free", and "cruelty-free" — though it would no longer be able to label its products as "hormone-free"."
"The verdict is a huge victory for Miyoko's, but for many, it isn't just about one company — as founder and CEO Miyoko Schinner says, it could "set a precedent". This is important because as plant-based products continue to take market share from their animal counterparts, the meat and dairy industries in many countries have reacted by attempting to restrict plant-based product labelling."
"Perhaps the most notorious was the European dairy lobby's rejected Amendment 171, which would have created such severe restrictions for plant milks that many labelled it "censorship". The EU also voted down a ban that would have prevented alt-meat producers from using terms like "sausage" and "burger". In the US last year, Virginia's governor vetoed a bill that would have banned alt-dairy producers from using the word "milk"."
---
Vegan Dairy Brand Miyoko's Allowed To Use 'Butter' Label After Winning Legal Battle
August 23, 2020 from the Plant Based News
"Vegan dairy brand Miyoko's has been granted permission by the United States District Court Northern District of California to use the terms 'butter', 'cruelty-free', and 'lactose-free' when labeling its products."
"The ruling follows a legal battle between plaintiff Miyoko's Kitchen and defendants Karen Ross (from the California Department of Food Agriculture) and Stephen Beam (in his capacity as Milk and Dairy Food Safety Branch Chief). "
"The Motion for Preliminary Injunction also states Miyoko's can not use labels such as 'hormone-free' or 'Revolutionizing Dairy with Plants' - as previously used on its website."