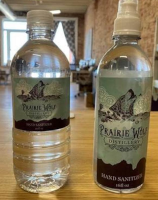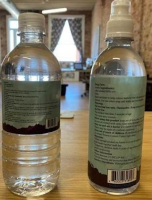 Distillery Hand Sanitizer Packed in 16.9 Oz. and 20 Oz Bottles Because They Resemble Drink Containers
June 21, 20121 - from FDA:
Prairie Wolf Spirits, Inc. is voluntarily recalling all lots of Prairie Wolf Distillery hand sanitizer packaged in 16.9 fluid ounce and 20 fluid ounce containers that resemble water bottles to the consumer level. The recall does not affect any other hand sanitizer products from Prairie Wolf Distillery. The product poses a risk of ingestion.
The product is intended to be applied topically to help reduce bacteria on the skin that could cause diseases when soap and water are not available and is packaged in 16.9 ounce (UPC 6000331899) and 20 ounce plastic bottles (UPC 6000365984) that resemble water bottles. The product can be identified by the bottle's labels pictured below. The product was distributed to selected customers and consumers nationwide in the United States.
Prairie Wolf Spirits is notifying its customers by mail and is arranging for return or replacement of all recalled products. The product was sold from a temporary retail location located at 111 E. Oklahoma Avenue, Guthrie, Oklahoma 73044. Additionally, it was available on the manufacturer's website, but there were limited sales. Prairie Wolf Spirits also donated the products from its Guthrie warehouse. Consumers that have the product which is being recalled should stop using it and return it to the Prairie Wolf Spirits distillery, 124 E. Oklahoma Avenue, Guthrie, Oklahoma, or discard it.
Consumers with questions regarding this recall can contact Prairie Wolf Spirits by (405) 445-6448 or recall@prairiewolfspirits.com on Monday through Friday from 9:00 a.m. and 5:00 p.m., CDT. Consumers should contact their physician or healthcare provider if they have experienced any problems that may be related to taking or using this product.