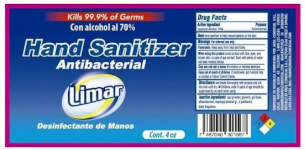 Ardil Comercial Issues Voluntary Nationwide Recall of Limar Hand Sanitizer Packaged in 4 oz Bottles Because They Resemble Drink Containers
July 1, 2021 - from FDA
Santo Domingo, Dominican Republic – Ardil Comercial is voluntarily recalling one lot of Limar Hand Sanitizer, packaged in 4 oz bottles to the consumer level. The hand sanitizer is being recalled because it is packaged in containers that resemble water bottles. The product poses a risk of ingestion.
The product is intended to be applied topically to help reduce bacteria on the skin that could cause diseases when soap and water are not available and is packaged in 4 oz bottles. under the brand Limar. The product can be identified by the bottle's labels pictured below. The affected product lots include the following lot number: 079932-4611-05-J with the following expiration date: May 2022. Hand Sanitizer 4 oz Limar was distributed nationwide to a distributor who may have further distributed nationwide in the USA.
Ardil Comercial is notifying its distributors and customers by telephone, press release and is arranging for a replacement of all recalled products. Consumers and distributors that have the product which is being recalled should return to place of purchase.
Consumers with questions regarding this recall can contact Ardil Comercial by the phone number 809-231-2583 Ext.: 9 or administracion@ardilcomercial.com on Monday-Friday from 8am – 5pm, AST. Consumers should contact their physician or healthcare provider if they have experienced any problems that may be related to taking or using this drug product.