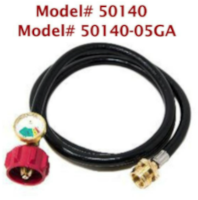 Gas One Recalls Propane Adapter Hoses Due to Fire Hazard
August 18, 2021 - from CPSC.
Gas One propane adapter hoses have been recalled because the hose can swell during use causing gas to leak, posing a fire hazard.
This recall involves Gas One 50140 propane adapter hoses which are designed to be used with propane gas tanks. The hoses include the following model numbers: 50140-08, 50140-012, 50140-05GA, 50140. The recalled propane adapter hoses are part of manufacturer batch numbers Pearl River 3Q20 and Pearl River 4Q20 which i s stamped on the hose.
Consumers should immediately stop using the adapter hose and contact Gas One to obtain a free replacement hose.
Sold At: Online at www.amazon.com, www.ebay.com, www.gasone.com www.homedepot.com and www.walmart.com from December 2020 through February 2021, for between $9 and $18.
Consumer Contact: Gas One at 800-698-5070 from 9 a.m. to 5 p.m. PT Monday through Friday, email at info@pricezoneusa.com or online at www.gasone.com and hover over "Read" at the top of page and then click on "News" or at www.gasone.com/pages/contact for more information.