K A S H R U T . C O M©
The Premier Kosher Information Source on the Internet
---
HOME | PASSOVER | CONSUMER | COMMERCIAL | TRAVEL | ZEMANIM | LINKS | ARTICLES | RECIPES | HUMOR | E-MAIL LIST

---
THIS SECTION IS FOR NEWS AND INTERESTING STORIES RELATED TO FOOD, NUTRITION AND FOOD PROCESSING. THEY ARE NOT NECESSARILY RELATED TO KOSHER BUT MAY BE OF INTEREST TO THE KOSHER CONSUMER, MANUFACTURER OR MASHGIACH.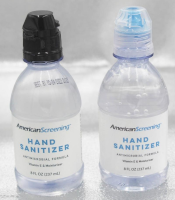 American Screening LLC issues a Voluntary Nationwide Recall of American Screening Hand Sanitizer Packaged in 8 oz Bottles Because They Resemble Beverage Containers
November 19, 2021 - from FDA
American Screening LLC of Shreveport, Louisiana is voluntarily recalling 153,336 units of Hand Sanitizer, containing 70% ethyl alcohol gel to the consumer level. The hand sanitizer is packaged in 8 oz. containers that resemble water bottles posing a risk of consumption.
Consumers with questions regarding this recall can contact Wendy Laskowski by e-mailing wlaskowski@americanscreeningcorp.com or call 318-606-6037 Monday–Friday, 8:00 am–5:00 pm CST. Consumers should contact their physician or healthcare provider if they have experienced any problems that may be related to ingesting the hand sanitizer packaged in the 8 oz. water bottle style.
The information posted is from secondary sources. We cannot take responsibility for the accuracy of the information.