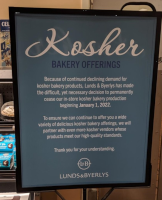 SLP Lunds & Byerlys Ending In-Store Kosher Bakery, Minneapolis, MN
December 21, 2021 from The tcjewfolk.com:
"After abruptly ending the kosher sushi production at the St. Louis Park Lunds & Byerlys last month, the store announced that it would no longer be producing Kosher baked goods in-house, effective Jan. 1, 2022.
"Although the sign next to the baked goods said it was due to declining demand, store general manager Ross Huseby said that – much like the ending of the sushi production – the bakery stopping production of kosher has to do with the retirement of a long-time employee.
"The kosher bakery at the St. Louis Park store also distributes to 24 other Lunds & Byerlys stores. The retirement of baker Draye Olson, Huseby said, is part of a larger challenge in the grocery industry. The Lunds & Byerly's Mitchell Road store bakery, which distributes products to other stores, has similar problems when it comes to retirements.
"The store stopped producing kosher sushi on Nov. 29, after the retirement of long-time employee and mashgiach Yale Siegal due to an illness. Goldberg said that he passed away last week.
"The kosher supervision had been done originally by Minnesota Kosher, which was then acquired by the Chicago Rabbinical Council."