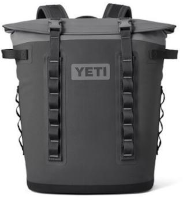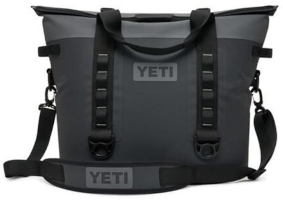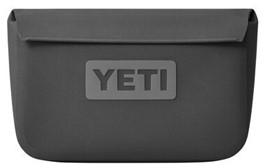 March 9, 2023 from the CPSC in conjunction with Heathy Canadians:
YETI soft coolers and gear cases have been recalled because the magnet-lined closures can fail and result in detached magnets, posing a risk of serious injury or death if ingested. When two or more high-powered magnets are swallowed, the ingested magnets can attract to each other, or to another metal object, and become lodged in the digestive system. This can result in perforations, twisting and/or blockage of the intestines, infection, blood poisoning and death.
Consumer Contact: YETI toll-free at 833-444-3151 from 7 a.m. to 7 p.m. CT Monday through Sunday, email at productrecall@yeti.com or online at https://www.yeti.com/M20-M30-sidekick-product-recall.html or at www.yeti.com and click on "Product Recall" at the bottom of the page for more information.
This recall involves the YETI Hopper M30 Soft Cooler 1.0 and 2.0, Hopper M20 Soft Backpack Cooler and SideKick Dry Gear Case. The products have a main-pocket closure lined with high-powered magnets, which are enclosed in a heat-sealed plastic strip. The M20 Soft Backpack Cooler measures about 18 inches wide and 18 inches high; the M30 Soft Cooler 1.0 and 2.0 is about 25 inches wide and 17 inches high; and the SideKick Dry Gear Case is about 11 inches wide and 7 inches high. The recalled coolers and gear cases were sold in a variety of colors and with the brand name YETI displayed on the front. A hang tag with the product name is attached to the coolers and gear cases.
Remedy: Consumers should immediately stop using the recalled products and contact YETI to receive a full refund or replacement product. Visit www.yeti.com for instructions on returning the product free of charge for the choice of a suggested replacement product of equal or greater value or full refund in the form of a YETI gift card with an additional $25 value.
Sold At: Dick's Sporting Goods, ACE Hardware, Academy Sports + Outdoors, YETI and other stores nationwide and online at www.yeti.com and www.amazon.com from March 2018 to January 2023 for about $50 for the SideKick Dry Gear Case, $325 for the Hopper M20 Soft Backpack Cooler and between $300 and $350 for the Hopper M30 Soft Cooler 1.0 and 2.0.