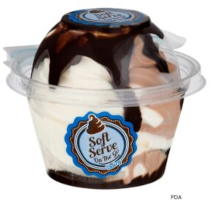 Listeria Outbreak – Where Was Soft Serve on the Go Made?
August 28, 2023: from the Food Poisoning Bulletin:
"A Listeria outbreak linked to Soft Serve on the Go ice cream has sickened at least two people, both of whom were hospitalized. The recalled ice cream cups were distributed to 19 states, Washington DC, and some international locations. But just where the products were made has been a mystery, until now.
"Real Kosher Ice Cream of Brooklyn issued a recall for the ice cream cups on August 9 and halted distribution of the products. A statement on the company's website, says "Serve on the Go Cups are manufactured at their own dedicated facility." But neither the recall nor the website statement indicates where that facility is located.
"It turns out, the mystery facility is located just blocks from Real Kosher Ice Cream. Soft Serve on the Go ice cream was made at Ice Cream House, LLC, located at 2 Church Avenue, in Brooklyn, a spokesperson for the New York Department of Agriculture and Markets (NYDAM) told Food Poisoning Bulletin today. The agency conducted an inspection of the facility on August 7 and plans additional inspections as part of the outbreak investigation, she said.
"Ice Cream House makes several novelty ice cream products that are sold under different brand names. To date, tests on samples of those products have all been negative for Listeria, the spokesperson said.
"The U.S. Food and Drug Administration (FDA) told Food Poisoning Bulletin that it has not inspected the facility where Soft Serve on the Go was made. The agency did, however, inspect Klein's Real Kosher Ice Cream in May, the same month the first illness in the outbreak occurred. The agency gave that facility, located at 3614 15th Ave. in Brooklyn, just one voluntary citation."
The Kashrut.com recall information is here