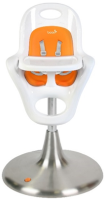 August 31, 2023 from the CPSC in conjuntion with Government of Canada:
Boon Flair & Flair Elite highchairs have been recalled the bolts used to secure the seat of the recalled highchair to the pedestal base can become loose and allow the seat to detach, posing a fall hazard.
Consumer Contact: TOMY toll-free at 866-725-4407 from 8 a.m. to 4 p.m. CT, Monday through Friday, or online at https://recall.tomy.com, or https://us.tomy.com and click on "Product Recalls" at the top of the page for more information.
This recall involves Boon Flair highchairs manufactured before September 2016, and all Boon Flair Elite highchairs. The recalled Flair Elite highchair has a white and orange molded plastic seat with a white tray and metal pedestal base. The Flair highchairs have a gray plastic pedestal base and were sold in 10 color combinations, including blue/white, white/orange, pink/white, green/white, gray/green, white, gray, white/gray, white/blue and red/white. The model numbers of the recalled highchairs are listed below. The model number and manufacturing date code are printed on a label located under the base of the highchair.
Flair Elite Highchair

Model No.

Description

B751

White / Orange

Flair Highchair

Model No.

Description

B701

Blue / White

B702

White / Orange

B703

Pink / White

B704

Green / White

B706

White / Orange

B707

White / Blue

B708

Red / White

B709

Red / White

B716

Green / White

B717

White / Orange

B718

White / Blue

B731

White / Orange

B10147

Gray / Green

B11068

White / No Pad

B11069

Gray / No Pad

B11401

White / Gray
Remedy: Consumers should stop using the recalled highchairs immediately and contact TOMY for a free repair kit. Consumers will receive a set of bolts and split and flat washers to repair the recalled highchair.
Sold At: Bed Bath & Beyond, Target, Toys 'R' Us, and other stores nationwide, and online at Amazon.com, Target.com, Walmart.com, and BedBathAndBeyond.com. The Flair Elite was sold from 2008 to 2009 for about $380. The Flair models were sold from January 2008 through February 2017 for between $230 and $250.