Silicon Valley wrestles with religion. Is high-tech "clean meat" kosher and halal?
January 22, 2018: from the DailyQuartz.com:
"For thousands of years, meat has come exclusively from sentient animals. And for a sizable portion of humanity, how to raise and slaughter those animals has been a central component in religious-dieting doctrine. But religious scholars are now being confronted with a brand new meat question: how does high-tech cell cultured meat—known in the food industry as "clean meat"—fit in an adherent diet?"
"The ascendance of high-tech meat companies such as Hampton Creek, Memphis Meats, SuperMeat, and Finless Foods has sparked novel conversations in Jewish and Muslim circles over whether these novel products are kosher and halal, respectively. And with the first clean meat products expected to hit the market this year, tech companies are actively engaging with groups responsible for certifying food products as kosher and halal, for obvious reasons. The global kosher market is worth more than $24 billion; the halal market $1.6 trillion globally."
"Clean meat turns conventional meat production on its head. The startups developing these products don't rely on raising and slaughtering chickens, cows, and pigs; they need only a handful of animal cells. They then take those cells, put them in a nutrient-dense liquid medium in a bioreactor, where they grow and proliferate. The scientists behind the resulting product—a combination of muscle and fat tissue—say it's identical to conventional meat on a molecular level."
"The vegan CEOs of clean-meat startups dream of a system in which no animal will ever have to be slaughtered to be eaten. Hampton Creek touts its ability to make ground chicken from cells collected at the tip of a plucked feather."
"But that feather-derived ground chicken wouldn't be considered kosher, Genack says. To be kosher, the cells would have to be harvested from a chicken slaughtered in accordance with religious standards, he says. The same idea would theoretically apply for halal meats, according to a 2017 study of the topic published by the Journal of Religion and Health."
"In the context of kosher and halal foods, that would mean animals would still play a sacrificial role in food production. Cells will have to be collected from a properly slaughtered animal, then scientists will have to figure out how to turn those starter cells into an immortal line. It isn't ideal from the perspective of some vegans, but it would theoretically spare billions of animal lives."
New York Supermarkets get letter-based grades for food safety
January 12, 2018: from the DailyGazelle:
"ALBANY - State regulators have rolled out a new letter-based grading system for food safety at hundreds of stores across the state."
"Supermarkets and other food retailers must prominently display the rating given to them by the state Department of Agriculture and Markets after inspections by the department's Division of Food Safety and Inspection. The ratings, and their meanings, are:
No critical deficiencies found, store is in substantial compliance with rules.
Critical deficiencies (those creating a risk of foodborne illness) were found but were corrected at time of inspection.
Critical deficiencies were found but were not or could not be corrected.
"The new rule took effect Jan 1. The department requires that the notice of inspection be posted in plain sight near each public entrance to a store; retailer face a $600 fine if they fail to comply."
Customers can also request their own copies of the inspection notice.
Supermarkets already were inspected and already were posting the cover page of the inspection reports -- behind the customer service counter. The only change is the letter rating
"The New York State Department of Agriculture and Markets' Division of Food Safety and Inspection inspects the state's food retailers at least once a year, looking for critical and general deficiencies."
STAR-K Kosher Certified Food Options Take Off at JFK, LaGuardia, and Newark Airports
January 21, 2018: from the Matzav.com:
Kosher travelers in the New York area can "can avail themselves of a large variety of kosher prepared food options packaged under the Fresko and Yummy Sandwich labels, under STAR-K Kosher supervision." "The STAR-K certified Fresko/Yummy Sandwich menu selection varies, terminal to terminal, and includes a wide variety of wraps, sandwiches, and salads. All breads are Pas Yisroel; all dairy items are Cholov Yisroel. These menu items can be found, Sunday through Friday at these locations:"
JFK INTERNATIONAL AIRPORT

Terminal 2

CIBO Express Market Gate C61
CIBO Express Market Between Gate C65 & C66
CIBO Express Market Gate C70

Terminal 4

Urban Crave Gate B53
La Brea V Gate B37
Jetbox B28 Gate B23
Jetbox B20 Gate B20
Five Boroughs Hall Main Hall
Jetbox FC Gate A

Terminal 5

CIBO Express Market Gate 5
CIBO Express Food Hall Between Gate 7 & 8
CIBO Express Market Gate 9
CIBO Express Market Gate 21
JFK SSP Terminal 7
Apt7B Departures Level Post Security

Terminal 8

CIBO Express Market Concourse B

LAGUARDIA AIRPORT

Terminal A
Terminal B

GoGo Stop American Airlines – Concourse D
CIBO Express Market Central Terminal B

Terminal C

CIBO Express Market Gate C15
CRUST / CIBO Gate C24
CIBO Express Market Between Gate C28 & C29
CIBO Express Market Gate C31
CIBO Express Market CIBO Express Food Hall

Terminal D

CIBO Express Gate 11
CIBO Express CIBO Express Food Hall

NEWARK LIBERTY INTERNATIONAL

Terminal A

Market Fresh Terminal A1 Post-Security
Market Fresh Terminal A2 Post-Security
Market Fresh Terminal A3 Post-Security
Market Express Before A3 Pre-Security

Terminal B

Market Fresh Food Court – Pre-Security (next to Subway)
Green Beans Coffee Arrivals
Mediterranean Bistro Terminal B3

Terminal C1

CIBO Express Market Gate C70
CIBO Express Market Gate C73
CIBO Express Market Gate C75
CIBO Express Market Gate C92
CIBO Express Market Gate C93
Abruzzo Market Gate C71

Terminal C2

Vanguard Market Gate C101
CIBO Express Market Gate C112

Terminal C3

CIBO Express Market Gate C123
CIBO Express Market Gate C132
Kosher Market Gate 139
Belgium: Jewish community files lawsuit over kosher slaughter ban
January 18, 2018: from the WorldIsraelNews
"The Belgian Jewish Community on Tuesday filed a lawsuit challenging legislation passed last year by the parliament in Flanders banning the kosher slaughter of animals."
"The lawsuit was submitted by the Belgian Federation of Jewish Organizations (CCOJB), the Belgian section of the European Jewish Congress (EJC) and the World Jewish Congress (WJC), and follows a case submitted last November against similar legislation passed by the parliament of the Walloon region."
Kosher slaughtering of animals requires they be conscious when they are slaughtered — a practice that critics say is cruel, but which advocates insist is more humane than mechanized methods used in non-kosher slaughterhouses."
"If the legislation is not annulled before coming into force in 2019 it would ban the production of kosher and halal meat in Belgium."
"The lawsuit argues that the legislation violates European Union (EU) law, including the Charter of Fundamental Rights of the European Union, the European Convention on Human Rights, and the Belgian Constitution itself, all of which guarantee freedom of religion.
"The European Court of Human Rights (ECHR) has previously described kosher slaughter as 'an essential aspect of practice of the Jewish religion.'"
"In addition to the CCOJB and the Lawfare Project's previous lawsuit against the Walloon legislation, the Coordinating Council of Islamic Institutions in Belgium also filed a lawsuit alleging that this is an attack on religious freedom."
Rituals vs. Reactionaries
January 9, 2018: from the Drovers
This article talks about the fight going on in Europe between people who are trying to end meat eating and people who practice religious slaughter. Animal rights activists in Europe are using religious slaughter and biases against the people who practice it as a weopon in their goal to eliminate the use of animals as food.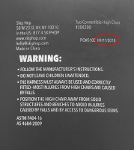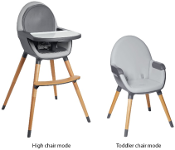 Skip Hop Recalls Convertible High Chairs Due to Fall Hazard
January 9, 2018 from the CPSC in conjunction with Healthy Canadians:
Tuo Convertible High Chairs have been recalled because the front legs on the highchair can detach from the seat, posing fall and injury hazards to children.
This recall involves the charcoal colored Tuo convertible high chair, which can be converted into a toddler chair. The style numbers are 304200 and 304200CN with a date code found on the back of the chair as follows: HH102016, HH11/2016, HH3/2017 and HH4/2017. The highchairs have a reversible seat pad, removable tray, 5-point harness, beechwood footrest and legs
Sold At: Babies "R" Us, Buy Buy Baby, Target, Kohls, Dillards and other children specialty stores nationwide and online at Amazon.com and Skiphop.com from December 2016 through September 2017 for about $160.
Consumers should immediately stop using the recalled high chairs and contact Skip Hop for a free replacement.
Consumer Contact: Skip Hop toll-free at 888-282-4674 from 9 a.m. to 5 p.m. ET Monday through Friday, or online at www.skiphop.com and click on "Recalls" for more information.
Paris - Fire At French Kosher Market Targeted By Anti-Jewish Vandals
January 9, 2018: from the Vosizneias
A fire broke out Tuesday at at the Promo & Stock Kosher market in Creteil, South of Paris. This market was vandalized with anti-Semitic graffiti last week. Arson was suspected becasue the store's protective shutters had been forced open.
Great Britan: Halal & Kosher meat could be labelled with method of slaughter after Brexit amid animal cruelty concerns
December 31, 2017 from the Telegraph-UK and Halal focus:
"Halal and Kosher meat could be labelled by method of slaughter after Brexit amid concerns that animals are suffering needlessly before being killed."
"Tory MPs and leading vets have for years raised concerns that the failure to stun animals before killing them under some methods of slaughter is cruel."
"George Eustice, the farming minister, has now given a clear indication that the Government will consider introducing labelling after the UK leaves the European Union."
"Shimon Cohen, campaign director at Schechita UK, said: "The Jewish community fully supports the notion that consumers have every right to know what they are eating."
"However, we also feel it is extremely important to distinguish between honest, even-handed labelling and what has been proposed thus far (stunned or non-stunned) which could so easily amount to an inadvertent deception of the consumer and an affront to faith communities."
" 'If we want to ensure true consumer information, they should be told the method of slaughter – captive bolt shooting, gassing, electrocution by tongs or water, drowning or any of the other approved methods."
" 'Labelling just one process inevitably sends a message that one method is somehow inferior to other methods; labelling stunned/ non-stunned will not suffice as the shechita process incorporates an integral stun; stunning, dispatching and exsanguinating the animal in one rapid action, conforming to all relevant EU definitions of stunning and to all norms of animal welfare.'"
Amsterdam Journal: New Slaughtering Rules Pit Dutch Religious Freedoms Against Animal Rights
December 31, 2017 from the UK-News.net:
"The Dutch Party for the Animals, which currently has five seats in Parliament, first pushed for changes in 2010. The measure was passed by the lower house and then rejected by the senate, which nevertheless issued a resolution requiring the religious groups involved to develop slaughter practices with more consciousness toward animal welfare."
"ven though a compromise solution was developed, the Dutch animal rights party is again planning to introduce legislation early this year in an attempt to ban religious slaughter."
"There is only one slaughterhouse in the Netherlands where meat is slaughtered for kosher consumption, and that is done only one day a week."
"The new rules dictate that if an animal is not insensitive to pain within 40 seconds of slaughter, based on measures called "induced eyelid reflex" and "cornea reflex," it must be shot."
"The new rules also state that the number of animals killed for kosher and halal meat must be limited to the amount 'necessary to meet the actual need of the religious communities present in the Netherlands.'"
The only kosher butcher "Slagerij Marcus, which relies on exports for 40 percent of its income, may find it difficult to stay in business."
"But not everyone is satisfied. The Party for the Animals, which first introduced the proposal in the Dutch Parliament seven years ago, said the accord did not go far enough."
Israeli Company Spills 26,000 Gallons of Wine
December 22, 2017 from the Matzav.com:
" At an impressive ceremony, the Barkan Winery at Chulda Kibbutz in central Israel spilt and disposed of 26,000 gallons of wine separated as terumah from the year's production line."
"After the recitation of a brocha, a faucet was opened, and to the accompaniment of an orchestra, 26,000 gallons were poured from the winery's huge barrels containing 26 million gallons of wine."