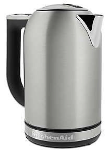 Whirlpool Recalls KitchenAid Electric Kettles Due to Burn Hazard
February 20, 2018 from the CPSC in conjunction in conjunction with Mexico and Healthy Canada:
KitchenAid electric kettles have been recalled because the handle can loosen and separate from the kettle, causing hot contents to spill, posing a burn hazard.
This recall involves KitchenAid 1.7 Liter Electric Kettles. The kettles were sold in stainless steel, red, black, white, liquid graphite and cocoa silver. Model numbers and serial numbers are located on the bottom of the kettle. KitchenAid is written on the front of the kettles. A complete list of model and serial numbers included in this recall is posted on the firm's website at http://repair.whirlpool.com.
| | |
| --- | --- |
| Model Numbers | Serial Numbers |
| KEK1722SX (Stainless) | YA325***** thru YA724***** |
| KEK1722ER (Red) | YA325***** thru YA724***** |
| KEK1722OB (Black) | YA325***** thru YA724***** |
| KEK1722WH (White) | YA325***** thru YA724***** |
| KEK1722QG (Liquid Graphite) | YA325***** thru YA724***** |
| KEK1722CS (Cocoa Silver) | YA325***** thru YA724***** |
| RKEK1722SX (Stainless) | YA325***** thru YA724***** |
| RKEK1722ER (Red) | YA325***** thru YA724***** |
| RKEK1722OB (Black) | YA325***** thru YA724***** |
| RKEK1722WH (White) | YA325***** thru YA724***** |
| RKEK1722QG (Liquid) | YA325***** thru YA724***** |
| RKEK1722CS (Cocoa Silver) | YA325***** thru YA724***** |
Sold At: Bed Bath & Beyond, Dillard's, Fry's Electronics, Kitchen Kaboodle, Kohl's, Navy Exchange, Target, Williams Sonoma, and other home improvement, home appliance and retail stores and online at Amazon.com as well as other online retailers from September 2013 through February 2018 for about $100 to $120.
Consumers should immediately stop using the recalled kettles and contact Whirlpool for a free replacement.
Consumer Contact: Whirlpool Corporation at 800-874-0608 from 8 a.m. to 8 p.m. ET Monday through Friday, or online at http://repair.whirlpool.com for more information.
Will Britain force separate labeling for kosher meat?
February 15, 2018: The Arutz 7:
"Britain's Labour Party announced its support for separate labeling for meat from animals slaughtered without stunning in keeping with Jewish and Muslim traditions."
"Jewish groups in the United Kingdom and beyond in Europe oppose the proposed measure, which appeared in Labour's Animal Welfare Plan published by the opposition party earlier this week, because they deem it discriminatory."
"But Labour's manifesto on animal welfare states it will seek "mandatory labeling of meat, both domestic and imported. This would include details on country of origin, method of production and method of slaughter (stun or non-stun)."
"Shechita UK, an organization representing communal interests in the matter, in the past has called labeling meat as 'not stunned' discriminatory because "it suggests that shechita-slaughtered meat comes from a non-humane process, and there will be no label to indicate how non-kosher meat is slaughtered or if their stunning methods have failed (as they so frequently do)."
Trump's budget proposes a radical change to food stamps that would make it a 'Blue Apron-type' program
February 13, 2018 from BusinessInsider:
"President Donald Trump's new fiscal year 2019 budget includes a radical proposed change to the Supplemental Nutrition Assistance Program, typically referred to as food stamps, that would see part of the program turn into a meal-delivery service. "
"As part of the budget, the Department of Agriculture — which runs the SNAP program — would send basic food items to households receiving more than $90 a month in SNAP assistance in boxes. "
"'Under the proposal, households receiving $90 or more per month in SNAP benefits will receive a portion of their benefits in the form of a USDA Foods package, which would include items such as shelf-stable milk, ready to eat cereals, pasta, peanut butter, beans and canned fruit, vegetables, and meat, poultry or fish,' the budget reads. "
"According to the proposal states would be allowed to determine the method of delivery 'through existing infrastructure, partnerships, and/or directly to residences through commercial and/or retail delivery services.'"
"The USDA boxes would have "shelf-stable" foods meaning that the produce and meats would not be fresh and come in non-perishable form like cans."
" The Food Research and Action Center, a nonprofit working to end hunger in the US, blasted the proposal.
"The new boxes will be 'a Rube-Goldberg designed system of commodity distribution via food boxes that will be administratively costly, inefficient, stigmatizing, and prone to failure, and that will return the country to Depression-era anti-hunger approaches,' said the group in a statement."
After Holocaust law, Poland moves to ban kosher slaughter
February 12, 2018 from YnetNews:
Poland's "ruling party has submitted a new bill restricting kosher slaughter and threatening anyone who violates the restrictions with up to four years in prison."
"The new restrictions are included in a 48-page general bill on animal welfare, which the lower house of the Polish parliament is expected to vote on this week."
"The restrictions include a ban on exporting kosher meat from Poland, which is expected to affect many of Europe's Jewish communities, as well as meat exports to Israel. Some of Israel's supermarket chains import and sell kosher meat from Poland, increasing the competition in the Israeli meat market. A drop in meat exports from Poland could lead to a hike in meat prices in Israel. "
"The bill also seeks to ban slaughter when the animals are in an "unnatural state"—in other words, when the animal isn't standing on all four feet, making a kosher Jewish slaughter practically impossible. According to European Jewish Association (EJA) Chairman Rabbi Menachem Margolin, 'Kashrut laws forbid to apply any pressure on the knife to protect the animal from unnecessary pain. Preventing this pressure is impossible when the animal is standing with its head leaning heavily on the knife.' "
"The Polish parliament banned kosher slaughter in 2013, but the decision was struck down by the constitutional court. The judges accepted an EJA petition and ruled that the Polish law contradicted the principle of freedom of religion. "
Ireland Advances Bill Making it Criminal to Buy Israeli Goods
January 31, 2018 from UnitedWithIsrael:
"The Irish parliament gave initial approval to a bill that would boycott goods produced by Israeli companies. Israel is enraged."
"he Control of Economic Activity (Occupied Territories) Bill 2018 would make it a violation of Irish criminal law to purchase goods and services from Israeli companies based in Judea and Samaria and the Golan Heights. It would punish violators with up to five years in prison."
"There are several contentious occupations closer to Europe, including Russia's occupation of Crimea, Turkey's occupation of northern Cyprus, Armenia's occupation of Nagorno-Karabakh, and Morocco's occupation of Western Sahara, the bill's sponsors suggest that the Irish legislation is carefully drafted to apply only to territories connected to Israel."
"No other law prohibiting trade with Israel as a criminal offense has been enacted in other European countries."
"Further discussion on the bill has been postponed until July at the request of Irish Minister for Foreign Affairs Simon Coveney."
2 related articles: Parliament 'bans' kosher meat in its restaurants and Is it too much to ask that Parliament provides kosher and halal food in its restaurants?
January 30, 2018 from The JC and The JC:
An employee "inquired about the possibility of kosher food being provided in Parliament's nine restaurants and canteens, but was told menus were governed by guidelines written by groups including the RSPCA and the British Veterinary Association – a long-standing critic of non-stun slaughter."
"Parliament's on-site catering options include a range of restaurants, snack bars, coffee shops and vending machines and can be used by MPs, peers, their staff and more than 10,000 parliamentary pass-holders."
"Asked whether pre-made kosher food, such as sandwiches which are readily available in supermarkets, could be sold on the parliamentary estate, the spokesperson said: 'Following careful consideration, the provision of kosher products when weighed against demand, is not viable in terms of costs, logistics and supplier management.'"
The European Parliament provide kosher meals.
Israeli Lawsuit Charges Supermarkets Selling Salmonella-Infected Chicken
January 26, 2018 from Hamodia:
"Attorneys representing consumer groups have requested the courts to approve a huge class-action lawsuit against some of Israel's largest supermarket chains – for selling tainted chicken. According to the lawsuit, as many as half, or even more, of the fresh chickens sold in large supermarket chains like Shufersal and Yeinot Bitan were contaminated, many of them with salmonella."
"According to scientists, salmonella is not uncommon in fresh chicken, and the germ can be killed and the chicken rendered safe to eat if it is cooked to at least 160 degrees Fahrenheit."
"The lawsuit cites statistics of recent veterinary studies that established the high levels of salmonella at some supermarket chains. At the Shufersal supermarkets checked, 55 percent of the chickens carried the germ, as did 55 percent of the Yeinot Bitan chickens. At Rami Levy, that figure was "only" 27 percent."
The Israeli "Health Ministry said that the issue of salmonella in raw processed chicken was well-known, and that the Health Ministry regularly published alerts on how to prepare chicken safely for eating."
England: Animal Welfare Bill 'must outlaw' non-stun halal and kosher slaughter
January 23 2018: from the Havest Public Media:
Humanists UK has called on Ministers to make non-stun halal and kosher slaughter illegal.
"Under current UK law, owners of animals are responsible for their welfare, but there is no duty on the state to consider animal welfare in policy making." The Humanists are trying to get the government define pre-stunning as a welfare need.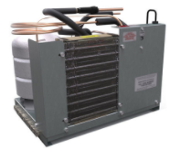 Elkay Recalls Water Coolers and Bottle Filling Stations Due to Shock Hazard
January 15, 2018 from the CPSC in conjunction: This recall involves Elkay and Halsey Taylor water coolers and bottle filling stations with the model numbers that begin with the letter and number combinations listed below. They are mainly installed in public facilities such as schools/universities, office buildings and airports. The brand Elkay or Halsey Taylor is identified on the front of the units with a nameplate or embossing and the affected serial numbers begin with the numbers 1704, 1705 or 1706. For more information on where to identify the model numbers and serial numbers on the units, visit www.checkmycooler.com .

Consumers should immediately stop using the recalled water coolers and bottle filling stations, unplug the units and contact Elkay for a free repair.
Consumer Contact: Elkay toll-free at 866-243-3070 Monday through Friday from 7 a.m. to 4 p.m., email at Recall17@elkay.com or online at www.elkay.com and click on PRODUCT RECALL for more information. Consumers can also go to www.checkmycooler.com and enter a unit's full serial number to see if it is included in the recall.

List of recalled products and more pictures can be found here
Egg Prices Expected To Rise In First Months Of 2018
December 28 2017: from the Havest Public Media:
"The U.S. Department of Agriculture predicts consumers will be paying less for beef, pork, lamb, chicken and turkey in early 2018 than at the start of 2017. Not so for eggs."
"Egg prices during the first three months of 2018 are likely to be more than 35 percent higher than they were during the same period of 2017, USDA's Economic Research Service says. The increase, from about 80 cents for a dozen grade A large eggs at the start of 2017 to predictions of $1.06 to $1.12 for a dozen, is due to several months of increased sales."
Domestic and international demand for U.S. eggs is on the rise. "Meanwhile, bird flu, which devastated the Midwest poultry sector in 2015, affected egg production this year in other countries, including South Korea, the Philippines, South Africa and the Netherlands."
"The European market was further dented in August, when an insecticide that's used to control fleas in pets may have been inappropriately used by cleaning crews in the Netherlands to reduce lice in chickens."
"U.S. egg producers appear to be increasing the size of their laying flocks, which ultimately will increase supply and potentially push prices down, the USDA says."