THIS SECTION IS FOR NEWS AND INTERESTING STORIES RELATED TO FOOD, NUTRITION AND FOOD PROCESSING. THEY ARE NOT NECESSARILY RELATED TO KOSHER BUT MAY BE OF INTEREST TO THE KOSHER CONSUMER, MANUFACTURER OR MASHGIACH.
Belgian court protects kosher slaughter
February 22, 2017: From Arutz 7 and YeshivaWorld:
"Belgium's Wallonia District Constitutional Court ruled that slaughter of animals in accordance with Jewish law is permitted in Belgium and will continue to be permitted."
"A month ago, a few Wallonian senators came out against religious slaughter and attempted to pass a law forcing Jewish slaughterhouses to stun the animal before slaughtering it, despite the fact that this would invalidate the slaughter and cause it to be non-kosher."


Calphalon Recalls Cutlery Knives Due to Laceration Hazard
February 22, 2017: The CPSC:
Calphalon Corp., of Atlanta, GA is recalling Contemporary Cutlery knives because the blade on Contemporary Cutlery knives can break during use, posing a laceration hazard.

This recall involves Calphalon Contemporary Cutlery carving, chef, paring, santoku and utility knives sold individually and in sets made between August 2008 and March 2016. The models listed here are included in the recall.
Calphalon has received 27 reports of finger or hand lacerations; including four injuries requiring stitches. In addition, the firm has received about 3,150 reports of broken knives.
Consumers should immediately stop using the recalled cutlery and contact Calphalon for a replacement cutlery product.
Sold At: J.C. Penney, Kohl's, Macy's and other stores nationwide and online at www.Amazon.com from September 2008 through December 2016. The recalled knives were sold from September 2008 through December 2016 for $25 for a single knife to $300 for a knife block set.
Consumer Contact: Calphalon at 800-809-7267 from 8 a.m. to 5 p.m. ET Monday through Friday or online at www.calphalon.com and click on "Customer Support" at the bottom of the page then "Recalls" for more information. About 2 million (in addition, about 7,000 were sold in Canada)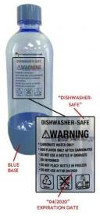 SodaStream Recalls Carbonating Bottles Due to Injury Hazard
February 21, 2017: The CPSC:
SodaStream USA Inc., Mount Laurel, N.J. is recalling carbonating bottles because the bottles can burst under pressure, posing an injury hazard to the user or bystanders.
This recall involves SodaStream one liter, blue tinted, plastic carbonating bottles. "SodaStream" and "Dishwasher safe" are printed on the recalled bottles. Only bottles with an expiration date of "4/2020" printed on the warning label are included in the recall. The recalled bottles have a blue cap and blue bottom base.
Consumers should immediately stop using the recalled carbonating bottles and contact SodaStream for a full refund. Consumers should immediately stop using the recalled carbonating bottles and contact SodaStream for a full refund.
Sold At: Bed Bath & Beyond, Target, Walmart and other stores and online at www.amazon.com and www.sodastream.com from February 2016 through January 2017 for about $15.
Consumer Contact: SodaStream USA toll-free at 866-272-9417 between 9 a.m. to 7 p.m. ET Monday through Friday or online at www.sodastream.com and click on the recall at the top of the page or www.sodastreamvoluntaryrecall.com for more information.
Restaurant And Hotel Associations Petition The Israeli High Court Against Chief Rabbinate Kashrus
February 15, 2017: The YeshivaWorld:
"The associations representing Israel's hotels and restaurants have petitioned the High Court of Justice against the Chief Rabbinate of Israel's monopoly on kashrus. This follows the original petition filed by Jerusalem restauranteurs against the kashrus system."
Rabbi Eliyahu Iluz Assumes Responsibility for Israeli Chief Rabbinate's Nationwide Kashrus
February 14, 2017: The YeshivaWorld:
"hief Rabbi Dovid Lau Shlita has been in charge of the Rabbinate's "nationwide kashrus" but signaled he cannot sign teudot kashrus in cases in which he does not have firsthand knowledge of the factory. The decision was made to place the responsibility in the hands of another, and after phone polling members of the Chief Rabbinate Council, Chief Rabbi of Ohr Akiva Rabi Eliyahu Iluz was approved." The Israeli Chief Rabbinate provides certification in areas where there is no local council and to Ben-Gurion airport.
International Olive Oil Prices Surge
February 10, 2017: The Bloombergand Specialtyfood.com
Poor weather in Spain and Italy have reduced olive oil output, which as increased prices internationally. In the United States, the strong dollar has reduced prices for consumers.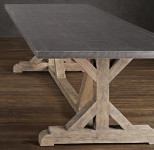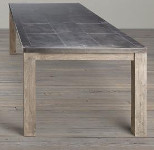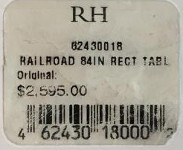 Restoration Hardware Recalls Metal Top Dining Tables Due to Risk of Lead Exposure
February 10, 2017: The CPSC
Restoration Hardware Inc., of Corte Madera, CA is recalling metal top dining tables because the table's metal top can contain lead and presents a risk of lead exposure to children. Lead is toxic if ingested and can cause adverse health effects.
This recall involves Restoration Hardware's Railroad Tie & Parsons Railroad Tie dining tables. The recalled tables are round or rectangular with thin sheets of zinc/dark gray color metal on the table tops. The item number is printed on a white sticker underneath the tabletop. Tables with the item numbers listed here are included in this recall.
Incidents/Injuries: Restoration Hardware has received reports of elevated blood lead levels in four children in two homes where a recalled table was present. One incident involving two children occurred in Cranston, R.I. and another incident involving two children occurred in Beverly Hills, CA.
Consumers should immediately stop using the recalled tables, cover the tables and place the table out of the reach of children and contact Restoration Hardware to receive a free replacement table or a full refund.
Consumer Contact: Restoration Hardware toll-free at 888-728-8419 from 8 a.m. to 5 p.m. PT Monday through Friday or online at www.restorationhardware.com and click on Safety Recalls at the bottom of the page for more information.
CANCELLED: Pesach Program Forced to Terminate After Hotel Refuses to Deactivate Sensors for Shabbos
February 9, 2017: from Matzav.com:
The Dolce Hotel and Conference Center in Basking Ridge, NJ's refusal to properly disable its motion sensors has forced a popular Pesach program to cancel its plans due to halachic concerns. This hotel recently installed motion and RF sensors in all their sleeping rooms which program organizers were told would be a clear violation of Shabbos and Yom Tov. The Dolce refused to accommodate requests by the Tennenbaums to disengage the system, claiming that none of their other kosher groups were bothered by it.
"Sensors control all amenities in a hotel room, such as lights and heat. When the door closes and no motion is detected, these amenities are shut in order to save money. As soon as the door is opened, before the door is even fully extended, all amenities return to the state in which they were left. Most systems have a VIP override for individual rooms and a full override for the entire hotel that disables the system."
Israeli Police Confiscate 6 Tons of Illegally Slaughtered Meat
February 3, 2017: The YeshivaWorld:
"Police and inspectors of the Ministry of Agriculture and veterinary services confiscated six tons of illegal slaughter, which was taken to be destroyed. The operation took place on Wednesday, 5 Shevat, in Tamra. The owner of the establishment, 31, a local resident, was taken for questioning."
"5.5 tons were apprehended in Tamra and another half-ton in nearby villages. Ads By Artscroll: Click Here!
"Tamra is an Arab city located in the lower Galil, about 20km east of Akko."
Exploring the legal status of edible insects around the world
February 1, 2017: From Food Navigator:
This article reports on how insects in food are regulated around the world. The major differences are in Aglo-Saxon countries including the US, non-English speaking countries and non-Western countried.