A New Study Finds Mislabelled Fish
January 11, 2017: From TechnologyNetworks:
"A new study from researchers at UCLA and Loyola Marymount University checked the DNA of fish ordered at 26 Los Angeles sushi restaurants from 2012 through 2015, and found that 47 percent of sushi was mislabelled. Salmon was found to be mislabelled one in 10 times, and out of 43 orders of halibut and 32 orders of red snapper they were all a different kind of fish. A one-year sampling of high-end grocery stores found similar mislabelling rates."
"The fraud undermines environmental regulations limiting overfishing, introduces unexpected health risks and interferes with consumers' decisions. Over the four-year study, only bluefin tuna was always exactly as advertised. Different kinds of tuna occasionally swapped places, including samples of species classified as endangered and critically endangered. Out of nine orders of yellowfin tuna, seven were a different kind of tuna. Salmon had 6 of 47 orders going awry. However, all halibut and red snapper orders failed the DNA test, and in 9 out of 10 cases, diners ordering halibut were served flounder. About 4 in 10 halibut orders were species of flounder considered overfished or near threatened."
"While some mislabelling could be unintentional, fraud could also result from the desire to skirt environmental regulations or the ability to sell a cheaper fish as a more expensive product." "New federal regulations governing monitoring of seafood imports went into effect Jan. 9 to address the problem. "
Bought Blue Diamond Almond Breeze or Nut-Thins? You may be eligible for settlement
January 17, 2017: From Al.com:
"Blue Diamond, maker of Almond Breeze and Nut-Thins, has settled a class action lawsuit over claims it advertised the products as "all natural" or "natural" even though they actually contain synthetic agreements. The suit also questioned how much almonds actually went into Almond Breeze, a plant-based alternative to traditional dairy milk."
"The class action suit claimed Almond Breeze advertised itself as being made "from almonds" when in fact the nuts made up only a small portion of the ingredients. An analysis by Food Navigator-USA showed the exact amount of almonds in Almond Breeze was about 2 percent, with the rest being made up of water, sugar, carrageenan (a seaweed-based ingredient widely used for thickening), and sunflower lecithin. Other brands of almond milk contain about 30 percent, the suit claimed."
"The settlement doesn't include an admission of wrongdoing by California-based Blue Almond."
"Blue Diamond has agreed to change its advertising and packaging and pay a $9 million settlement. A portion of the money will go towards payments for anyone who purchased the Blue Diamond Almond Breeze and/or Blue Diamond Nut-Thins products from May 28, 2009 to Nov. 18, 2016."
"Claimants are eligible to receive refunds of up to $20 - $10 for those without a receipt, $20 for those who can prove they bought the items."
"The deadline for claims is April 13." Information on settlement.
Israeli Chief Rabbinate concedes kosher supervision industry needs 'fixing'
January 17, 2017: From Times of Israel and Arutz 7:
"Moshe Dagan, Director-General of Israel's Chief Rabbinate, said yesterday that the Rabbinate is not happy with the current situation in which "every local regional rabbinate has its own Kashrut policy."
MKs Rachel Azariah (Kulanu) "has submitted a bill that would render the Rabbinate a "Kashrut regulator" instead of a "Kashrut provider." The Rabbinate would provide licenses to private kashrut providers, which would operate according to their own standards.
"The Rabbinate's Dagan said that Chief Rabbi David Lau has established a committee that is to present recommendations, two months from now, for the improvement of kashrut in Israel. He acknowledged that there was no need for "double and triple kashrut certifications" on the same product – caused by private "Badatzim" (private haredi kashrut certifications) that do not accept the Chief Rabbinate's kashrut standards. "There should be two standards," he said: "Basic and mehadrin."
"The Hotam plan, supported also by the Kosharot organization – widely trusted by the religious-Zionist public to evaluate the various kashrut certifications – recommends three different standards: regular, mehadrin, and something in between. The organizations say that this will prevent the confusion that now reigns as to how stringent, or lenient, each local rabbinate is."
"Rabbi Moshe Katz of Kosharot also recommends the establishment of a national kashrut company that will operate according to kashrut rules set by the Chief Rabbinate, but will be responsible for actually employing the kashrut supervisors according to clear criteria that will be available to the public."
Israeli High Court Backs Rabbinate Decision On Meat Incident
January 16, 2017: From Matzav.com:
"The Israeli High Court has again backed a decision of the Chief Rabbinate. This time, the question involved a controversy between the rabbinate and G.H.S. Quality Meats of Haifa, which the rabbinate accused of producing products without rabbinical supervision in another plant. Despite the company's insistence that the products were being produced illegally by a pirate company outside their control, the rabbinate removed its hechsher and said that it would only return it under extra-strict conditions to ensure that the incident did not recur."
"The court accepted the rabbinate's position, saying that the circumstances involved in the incident required the rabbinate to behave as it did no matter who was actually responsible for the mislabeling of the treifa meat. Had the rabbinate behaved any differently, it would be betraying its trust, the court said."
Researchers find dangerous tapeworms in Alaskan salmon
January 17, 2017: From FoodSafetyNews:
"Salmon lovers have a new reason to opt for roasted instead of raw. Scientists have documented that the Japanese broad tapeworm has made its way to the waters of the North Pacific and is thriving among the salmon population there."
"Because Pacific salmon are frequently exported unfrozen, on ice, plerocercoids may survive transport and cause human infections in areas where they are not endemic, such as China, Europe, New Zealand, and middle and eastern United States."
From Seafood Health-Parisites"
"Parasites become a concern when consumers eat raw or lightly preserved fish such as sashimi, sushi, ceviche, and gravlax. When preparing these products, use commercially frozen fish. Alternatively, freeze the fish to an internal temperature of -4°F for at least 7 days to kill any parasites that may be present. Home freezers are usually between 0°F and 10°F and may not be cold enough to kill the parasites."
"During commercial freezing fish is frozen solid at a temperature of -35°F and stored at this temperature or below for a minimum of 15 hours to kill parasites. Most home freezers have temperatures at 0°F to 10°F and may not be cold enough to kill parasites because it can take up to 7 days at -4°F or below to kill parasites, especially in large fish. Good handling practices on-board fishing vessels and in processing plants can minimize nematode infestation. Many seafood processors inspect seafood fillets of species likely to contain parasites. This process called candling involves examining fish fillets over lights. Candling detects surface parasites. Unfortunately, they cannot always see parasites embedded deep in thick fillets or in dark tissue."
Dairy Farmer and Dairy Foods Groups Support Senate Bill Prompting FDA Enforcement of Milk Labeling Standards
January 12, 2017: from Foodmanufacturing.com:
"Sen. Tammy Baldwin's (D-WI) DAIRY PRIDE Act would protect the integrity of food standards by prompting the Food and Drug Administration (FDA) to enforce existing labeling requirements, specifying foods labeled as "milk" and "cheese" have to come from dairy animals."
"New Senate legislation to enforce the proper labeling of imitation dairy products drew an endorsement today from the International Dairy Foods Association (IDFA) and the National Milk Producers Federation (NMPF), which together agreed that steps need to be taken to defend the integrity of federal food labeling standards and prevent the misbranding of dairy imitators."
"FDA regulations (CFR 131.110) define milk as a product of a cow, with a similar stipulation for yogurt and cheese. Though existing federal policy is clear on this subject, FDA has not challenged the incorrect use of the terms "milk," "yogurt" and "cheese" on imitators that have proliferated during the past two decades, according to the dairy industry."
"The Baldwin legislation comes one month after Reps. Mike Simpson (R-ID) and Peter Welch (D-VT), supported by a bipartisan coalition of 32 other members of the House, sent a letter to FDA urging the agency to more aggressively police the improper use of dairy terminology."
Jerusalem Catering Hall Nabbed With Treif Meat
January 10, 2017: The YeshivaWorld:
"Inspectors of the Chief Rabbinate Kashrus Enforcement Unit working with health inspectors operating in the Talpiot area of the capital found hundreds of kilograms of tainted meat in a catering hall that was suspected of being treif. The inspection was carried out on Monday, 11 Teves, and the report states that in addition to being suspected of being treif, the meats were not stored in compliance with health regulations. It is also added the businesses advertised as being kosher but in actuality, do not have kashrus supervision from any agency."
"The hall in question is Gidi Yavan, formerly Leilot Casablanca." "The hall also uses the names Shara, Teiman and Tuamin."
"They offer catering services along with a restaurant, and take home foods, dairy and meat, advertising as kosher."
"Inspectors were acting on an intelligence tip, which panned out in this case. The district veterinary officer gave the order to destroy the meats confiscated during the operation which amount to over 350kg (771 LBS)."
Providing small bags for raw chicken at the checkout may reduce spread of bacteria
January 11, 2017: The CFoodNews and Telegraph:
The British Food Standards Agency has suggested that stores provide a plastic bags to put raw chicken packages in to "help to stop the spread of bacteria that can be present on the outside of the packaging, from contaminating other foods in the consumer's shopping basket." They are particularly concerned in places that charge for plastic shopping bags because people are then less likely to pay for a separate bag to put the chicken.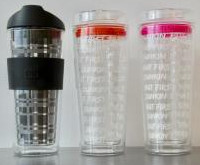 Dunkin' Donuts Recalls Glass Tumblers Due to Laceration and Burn Hazards
January 10, 2017: The CPSC
Dunkin' Donuts Glass Tumblers: the glass tumblers can crack or break, posing laceration and burn hazard
This recall involves 16 ounce glass tumblers for hot and cold beverages, sold in three styles. They are approximately 8 inches tall and approximately 3 inches in diameter. The first style has "BUT FIRST, DUNKIN" written in white font on the inside layer of glass, a clear lid and pink plastic where the lid connects with the base of the tumbler. The second style has "BUT FIRST, DUNKIN" written in white font on the inside layer of glass, a clear lid, and orange plastic where the lid connects with the base of the tumbler. The third style has a black and gray plaid pattern on the inside layer of glass, a black silicone grip with the letters "DD" embossed on it, and a black lid.
Consumers should immediately stop using the recalled glass tumblers and return them to the Dunkin' Donuts restaurant where purchased for a full refund. Sold At: Dunkin' Donuts stores from September 2016 through November 2016 for between $13 and $15
Consumer Contact: Dunkin' Donuts at 800-859-5339 from 7 a.m. to 7 p.m. ET Monday through Friday, or online at www.dunkindonuts.com and click on "Learn More" next to the safety recall alert for more information.
Network of raw camel milk operations spurs FDA warnings
January 9, 2017: From FoodSafetyNews:
A Saudi entrepreneur, Walid Abdul-Wahab and his Santa Monica-based Desert Farms company, with "a California-based raw milk network that stretches across the United States is on notice from the FDA to stop making illegal claims about the therapeutic benefits of unpasteurized milk, including raw camel milk."
"Among the raw milk producers affiliated with Abdul-Wahab's Desert Farms network are several Amish dairies, including that of Sam Hosteler of Miller, MO."
"A pint of Hosteler's raw camel milk goes for about $8. He told the Springfield, MO, News-Leader newspaper that a camel only produces about two to three gallons of milk per day, compared to the 10 gallons a dairy cows can produce."
"The Amish dairyman also told the Springfield newspaper he will abide by the federal law and stop selling raw milk to people outside Missouri. Some states, Missouri included, allow farmers to sell raw milk direct to consumers at their farms.
Apparently aware of the federal law before the FDA warning, Hosteler was included in a November 2016 article by The New Food Economy that detailed the network of Amish and Mennonite farmers supplying Abdul-Wahab's Desert Farms network. Abdul-Wahab told CNBC in 2015 that his camel milk sells for about $8 per pint and that he had more than 100,000 customers.