US bill introduced to tackle fake organic goods
October 10, 2017 from the Securing Industry:
"A new bill has been introduced in the US to crackdown on imports of fraudulent organic-labelled goods."
"The bipartisan legislation, introduced by US representatives Democrat Michelle Lujan Grisham and Republican John Faso, would seek to provide the US Department of Agriculture's (USDA) National Organic Program with between $15m and $20m a year from 2018 to 2023 to upgrade compliance and enforcement actions in the US and abroad."
"An additional $5m would also be provided to improve tracking of international organic trade and data collection systems to ensure full traceability of imported products."
"The bill follows a report last month, which found the USDA's Agricultural Marketing Service – which has oversight of the National Organic Program – was lacking in its control and oversight of imported products labelled as organic and concluded that some fraudulent and mislabelled products could be slipping through customs into the US."
Fire-damaged Hagafen Cellars kosher winery reopens tasting room
October 16, 2017 from the Jewish News of Northern California:
"The tasting room reopened this morning at Hagafen Cellars, the only kosher winery in the Napa Valley and Sonoma, although the property sustained heavy damage last week from the Atlas Peak fire."
"Flames had ripped through the property on the southern portion of the Silverado Trail, destroying several buildings and virtually all of the winery's agricultural equipment — tractors, a forklift and even the crushing pad. About an acre of the winery's 12 acres of vineyards was burned, although thankfully, the grapes had been harvested."
"Unfortunately, he added, now there's no equipment available to process them."
"Hagafen didn't lose any of its inventory, which was safely stored inside the main winery building, although the impact on the 2017 vintage is yet to be determined."
Israeli Importers Committed to Limits on Retail Prices to Receive Duty Free Fresh Meat Shipments
October 16, 2017 from the JewishPress:
"For the first time ever, Israel's Ministry of the Economy and Industry will introduce a competitive process in allocating fresh meat import quotas – based on a maximum consumer price – aiming to ensure that the benefit from duty-free imports is rolled from importers to consumers.
"The quota committee of the Ministry of the Economy and Industry is embarking on this new competitive process for the import of chilled, duty-free meat for 2018. In 2018, import quotas of 13,500 tons of chilled meat will be distributed, with the annual consumption of fresh meat in the retail market estimated at 20,000 tons.
"According to the new procedure, the quotas committee will rate bids based on the Bidder's commitment to a maximum consumer price of 1 kg of fresh minced meat—the most popular fresh meat category. The lower the price per kg of fresh minced meat, the higher the bidder's rating and their chances of receiving a larger import allocation."
"Since government has begun the allocation of duty-free quotas, two years ago, there have been significant changes in the fresh meat market: the move lowered fresh meat consumer prices by an average of 10%; increased competition in the market as new suppliers have entered; and the status of the two dominant domestic suppliers that controlled more than 80% of the market has been eroded."
"As a result, there has been a 20% increase in Israelis' consumption of fresh meat, at the expense of a significant erosion in the consumption of aged meat, frozen meat, and processed meat."
Misc Sukkah information
Always check individually with the restaurant to confirm.
OU Slams Mayor de Blasio for Traif Only Free School Lunch Plan
October 2, 2017 from the JewishPress:
"De Blasio introduced his federally funded program on Sept. 6, with a promise of providing free meals for all the city students. However, according to the OU, as many as 30,000 yeshiva students cannot benefit from the plan because the food is not kosher certified."
"While the new plan does offer students vegetarian meals, which can pass for religious Jews and Muslims, but both groups require certification. Indeed, should the OU get the business, it would satisfy the Muslim community as well, as kashrut laws are more stringent than halal."
"When he introduced his "Free School Lunch for All" plan, de Blasio promised that "every kid in New York City has the fuel they need to succeed," since the program is also offered to NY City private schools. But according to the OU's Maury Litwack, as many as 200 Jewish schools cannot benefit because of their kashrut requirement."
U.S. authorities issue Sukkot advisories & link to information from the MK for travelers to the United States from Canada
October 2, 2017 from the jta and Agudath-Israel:
"TSA's screening procedures do not prohibit the carrying of the four plants used during Sukkot – a palm branch, myrtle twigs, willow twigs, and a citron – in airports, through or security checkpoints, or on airplanes."
TSA Notice
"U.S. Customs and Border Protection also noted that the four species were allowed entry, but noted a number of restrictions subject to inspection."
"Travelers will be asked to open the container with the ethrog and unwrap it," its advisory stated. "The agriculture specialist will inspect the ethrog. If either insect stings or pests are found, the ethrog will be prohibited from entering the United States. If neither is found, the traveler will be allowed to rewrap and re-box the ethrog for entry into the United States."
Twigs of willow from Europe are banned, it continued, and any sign of pests or disease will mean confiscation of the product.
US Customes and Border Patrol Notice
Jewish Community Council of Montreal informtion on traveling with lulav and esrog to the United States is here
Israeli Chief Rabbinate fines J'lem restaurant for independent kashrut supervision
September 27, 2017 - Jerusalem Post and Haaretz:
"The owner of a Jerusalem restaurant fined by the Chief Rabbinate on Tuesday for posting an alternative kashrut certificate said he has no intention of paying the 2,000 shekel ($567) levy. He added that his kashrut notice met all the requirements set down in a High Court of Justice ruling earlier this month."
"The fine was issued against the pasta restaurant located in the capital's Mahaneh Yehuda market on Tuesday, one day after Hashgacha Pratit issued new certificates for the restaurants under its supervision following a High Court of Justice ruling earlier this month that loosened restrictions on non-rabbinate kashrut supervision."
---
Independent authority defies Israeli Rabbinate, issues kosher certificates
September 25, 2017 - Jerusalem Post:
"The independent, Orthodox kashrut authority Hashgacha Pratit has taken advantage of new legal rights it gained following a High Court of Justice decision earlier this month by issuing new kashrut certificates, which legally cannot be called kashrut certificates, to restaurants and other food businesses under its supervision."
The Israeli "High Court's decision stated that although the Chief Rabbinate is still the only legally authorized body that can declare a product or business to be kosher in writing, restaurants can provide in writing a "true presentation" of the kashrut standards they keep, as long as they state they do not have a kashrut license."
"Hashgacha Pratit's new certificates now specify the exact kashrut practices which restaurants and businesses under its supervision observe."
"For dairy restaurants this includes stating that all products are dairy or pareve (without meat or milk); that the milk products are from supervised kosher milk; that flour is sifted for insects according to kashrut standards; and that leafy vegetables are correctly washed to remove insects, among other specifications."
"For restaurants serving meat, the certificates declare that all meat is from kosher slaughter."
"The certificates also bear a declaration that they are assisted by Hashgacha Pratit's head of kashrut Rabbi Oren Duvdevani and his representatives in sourcing and preparing food."
Chicago Rabbinical Council information on Hadassim and Schach for Sukkot 2017
September 26, 2017 from the cRc:
Seafood Fraud Is A Bait And Switch That Hurts Honest Canadians
September 25, 2017 - HuffpostCA and Oceana:
Oceana found that "on average, one in five of the more than 25,000 samples of seafood tested worldwide were mislabelled. Canada is no exception: studies have found that up to 41 per cent of Canadian seafood samples tested were mislabelled."
---
Study on food fraud attracts attention in Europe: 1 in 3 fish dishes on menu mislead consumers
September 13, 2017: The NewFoodMagazine:
Oceana analyzed fish samples from restaurants in Europe and found that the "fish served was not the fish mentioned in the menu in over 30% of cases."
"EU regulation 1379/2013 which came into force in 2014, requiring fishery products to be labelled with both the commercial name and the scientific name. Moreover, the production method, the fishing gear and the fishing area must be labelled."
"A further study in 2015 demonstrated that there had been a significant decrease of mislabelling with under 5 % of samples found to be mislabeled. However, the analysis only included fish products sold in supermarkets; however the problem still exists in restaurants."
"The journal Conservation Biology published a study which examined more than 300 samples in the USA from 26 sushi restaurants. The study found that 47 percent of the samples were mislabeled with high occurrences of mislabelling for halibut, red snapper and yellowfin tuna."
"Modern technologies can help to combat food fraud. For example, PCR tests for fish authentication allow authorities to detect mislabelling. And the so-called block chain technology could contribute to greater transparency and traceability of fishery products in the future."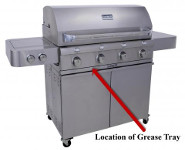 Saber Grills Recalls Grills and LP Regulators Due to Fire and Burn Hazards
September 26, 2017: The CPSC in conjunction with HealthyCanadians:
Saber Grills is recalling Gas grills and liquid propane (LP) regulators because the grills' LP regulator can allow gas to flow at a higher pressure than intended, which can result in a gas leak and flame burst from the burner knobs, posing fire and burn hazards to consumers.
This recall involves Model RA329 LP regulators with a date code in the range of 1120 to 1344, which were:
sold with certain SABER LP grills, warranty part kits, and natural gas to LP conversion kits;
installed as warranty or service parts in certain other SABER LP grills; or
installed in SABER natural gas grills and burners if they have been converted to use LP instead of natural gas.
The model number of the grill is located on a rating label located on the underside of the grease tray. The regulator date code is stamped on the regulator adjacent to the gas tank connection, and the regulator model number is on the center of the regulator. Model numbers included in this recall are linked to
here
.
Consumers should immediately stop using the recalled grills and regulators and contact Saber for a free repair kit with installation instructions. A video on how to install the replacement components is available at:
www.sabergrills.com/Support/SafetyBulletins.aspx
.
Sold At: Specialty outdoor living stores nationwide, including Family Leisure, Fortunoff Backyard Store, and Watson's, and through authorized websites and catalogs including Bed, Bath & Beyond and Frontgate, from September 2011 to May 2017 for between $800 and $2,000. The price of the LP conversion kit ranges from $90 to $105. The warranty parts were also sold as service parts for between $50 and $110.
Consumer Contact: Saber Grills toll-free at 866-671-7988 from 8 a.m. to 6 p.m. ET Monday through Friday and 10 a.m. to 3 p.m. ET Saturday, or online at recall.sabergrills.com for more information.