THIS SECTION IS FOR NEWS AND INTERESTING STORIES RELATED TO FOOD, NUTRITION AND FOOD PROCESSING. THEY ARE NOT NECESSARILY RELATED TO KOSHER BUT MAY BE OF INTEREST TO THE KOSHER CONSUMER, MANUFACTURER OR MASHGIACH.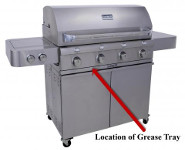 Saber Grills Recalls Grills and LP Regulators Due to Fire and Burn Hazards
September 26, 2017: The CPSC in conjunction with HealthyCanadians:
Saber Grills is recalling Gas grills and liquid propane (LP) regulators because the grills' LP regulator can allow gas to flow at a higher pressure than intended, which can result in a gas leak and flame burst from the burner knobs, posing fire and burn hazards to consumers.
This recall involves Model RA329 LP regulators with a date code in the range of 1120 to 1344, which were:
sold with certain SABER LP grills, warranty part kits, and natural gas to LP conversion kits;
installed as warranty or service parts in certain other SABER LP grills; or
installed in SABER natural gas grills and burners if they have been converted to use LP instead of natural gas.
The model number of the grill is located on a rating label located on the underside of the grease tray. The regulator date code is stamped on the regulator adjacent to the gas tank connection, and the regulator model number is on the center of the regulator. Model numbers included in this recall are linked to
here
.
Consumers should immediately stop using the recalled grills and regulators and contact Saber for a free repair kit with installation instructions. A video on how to install the replacement components is available at:
www.sabergrills.com/Support/SafetyBulletins.aspx
.
Sold At: Specialty outdoor living stores nationwide, including Family Leisure, Fortunoff Backyard Store, and Watson's, and through authorized websites and catalogs including Bed, Bath & Beyond and Frontgate, from September 2011 to May 2017 for between $800 and $2,000. The price of the LP conversion kit ranges from $90 to $105. The warranty parts were also sold as service parts for between $50 and $110.
Consumer Contact: Saber Grills toll-free at 866-671-7988 from 8 a.m. to 6 p.m. ET Monday through Friday and 10 a.m. to 3 p.m. ET Saturday, or online at recall.sabergrills.com for more information.
California Reinstates Foie Gras Ban
September 16, 2017: The DenverPost and specialtyfood.com:
"A federal appeals court reinstated California's ban on foie gras Friday, finding that a state law preventing sales of the luxury liver pate made by force-feeding ducks and geese was not pre-empted by federal authority to regulate poultry products."
"The ban was passed more than a decade ago after proponents said the process of fattening the livers of the birds was cruel and inhumane. The law took effect in 2011, but was blocked by a court in 2015."
"The unanimous decision by three judges won't immediately take effect, giving farmers and a restaurant time to seek further review."
Canada to Ban Trans Fats
September 15, 2017: The BizJournals and specialtyfood.com:
"Health Canada has taken the final step to ban partially hydrogenated oils (PHOs)—the main source of industrially produced trans fats—in all food sold in Canada. This includes both domestically produced and imported products and foods, as well as those that are prepared and served in restaurants and food service establishments." "Once the ban is implemented, any food containing PHOs cannot be legally sold in Canada."
" The ban will come into force one year from today on September 15, 2018, to give the food industry enough time to find suitable alternatives."
Irma Devastates Florida Orange Crop, Harms Other Produce
September 13, 2017: The FoodManufacturing:
"Hurricane Irma dealt Florida's iconic orange crop a devastating blow, destroying nearly all the fruit in some Southwest Florida groves and seriously damaging groves in Central Florida."
"Still unknown: How much damage the crops suffered, how much producers might recover from crop insurance and how much more people might pay for their morning orange juice."
Inspector General again finds weaknesses in organic imports
September 2o, 2017: The FoodSafetyNews:
USDA's Inspector General has found that imported fruits and vegetables are sometimes doused with chemicals when they reach the United States to prevent pests or diseases from entering the United States. "Not every shipment of fruits and vegetables get a pesticide bath at the border. The IG said if no issues are detected, imported fruits and vegetables are released. If pests or disease are found in a shipment — organic or otherwise — it's sent to quarantine. Those shipments often get pesticide showers before they are released."
"The inspectors found the process for determining organic standards equivalency between USDA and foreign governments is 'not fully transparent.'" " U.S. ports of entry are not in the business of verifying NOP import documents."
Israel: High Court Delivers A Blow To Chief Rabbinate Kashrus
September 13, 2017: The YeshivaWorld:
The Israeli Supreme Court is permitting companies to list their commitment to halacha and kashrus without callling themselves "kosher".
"The Reform Movement in Israel had filed a petition with the High Court of Justice challenging the Chief Rabbinate of Israel's exclusive monopoly on kashrus."
"By a majority of five judges against two, it was determined that a restaurant that does not hold a kosher certificate may not advertise itself as "kosher", but judges ruled, the restaurant is entitled to present a "declaration of truth " regarding the standards of kashrus that are maintained meticulously, and the manner of supervising their observance, which also includes an explicit clarification that he does not have a certificate of kashrut."
" This also permits private agencies to provide kashrus by displaying such a document in its name."
---
Israel - Consumers will demand to see kashrut supervision'
September 17, 2017: The Arutz 7:
"Rabbi Raphael Yochai, the director of the Chief Rabbinate division for Kashrut fraud, told Arutz Sheva that he is not comcerned by the Supreme Court decision allowing people to present their own private Kashrut without providing a certification."
Israel: Energy Ministry: Don't use a 'blech'
September 11, 2017: The Arutz 7:
"Israel's Energy Ministry called on the public to prevent tragedies and not use a "blech" during the upcoming holidays."
"A "blech" is a sheet of metal placed over a stove, on which foods can be warmed on Shabbat (Sabbath) or holidays."
"There is a risk of oxygen depletion, as well as of gas leaks caused by damage to the stove and gas pipes."
Fake Alcohol comes in many varieties
August 28, 2017: The Safeproof:
This article talks about how Taverns use substitution, dilution of alchohol and counterfeit alcohol to provide an inferior and possibly deadly product to consumers.

Israel: Massive kashrut fraud exposed
September 11, 2017: The Arutz 7:
A man in Nariyah "presented himself as a kashrut inspector using forged credentials, and certified scores of restaurants that in reality did match the necessary standards that Jewish dietary law requires."
"The Rabbinate's Kashrut Fraud Prevention Unit's suspicions were first aroused when they noticed that several businesses were presenting themselves as kosher, despite their certificate being signed by a rabbi they had never heard of. In addition, in cases where the certificate was signed by a known rabbi, the rabbi in question told the rabbinate that he had never signed any such document."
"The businesses in question were heavily fined for retaining kashrut certification from a private individual, against Rabbinate policy, which demands that it be done through the local municipal authorities."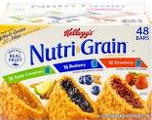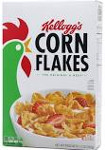 Kellogg's Expands their OU Kosher Certification
August 30, 2017: The OU:
"Kellogg Company has expanded their OU kosher certification to include their coveted Morning Foods products of Kellogg's brand cereals and nutri-grain bar products. Included in this OU kosher certification are almost all Kellogg's brand cereals and nutri-grain bar products whose packaging bear the "k" designation. Products with a plain "k" are certified OU pareve and products with a "kd" and "kde" are certified OU dairy and OU dairy equipment respectively. The only exception is Mini Shredded Wheat which is not OU kosher certified even when packaging bear a "k"."
Ed. note: The Morningstar Farms products had been certified by OK Kosher Certification and the Kellogg's cereal and Nutragrain products had been certified by the Rabbinical Council of New England.