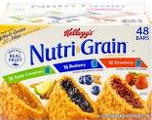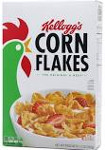 Kellogg's Expands their OU Kosher Certification
August 30, 2017: The OU:
"Kellogg Company has expanded their OU kosher certification to include their coveted Morning Foods products of Kellogg's brand cereals and nutri-grain bar products. Included in this OU kosher certification are almost all Kellogg's brand cereals and nutri-grain bar products whose packaging bear the "k" designation. Products with a plain "k" are certified OU pareve and products with a "kd" and "kde" are certified OU dairy and OU dairy equipment respectively. The only exception is Mini Shredded Wheat which is not OU kosher certified even when packaging bear a "k"."
Ed. note: The Morningstar Farms products had been certified by OK Kosher Certification and the Kellogg's cereal and Nutragrain products had been certified by the Rabbinical Council of New England.
10,000 gallons of illicit alcohol are seized from 31 Mexican resorts, restaurants and nightclubs in tourist hot spots after death of 20-year-old Wisconsin woman
August 14, 2017: The DailyMail:
"The Mexican government confiscated 10,000 gallons of illicit alcohol and raided 31 resorts and nightclubs in Cancun and Playa del Carmen that were thought to serve the counterfeit liquor to customers."
Another popular tourist establishment in Cancun, the Fat Tuesday bar, was also temporarily shut down by authorities."
"The rash of incidents prompted the State Department last month to warn American tourists traveling to Mexico to beware of tainted alcohol. "
Dr. Brown's Natural Bottle & Dish Soaps Recalled by Handi-Craft Company Due to Risk of Bacteria Exposure
August 30, 2017: The CPSC:
Dr. Brown's Natural bottle and dish soap has been recalled because the bottle and dish soap can contain harmful bacteria. Exposure to bacteria poses a risk of respiratory and other infections in immunocompromised individuals.
This recall involves Dr. Brown's Natural Bottle & Dish Soap sold separately and with Dr. Brown's bottle brush as a bottle cleaning kit. The soap bottles were sold in two sizes: a clear plastic 16-ounce bottle with a pump and a 4-ounce clear squeeze bottle. A label affixed to the front of the bottles read "Dr. Brown's natural bottle & dish soap" and "100% plant-based ingredients."
Our Little Ones, Babies R' Us, Bebeang, Buy Buy Baby, Drugland Pharmacy, Family First Pharmacy, Global Nutrition Trading, Macro and Turquoise stores nationwide and online at Amazon.com from September 2016 to June 2017 for between $3 and $7.
Consumers should immediately stop using the recalled bottle and dish soap and contact the firm for instructions on receiving a replacement bottle of reformulated dish soap or comparable merchandise of equal or lesser value. Bottles and dishes cleaned with the recalled soap should be boiled or sanitized in the dishwasher.
Consumer Contact: Handi-Craft toll-free at 877-962-2525 from 8 a.m. to 4 p.m. CT Monday through Friday, or online at www.drbrownsbaby.com and click on "Recall Information" for more information.
Industry's challenge to seafood import monitoring program rejected
August 29, 2017: The SeafoodSource.com:
the National Fisheries Institute (NFI) and a large group of U.S. seafood companies, including Trident Seafoods, Fortune Fish and Gourmet, Handy Seafood, and Alfa International Seafood legally challenged the "Seafood Import Monitoring Program (SIMP) – a set of regulations requiring increased traceability for seafood imports". "U.S. District Judge Amit Mehta ruled against the plaintiffs, finding that the Commerce Department's implementation of the program was not done inappropriately." He said that Congress had authority to issue regulations to combat seafood fraud.
"Barring an appeal, Mehta's ruling will allow the so-called Seafood Traceability Rule to take effect in January 2018, requiring importers to provide more specific information on several species of seafood - namely tuna, king crab, blue crab, red snapper, Pacific and Atlantic cod, dolphinfish, grouper, sea cucumber, swordfish, and sharks. Under the new rules, importers will have to accurately report the type of fish being shipped and how and where it was caught or farmed."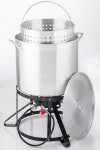 Academy Sports + Outdoors Recalls Crawfish Kits with Strainer Due to Fire Hazard
August 23, 2017: The CPSC and HeathyCanadians:
This recall involves the Academy Sports + Outdoors Outdoor Gourmet® 100-Qt. Crawfish kit with strainer which is an outdoor appliance used to cook crawfish and other seafood in a 100-quart pot. The Crawfish kit includes a hose assembly that connects the burner component to an external LP fuel tank supplied by the consumer. Model number FSOGBG4201 is printed on the silver label located on the burner component.
Consumers should immediately stop using the recalled 100-quart crawfish kits and contact Academy Sports + Outdoors for instructions on obtaining a free replacement hose assembly.
Sold At Academy Sports + Outdoors stores and online at Academy.com from March 2014 through May 2017 for about $130.
Idaho Jewish Prisoners Can Now Get Kosher Food
August 23, 2017: The Forward:
"A federal judge has ruled that Idaho's Department of Correction is required to provide kosher meals in all of its facilities." Because of this ruling the "four Jews locked up in Idaho prisons will finally be able to eat kosher."
"After the prisoners were only able to consume fruit and matzah during Passover because they were not provided with kosher meals, a lawsuit was filed in May by the American Civil Liberties Union (ACLU). The ACLU claimed that the prison service was violating the prisoners' constitutional rights to free exercise of religion."
"The kosher menu will include 19 different meals to choose from for breakfast, lunch and dinner. The court will be monitoring the implementation of the kosher food program to ensure compliance with kashrut, such as providing the meals in pre-packaged, sealed containers."
"The kosher meal plan is slated to be instituted no later than November 1 of this year."
"The judge's ruling, however, does not fully resolve the lawsuit. The ACLU is also suing for compensation on behalf of the prisoners, who were forced to eat non-kosher food for years while incarcerated."
Swiss to vote on banning import of kosher and halal meat
August 18, 2017: JewishNewsOnlline:
"Lawmakers in Switzerland will vote on a bill that outlaws the import of meat from animals that have undergone ritual slaughter, which already is illegal" in Switzerland.
"he bill, which was submitted in June by Matthias Aebischer, a federal lawmaker for the Social Democratic Party of Switzerland – the country's second largest — has prompted opposition because foie gras is part of the ban. A delicacy made of goose liver that is particularly popular among French-speaking Swiss consumers, foie gras is produced through forced feeding that is widely considered cruel."
"The debate on the measure, which has divided the multinational Swiss state, has extended beyond a proposed ban in the same bill on importing any meat that is produced from animals that are not stunned prior to their slaughter"
"Shechitah, the Jewish ritual method of slaughtering animals, requires they be conscious when their throats are slit — a practice that critics say is cruel but which advocates insist is more humane than mechanised methods used in non-kosher abattoirs. Muslims slaughter animals in a similar method, albeit with fewer restrictions, to produce halal meat."
"Shechitah for all animals except poultry has been illegal in Switzerland following legislation in 1894." "The Swiss Federal Council, which is part of the federal government, in 2016 said banning the import of meat from ritual slaughter would violate international trade agreements that Switzerland had signed."
Attempts to Import Jack Daniels to Israel Forces Rabbinate to Admit Game Is Rigged
August 13, 2017: The Haaretz and an old story on August 17, 2015 at Haaretz:
The Paneco Group "sought to import Jack Daniels whiskey through so-called parallel imports, which allow multiple companies to import a product, not just the manufacturer and authorized importer."
"Israel's Chief Rabbinate concedes that food importers exploit kosher (kashrut) laws to thwart competition, but says it can do little to stop it until it gets government approval to hire more inspectors and is given better enforcement powers."
Canadian study found Unlabelled Meat found in one in five sausages
August 8, 2017: The GlobalMeatNews:
Professor Robert Haner at the University of Guelph in Canada tested 100 raw meat sausage samples from beef, pork, chicken and turkey using DNA PCR Technolgy. They found that nearly a quarter of the raw beef sausages tested by researchers contained pork and one on in five packs of chicken sausages contained turkey, while one pack of chicken sausages contained traces of beef. They tested 28 samples of pork sausages, two contained beef and one contained horsemeat.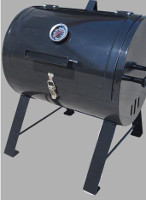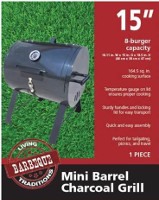 Fred's Recalls Charcoal Grills Due to Fire Hazard
August 2, 2017: The CPSC:
Mini barrel charcoal grills have been recalled because the exterior paint on the grill can ignite, posing a fire hazard. This recall involves Living Traditions mini barrel charcoal grills. The black steel grills measure about 18 inches by 15 inches by 18.5 inches. They have a black handle on the lid and one on each side, and at the front a heat gauge and a silver latch. Model number SXB1501 and UPC code 00000 19877 are printed on the product's packaging.
Sold at Fred's stores in: Alabama, Arkansas, Georgia, Illinois, Kentucky, Louisiana, Mississippi, Missouri, North Carolina, Oklahoma, South Carolina, Tennessee and Texas from January 2017 through June 2017 for about $22.
There are two reports of paint on the exterior of the grill igniting. No injuries or property damage have been reported.
Consumers should immediately stop using the recalled product and return the grill to any Fred's Store for a full refund of the purchase price.