K A S H R U T . C O M©
The Premier Kosher Information Source on the Internet
---
HOME | PASSOVER | CONSUMER | COMMERCIAL | TRAVEL | ZEMANIM | LINKS | ARTICLES | RECIPES | HUMOR | E-MAIL LIST

---
Passover Kashrut Alerts
Passover Alert - Gefen Coconut Milk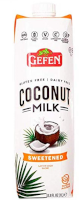 February 17, 2021 from Volvoe Kashrus via the Jerusalem Kosher News with additional information from the OU:
From Rabbi N. E. Teitelbaum: All GEFEN "Coconut Milk", (Sweetened and Unsweetened) is NOT Kosher for Passover despite the "Kosher for Passover" print on the label.
All groceries are asked not to sell this until Isri Chag Pesach.
From the OU: The Orthodox Union certifies Gefen Coconut Milk as an OUP - kosher for Passover product. Some have questioned the Passover status of this product. The Orthodox Union, however, maintains that this product is OU kosher for Passover.
The information posted is from secondary sources. We cannot take responsibility for the accuracy of the information.
Copyright © kashrut.com. Permission is granted to reprint these alerts if kashrut.com is credited as the source of the information.
כל האומר דבר בשם אומרו, מביא גאלה לעולם אבות ו"ו