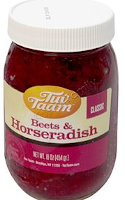 March 30, 2021 from the Ira Axelrod, a Boston based food distributor:
"It has come to our attention that a large number of bottles of Taam Tuv red horseradish, supposedly intended for Passover use, did not have the appropriate Passover markings on the jars. It is possible that it was only a printing or labelling error. But it is also possible that jars NOT meant for Passover got mixed in with the Passover batch. Apparently, a significant number of these jars wound up in the Boston area."
"Until the situation is fully investigated and is concluded to everyone's satisfaction, it has been recommended that, if you have any of these jars, you refrain from using them."
From the OK in response to a question from the editor: Any chometz in the formula would be botul.