K A S H R U T . C O M©
The Premier Kosher Information Source on the Internet
---
HOME | PASSOVER | CONSUMER | COMMERCIAL | TRAVEL | ZEMANIM | LINKS | ARTICLES | RECIPES | HUMOR | E-MAIL LIST

---
Commercial Kashrut Alerts
---
The following health alert is from the FDA on May 6, 2010.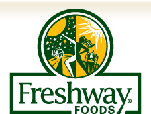 Freshway Foods is voluntarily recalling products containing romaine lettuce with a use by date of May 12 or earlier because they have the potential to be contaminated with Escherichia coli O145 bacteria (E. coli O145). The products were sold under the Freshway brand and Imperial Sysco brand. The company is working with U.S. Food and Drug Administration (FDA) to inform consumers of this recall.
This recall includes romaine lettuce products sold by Freshway Foods for food service outlets, wholesale, and in-store retail salad bars and delis; no other products are involved. Freshway Foods does not produce bulk, prepackaged romaine or bagged salad mixes containing romaine for sale in supermarkets, and therefore these products are not included in this recall. A list of recalled products can be found at FDA and at www.freshwayfoods.com.
The information posted is from secondary sources. We cannot take responsibility for the accuracy of the information.
Copywrite © kashrut.com. Permission is granted to reprint these alerts if kashrut.com is credited as the source of the information.
כל האומר דבר בשם אומרו, מביא גאלה לעולם אבות ו"ו