K A S H R U T . C O M©
The Premier Kosher Information Source on the Internet
---
HOME | ALERTS | CONSUMER | COMMERCIAL | PASSOVER | TRAVEL | ZEMANIM | LINKS | ARTICLES | RECIPES | HUMOR | E-MAIL LIST

---
Commercial Kashrut Alerts
---
Kashrus information - Dorot Carrots from Israel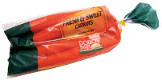 March 31, 2023 from the editor:
Kosher certificate is here. The certificate lists that Terumos and maasros were taken.
---
June 14, 2017 from the Capitol-K:
"We are pleased to announce that effective immediately DOROT FARMS CARROTS product of Israel is Approved for this season under the certification of Rav Yosef Efrati.
PLEASE NOTE:
This applies ONLY to DOROT FARMS CARROTS . Unfortunately, we still cannot accept other Israeli produce in establishments.
NO SYMBOL REQUIRED
This will need to be renewed yearly and will for sure not apply during the Shemitta/Sabbatical year.
Kosher certificate is at
http://www.dorotfarm.com/img/Dorot_Kosher_Certificate.pdf
.
The information posted is from secondary sources. We cannot take responsibility for the accuracy of the information.
Copywrite © kashrut.com. Permission is granted to reprint these alerts if kashrut.com is credited as the source of the information.
כל האומר דבר בשם אומרו, מביא גאלה לעולם אבות ו"ו