K A S H R U T . C O M©
The Premier Kosher Information Source on the Internet
---
HOME | PASSOVER | CONSUMER | COMMERCIAL | TRAVEL | ZEMANIM | LINKS | ARTICLES | RECIPES | HUMOR | E-MAIL LIST

---
Commercial Kashrut Alerts
---
Don Anecio brand Balsamic Vinegar Glaze bears unauthorized use of the "KLBD" symbol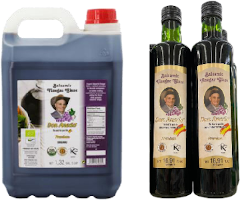 January 22, 2021 from Kashrus Magazine:
"Don Anecio brand Balsamic Vinegar Glaze, a product of Spain, is being sold in the USA, in both bulk and retail sizes and in both Premium and Organic varieties. This product is NOT KOSHER. It contains organic red grape vinegar and organic grape from concentrate, and mistakenly bears the "KLBD" [London Beth Din] symbol and the word "Kosher." Do not use this product."
The information posted is from secondary sources. We cannot take responsibility for the accuracy of the information.
Copywrite © kashrut.com. Permission is granted to reprint these alerts if kashrut.com is credited as the source of the information.
כל האומר דבר בשם אומרו, מביא גאלה לעולם אבות ו"ו