K A S H R U T . C O M©
The Premier Kosher Information Source on the Internet
---
HOME | PASSOVER | CONSUMER | COMMERCIAL | TRAVEL | ZEMANIM | LINKS | ARTICLES | RECIPES | HUMOR | E-MAIL LIST

---
Commercial Kashrut Alerts
---
Israeli Health Alert - Chocotrade Strips of Sugared Orange Peels,Coated with a Chocolate Substitute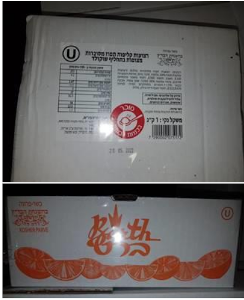 April 23, 2021 from health.gov.il
ChocotradeLtd. Company Calls for Returning the product: "Strips of SugaredOrange Peels,Coated with a Chocolate Substitute."
Upon an inspection, held as part of the self-quality assurance of the factory, Salmonella bacteria were discovered in the product "Strips of Sugared Orange Peels, Coated with a Chocolate Substitute."
Content: 1 kg.Manufacturer Name: Barret Ltd.Address: 3 Haofen St., Petah Tikva
Expiry date: all expiry dates between 7.5.2022-22.5.2022 (including).
Barcode: 7290002075172 .
For inquiries -dial: +972-03-9220440
The information posted is from secondary sources. We cannot take responsibility for the accuracy of the information.
Copywrite © kashrut.com. Permission is granted to reprint these alerts if kashrut.com is credited as the source of the information.
כל האומר דבר בשם אומרו, מביא גאלה לעולם אבות ו"ו