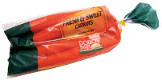 May 20, 2022 from the Keystone-K:
Dorot Farm produce is available in several local stores. This produce is generally reliable regarding the separation of Terumah and Maaser however they rely on the heter mechira during the shemita year.
The policy of the Keystone-K is not to rely on the heter mechira and to consider such produce as containing kedushas shevi'is (sanctity of shemita).
If such produce comes into your possession it should not be given away. It is recommended to leave it outside and allow it to decay. It should not be thrown in the garbage while it is still edible.
If you have large amounts or if you have used it while cooking, please consult a competent halachic authority.
Kosher certificate under heter mechira is here.