Outbreak of Hepatitis A Virus Infections Linked to Frozen Organic Strawberries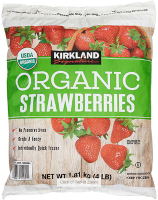 May 8, 2023: FDA:
As of May 5, 2023, a total of 9 outbreak-associated cases of hepatitis A have been reported from 3 states. Based on epidemiological data collected by CDC, 9/9 (100%) people who provided information about what they ate before becoming ill reported eating frozen organic strawberries.
California Splendor Recall: Kirkland Signature 4-lb. bag Frozen Organic Whole Strawberries in certain states with specific lot codes.
Scenic Fruit Recall: frozen organic strawberries with the following brand names and Best By Dates distributed to specific states:
Simply Nature, Organic Strawberries, Best By 06/14/2024
Vital Choice, Organic Strawberries, BEST BY 05/20/2024
Kirkland Signature, Organic Strawberries, Best If Used By 10/08/2024
Made With, Organic Strawberries, Best Before 11/20/2024
PCC Community Markets, Organic Strawberries, Best By 29/10/2024
Trader Joe's, Organic Tropical Fruit Blend with the following Best By dates: 04/25/24; 05/12/24; 05/23/24; 05/30/24; 06/07/24
California Splendor supplied recalled product to Costco stores in Los Angeles and Hawaii, and to two San Diego business centers. Scenic Fruit supplied recalled product to Costco, Aldi, KeHE, Vital Choice Seafood, and PCC Community Markets in specific states, and to Trader Joe's nationwide.
---
March 22, 2023 from ealert
"The FDA has determined that the frozen organic strawberries linked to a current outbreak of Hepatitis A virus infections in the state of Washington originated on certain farms in Baja California (Mexico). The outbreak strain is identical to the strain of Hepatitis A that was responsible for a 2022 outbreak, that was linked to fresh organic strawberries grown in Baja California."
information from the CDC is here
On March 17, 2023, the retailer, Meijer, also issued press to voluntarily recall Made-WithExternal Link Disclaimer brand frozen organic strawberries from certain market store locations.
This is not an exhaustive list of products or stores. FDA is continuing to work with the firms to identify potential additional product information.
---
Scenic Fruit Company Recalls Frozen Organic Strawberries and Frozen Organic Tropical Fruit Blend Because of Possible Health Risk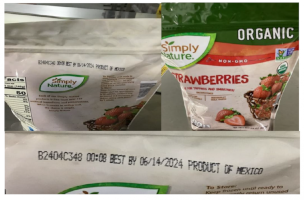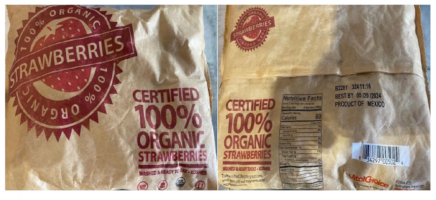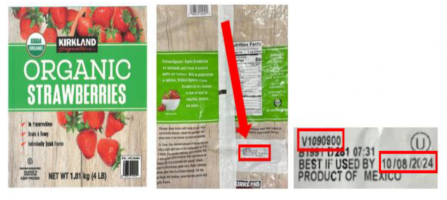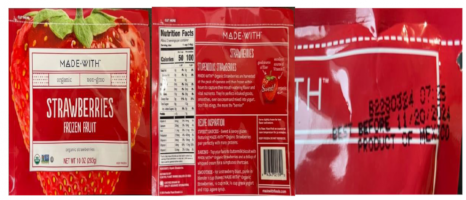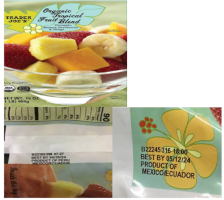 March 16, 2023 from the FDA:
Scenic Fruit Company of Gresham, Oregon is recalling frozen Organic Strawberries sold to Costco, Aldi, KeHE, Vital Choice Seafood, PCC Community Markets and frozen Organic Tropical Fruit Blend sold to Trader Joe's due to an outbreak of Hepatitis A illnesses.
The following products are subject to this recall. The lot codes and best by dates are found on the back of each bag (see attached pictures below):
Brand Name
Product Name
Net Wt.
UPC
Best By Dates
Best If Use Dates
Best Before Date
Distributed in States
Simply Nature
Organic Strawberries
24 oz.
4099100256222
6/14/2024
California, Minnesota,
Missouri, Ohio, Wisconsin.
Vital Choice
Organic Strawberries
16 oz.
834297005024
5/20/2024
Washington
Kirkland Signature
Organic Strawberries
4 lbs.
96619140404
10/8/2024
Alaska, Idaho, Montana,
Oregon, Utah, Washington.
Made With
Organic Strawberries
10 oz.
814343021390
11/20/2024
Illinois, Maryland
PCC Community
Markets
Organic Strawberries
32 oz.
22827109469
29/10/2024
Washington
Trader Joe's
Organic Tropical Fruit
Blend Pineapple,
Bananas, Strawberries
& Mango
16 oz
00511919
04/25/24
05/12/24
05/23/24
05/30/24
06/07/24
Nationwide
Link to CDC information: Outbreak of Hepatitis A Virus Infections Linked to Frozen Organic Strawberries is here
CDC, state public health and regulatory officials, and the U.S. Food and Drug Administration are investigating an outbreak of hepatitis A linked to frozen organic strawberries imported from certain farms located in Baja California, Mexico, by a common supplier. Frozen organic strawberries may be sold to a variety of retailers under multiple brand labels. Traceback and epidemiological investigations show that people with outbreak-associated cases in Washington purchased the same retail brand of frozen organic strawberries prior to becoming ill.