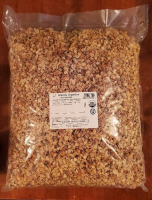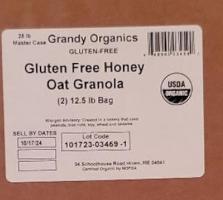 Grandy Organics Issues Allergy Alert on Undeclared Coconut in Gluten Free Honey Oat Granola
November 5, 2023: From the FDA:
Grandy Organics of Hiram, Maine is voluntarily recalling Gluten Free Honey Oat Granola with lot code 231017-03459-1 because it may contain undeclared Coconut.
The affected lot of Gluten Free Honey Oat Granola was distributed to FL, to a food service distributor, to a food processor in CA, and direct to individual consumers in MI, MN, NJ, and NY. This product was packed in 25lb cases containing (2) 12.5lbs bags with a UPC of 648960034590. This product was also packed in 3lb bags and sent direct to consumers.
Grandy Organics is committed to food safety, transparency, and producing the highest quality products. The company is offering a refund or replacement product to all customers involved. Please email or call using the information below. Inquiries and questions should be directed to customerservice@grandyorganics.com (207) 935-7415 Will be monitored Monday through Friday 8am to 5pm EST.