K A S H R U T . C O M©
The Premier Kosher Information Source on the Internet
---
HOME | PASSOVER | CONSUMER | COMMERCIAL | TRAVEL | ZEMANIM | LINKS | ARTICLES | RECIPES | HUMOR | E-MAIL LIST

---
Cookbooks and Cookbook Reviews
The Healthy Jewish Kitchen
By Paula Shoyer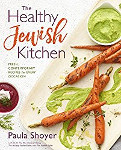 The Healthy Jewish Kitchen: Fresh, Contemporary Recipes for Every Occasion
The Healthy Jewish Kitchen by Paula Shoyer.
The Healthy Jewish Kitchen presents recipes using healthy ingredients. Many have an international taste inclding Vietnamese Chicken Noodle Soup and brisket Bourguignon. There are also healthy variations of babka and challah.
Each recipe lists whether it is meat, dairy or pareve, gluten-free and whether usable for Passover. There are also tip boxes included in many of the recipes.
Kashrut.com received a review copy of this book; Review posted 1/1/18.