The following safety alert from the CPSC, on May 16, 2013.

Avon Products, Inc., New York, N.Y. is recalling Microwave Popcorn Makers because when cooked too long, the popcorn can overheat in this popcorn maker and ignite, posing a fire or burn hazard to consumers.
This recall involves Avon's Microwave Popcorn Maker sold in the U.S. with item number 474-105 in Avon's brochures and website. The recalled plastic popcorn maker consists of a clear tub and a yellow vented lid. The tub is 6 inches high and measures 7.5 inches in diameter and has three feet at the base. "DO NOT REMOVE WITH BARE HANDS. HOLD UNIT WITH GLOVES" is molded into the plastic of the lid and "USE IN MICROWAVE OVEN ONLY" is molded into the underside of the bowl. "Made in Taiwan" is printed on an adhesive label located on the underside of the bowl.
Consumers should stop using the popcorn maker immediately and contact Avon to receive a copy of the updated instructions on how to safely use the microwave popcorn maker. The new instructions can also be obtained from independent Avon representatives and on Avon's website under the Product Recall section. This product was sold through independent Avon sales representatives and online at www.avon.com from October 2012 through February 2013, for about $13.
The following news is from the FoodQuality.com on May 14, 2013.
FDA officials announced on May 5 that it would reconfigure its budget to avoid reducing inspections. An April 25 report that as many as 2,100 food inspections—or approximately 18% of the total conducted by the agency—would be eliminated this year as a result of the government sequester. Instead travel and training will be two of the targets for budget decreases that otherwise would have hit inspections.
---
The following news is from the FoodProductDesign.com on April 29, 2013.
FDA Commissioner Margaret Hamburg told the editorial board of USA TODAY that the sequester will delay the U.S. Food and Drug Administration's (FDA) implementation of the 2-year-old Food Safety Modernization Act and result in fewer food-safety inspections.
The following news is from the Salon.com on May 12, 2013.
The EU banned the export of Baltic salmon from Sweden back in 2002 due to the fact that they were found to be heavily contaminated with dioxins. But that didn't stop Swedish firms from selling 200 tons of the fish to companies in France, Denmark and the Netherlands.
A French firm that bought 103 tons of the Baltic salmon in 2011 and 2012 said they did their own tests which did not reveal dioxins in the fish.
Domestic sales of the salmon in Sweden, Finland and Latvia were exempt from the ban, but even in those countries, sales must adhere to guidelines regarding safe limits of consumption. The Swedish National Food Agency recommends consumption of Baltic Sea salmon and herring no more than once a week. Children and babies are most vulnerable to dioxins, so for those under 18 and women of childbearing age, the limit is much lower, about two to three times a year.
The following news is from the Jewishtelepathicagency.com on May 8, 2013.
Tel Aviv Rabbinate has reversed its decision to introduce mobile barcode scanning at kosher restaurants after pilot tests revealed that haredi [ultra-Orthodox] Jews did not own smartphones. The rabbinate had begun issuing QR or Quick Response bar codes to kosher establishments last week.
"The codes allowed religious customers to access detailed information such as the stringency of the kashrut certification, its expiration date, and the type of cuisine (milk, meat, pareve or treif)." The Haredim, who would be most interested in the information, don't use smartphones and don't know what a QR code is.
The following news is from the FoodNavigator.com on May 7, 2013.
The European Commission has proposted to streamline legislation and increase fines to reduce food fraud after the recent horse meat scandal. The EC has proposed to reduce the current 70 pieces of legislation covering food safety to 5. The legislation will increase the number of unannounced inspections and increase fines to a level equal to the economic gain from the fraud. In addition, the EC would have authority to require testing by member states.
The following news is from the FoodManufacturing.com on May 6, 2013.
Hosam Amara, a former manager at Agriprocessors appeared in a U.S. courtroom Friday to face charges that he conspired to exploit immigrant workers for profit after being extradited from Israel where he had fled to with his family shortly after federal agents raided Agriprocessors in May 2008. "In addition to Amara, the indictment charged Rubashkin and former plant managers Brent Beebe and Zeev Levi with taking part in the conspiracy. Prosecutors say that Levi has also apparently fled to Israel and remains a fugitive. Beebe reached a plea agreement in 2010 in which he pleaded guilty to a document fraud charge and was sentenced to 10 months in prison. Rubashkin was convicted in 2009 on separate financial fraud charges and sentenced to 27 years in prison. After his conviction in that case, prosecutors dropped the immigration charges against him rather than go through with a second trial."
The following safety alert from the CPSC, on May 2, 2013.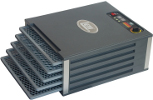 LEM Products Distribution is recalling a 5-Tray Dehydrator with Digital Timer because the fan can fail causing the unit to overheat and pose a fire hazard.
This recall involves 5-tray food dehydrators. The dehydrators are gray and are made of plastic and metal. The model number 1009 is on a label located on the back panel with the company's contact details. The "LEM" logo is embossed on the top of the unit, which has a panel with the digital timer, the on/off switch and a temperature control knob. The UPC code is printed on the bottom of the packaging and reads 734494010091. Incidents/Injuries
LEM Products Distribution has received two reports of fan failure both resulting in fire in the units. In one incident the consumer was close by and prevented a fire by carrying the unit outside. There were no injuries reported. Remedy
Consumers should immediately stop using the dehydrator and contact LEM Products Distribution for instructions on free shipping and repair of the recalled product. LEM is offering a one year warranty extension and a $10 discount coupon, which can be used towards a LEM catalog or online purchase, to all consumers who return their recalled units for repair. Sold at
These were sold at Bass Pro Shops, Gander Mountain, Sportsman's Warehouse and other mass merchandisers and retailers nationwide and online at Amazon.com and www.lemproducts.com from August 2010 through February 2013 for about $160.
Consumer can contact LEM Products Distribution toll free at (877) 536-7763 from 8 a.m. to 5 p.m. ET Monday through Friday or online at www.lemproducts.com and click Warranty and Recall at the bottom of the page for more information.
The following news is from the FDA dated April 19, 2013.
Kosher Foods Unlimited, Los Angeles, CA has been sent an FDA Warning Letter due to serious violations of the seafood Hazard Analysis and Critical Control Point (HACCP) regulation. The warning states that refrigerated ready-to-eat tuna salad products, including tuna salad sandwiches and other tuna salad products, which are manufactured with scombrotoxin-forming finfish tuna, are adulterated in that they have been prepared, packed, or held under insanitary conditions.
The following news is from the FoodManufacturing.com on May 1, 2013.
"The Centers for Disease Control and Prevention (CDC) announced a total of 73 persons in 18 states have been confirmed infected with the outbreak strain of Salmonella Saintpaul that has been linked to cucumbers imported from Mexico.
Preliminary epidemiologic, laboratory and traceback investigations conducted by officials in local, state, and federal public health, agriculture, and regulatory agencies indicate that exposure to imported cucumbers supplied by Daniel Cardenas Izabal and Miracle Greenhouse of Culiacán, Mexico and distributed by Tricar Sales, Inc. of Rio Rico, Ariz., is the likely source of this outbreak of Salmonella Saintpaul infections.
On April 24, 2013, the U.S. Food and Drug Administration (FDA) placed Daniel Cardenas Izabal and Miracle Greenhouse of Culiacán, Mexico on Import Alert. Cucumbers from the two firms will be denied admission into the United States unless the suppliers show that they are not contaminated with Salmonella.
Among persons for whom information was available, illness onset dates range from Jan. 12, 2013, to April 6, 2013. Ill persons range in age from less than 1 year to 80 years, with a median age of 23 years. Illnesses have been confirmed in Arizona, California, Colorado, Idaho, Illinois, Louisiana, Massachusetts, Maryland, Minnesota, Nevada, New Mexico, North Carolina, Ohio, Oregon, South Dakota, Texas, Virginia and Wisconsin.
The following news is from the FoodProductDesign.com and Consumer Reports posted on May 1, 2013.
Consumer Reports magazine revealed in its June 2013 issue that a lab analysis of ground turkey products purchased at retail stores across the United States revealed potentially harmful bacteria for nearly all the samples tested,.
Of the 257 samples Consumer Reports tested, more than half were associated with fecal contamination while 90% contained one or more of the five bacteria for which they were tested. The magazine also highlighted another troubling finding: nearly all of the disease-causing organisms were resistant to antibiotics that are commonly used to fight them.