THIS SECTION IS FOR NEWS AND INTERESTING STORIES RELATED TO FOOD, NUTRITION AND FOOD PROCESSING. THEY ARE NOT NECESSARILY RELATED TO KOSHER BUT MAY BE OF INTEREST TO THE KOSHER CONSUMER, MANUFACTURER OR MASHGIACH.
Attempts to Import Jack Daniels to Israel Forces Rabbinate to Admit Game Is Rigged
August 13, 2017: The Haaretz and an old story on August 17, 2015 at Haaretz:
The Paneco Group "sought to import Jack Daniels whiskey through so-called parallel imports, which allow multiple companies to import a product, not just the manufacturer and authorized importer."
"Israel's Chief Rabbinate concedes that food importers exploit kosher (kashrut) laws to thwart competition, but says it can do little to stop it until it gets government approval to hire more inspectors and is given better enforcement powers."
Canadian study found Unlabelled Meat found in one in five sausages
August 8, 2017: The GlobalMeatNews:
Professor Robert Haner at the University of Guelph in Canada tested 100 raw meat sausage samples from beef, pork, chicken and turkey using DNA PCR Technolgy. They found that nearly a quarter of the raw beef sausages tested by researchers contained pork and one on in five packs of chicken sausages contained turkey, while one pack of chicken sausages contained traces of beef. They tested 28 samples of pork sausages, two contained beef and one contained horsemeat.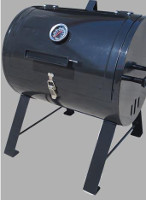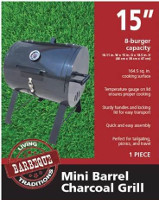 Fred's Recalls Charcoal Grills Due to Fire Hazard
August 2, 2017: The CPSC:
Mini barrel charcoal grills have been recalled because the exterior paint on the grill can ignite, posing a fire hazard. This recall involves Living Traditions mini barrel charcoal grills. The black steel grills measure about 18 inches by 15 inches by 18.5 inches. They have a black handle on the lid and one on each side, and at the front a heat gauge and a silver latch. Model number SXB1501 and UPC code 00000 19877 are printed on the product's packaging.
Sold at Fred's stores in: Alabama, Arkansas, Georgia, Illinois, Kentucky, Louisiana, Mississippi, Missouri, North Carolina, Oklahoma, South Carolina, Tennessee and Texas from January 2017 through June 2017 for about $22.
There are two reports of paint on the exterior of the grill igniting. No injuries or property damage have been reported.
Consumers should immediately stop using the recalled product and return the grill to any Fred's Store for a full refund of the purchase price.
"Efficiency" Behind Manischewitz Plant Closing
July 24, 2017 from Koshertoday:
Manischewitz is closing their production facilty in Newark and will be relying on other companies to produce their products. The plant in Newark opened in 2006. "The Matzoh business was also significantly affected by the growing number of imported Matzohs from Israel, which because of its lower production costs and government subsidies undercut the American manufacturers."
Vegan Ice Cream Enters a Golden Age
July 21, 2017 from the NYTimes
The New York Times reported that vegan non-dairy ice creams have become improved and have gone mainstream. "And as the demand for nondairy explodes, so does the number of products on the market, including a slew of brand-new nondairy ice creams, yogurts and cheeses, along with the various nut and plant milks used to make them. And even better, many of these new products actually taste great, which is a boon whether you strictly avoid dairy at all costs, or just want to expand your creamy horizons."
Shabbos Problem With Uncooked Ingredients In Takeout Food
July 17, 2017 from the Kof-K
Four senior poskim of the Medrash Govoha in Lakewood are reminding people that many cooked takeout foods are finished with raw ingredients such as parley, raw sesame seeds or black pepper. If these items are heated on Shabbos above "yad soleded bo", then one is cooking food on Shabbos.
For more information go here.
CFIA reverses decision to remove West Bank wines labelled 'Product of Israel'
July 13, 2017 from the CBC:
"The Canadian Food Inspection Agency (CFIA) is reversing an earlier decision that said wines from the West Bank labelled 'Product of Israel' could no longer be sold in Canada."
"The agency initially asked the Liquor Control Board of Ontario — which in turn asked liquor vendors — to stop selling and importing wines from the Psagot and Shiloh wineries labelled 'Product of Israel.'" "The agency had said the label would not be an acceptable country of origin declaration for wine products that have been made from grapes in the West Bank occupied territory, which Ottawa does not officially recognize as a legitimate part of Israel."
"The CFIA said this afternoon that it had not fully considered the Canada-Israel Free Trade Agreement when dealing with the matter. The CFIA also says it regretted the outcome of the wine labelling assessment, and confirmed the products in question can be sold as currently labelled."
Hungarian PM Vows To Protect Jewish Rituals Ahead Of Opening Of Kosher Slaughterhouse
July 14, 2017 from the Vos Is Neias:
"Hungarian Prime Minister Viktor Orban vowed to protect religious freedoms in his country during a talk with foreign rabbis visiting for the opening of a large kosher slaughterhouse for geese."
"Foreign rabbis attended the opening of the slaughterhouse in Csengele, situated approximately 80 miles southeast of Budapest, Koves said. With a capacity for slaughtering 2,400 animals daily, it is one of the largest slaughterhouses of its kind in Europe and is under the joint rabbinical supervision of EMIH and the Chief Rabbinate of Israel."
"There are plans to make halal meat as well at the same slaughterhouse for consumption by Muslims."
"The opening of the slaughterhouse is especially appreciated at a time when parliaments in Belgium's regions pass motions about 'banning kosher slaughter and other countries are undermining freedom of religion all over Europe.'"
Ontario court fines Creation Foods Co. for kosher food violation
July 7, 2017 from the FoodSafetyNews:
"n the first provincial court case prosecuted in Canada for misrepresentation of a kosher food product, Creation Foods Co. of Woodbridge, has been fined $25,000."
"The corporate entity recently pleaded guilty to two counts of contravening Section 31(1) of the Food and Drugs Act in the Ontario Court of Justice in Newmarket."
"The charges resulted from an investigation by the Canadian Food Inspection Agency (CFIA). Investigators determined that the company sold a non-kosher food product to two Jewish youth camps, by means of a forged kosher certificate. Cheese sold to both camps did not meet kosher requirements. CFIA said it was the first case in Canada brought before a provincial court related to the misrepresentation of a kosher food product."
"Section B.01.049 of Canada's Food and Drug Regulations states that no one shall use, in labelling, packaging, advertising or selling, a food that does not meet the requirements of the Jewish religious laws concerning food applicable to it, the word "kosher" or any letters of the Hebrew alphabet or any other word, expression, depiction, sign, symbol, mark, device or other representation that indicates or that is likely to create an impression that the food is kosher."
European Jews, Muslims team up to face ritual slaughter, circumcision bans
July 9, 2017 from the Jerusalem Post:
There was a meeting in Amsterdam of an organization called Organization for Security and Co-operation in Europe, or OSCE of Jews Muslims and anti-racism activists to fight the attempts to limit religious customs like kosher slaughter and circumcision. These have incuded banning non-medical circumcision of minors, ritual slaughter of animals and other religious customs. "The event included work sessions that featured case studies and exchange of information on the status of religious freedoms in European countries and initiatives to limit them."