THIS SECTION IS FOR NEWS AND INTERESTING STORIES RELATED TO FOOD, NUTRITION AND FOOD PROCESSING. THEY ARE NOT NECESSARILY RELATED TO KOSHER BUT MAY BE OF INTEREST TO THE KOSHER CONSUMER, MANUFACTURER OR MASHGIACH.
Italy Toughens Penalties for Olive Oil Fraud
March 3, 2016 - Specialtyfood.com: "Italian lawmakers voted to toughen penalties for olive oil fraud after producers argued that a new decree could decriminalize olive oil counterfeiting. Both houses of Parliment recommended that the government ensure criminal law prevail over administrative sanctions in cases of commercial fraud. Olive oil producers previously worried that criminal charges would have been disregarded in favor of fines too small to discourage fraud."
"The houses also voted for stronger sanctions on false labeling and on a provision that would force repeat offenders to stop production for up to six months. Olive oil fraud has been increasing in the Italy due to poor harvests, olive oil fly infestations, and disease."
---
Italy Growers Wary of Olive Oil Fraud as New Law Is Weighed
February 27, 2016: The "New York Times reported that a draft legislative decree in the Italian Parliament would reduce penalties for counterfeit olive oil and origin fraud. Fraud would no longer be a criminal offense, but would be punished by a light fine. This proposal is being fought by small artesianal olive oil growers.


Illume Recalls Valentine's Day-Themed Ceramic Mugs Due to Fire Hazard; Sold Exclusively at Target Stores
March 2, 2016: The CPSC is announcing a recall of "Love Today" ceramic coffee mugs because the mugs were mislabeled as microwave safe. If microwaved, the metallic print on the mug can spark, posing a fire hazard.
This recall involves 14 ounce, white ceramic coffee mugs with "Love Today" printed in gold metallic on the outside of mug. "Microwave Safe" and "Illume" are printed on a removable label on the bottom of the mug.
Consumers should immediately stop using the recalled mugs and return them to Target for a full refund. Consumers can also contact Illume for return instructions and a full refund.
Sold exclusively at Target Stores nationwide and online at www.target.com between December 2015 and January 2016 for about $8.
Consumer Contact: Illume toll-free at 888-245-5863 from 8 a.m. to 4:30 p.m. CT Monday through Friday or online at www.illumecandles.com, and click on the "Recall Information" button for more information.
Target Customer Service at 800-440-0680 between 7 a.m. and 6 p.m. CT Monday through Friday or online at www.target.com and click on the "Product Recalls" link on the bottom of the homepage under the "Help" section. Consumers can also visit the Target Facebook page and click on Recall Tab for additional information.
Kashruth Council of Canada (COR) Launches First of its Kind College Accredited Mashgiach Training Program
February 27, 2016: The "YeshivaWorld.com reported that the COR has started a mashgiach training program with Liaison Culinary College, Ontario, Canada. The program "consists of topics including: ensuring compliance with bishul Yisrael, kosherizing equipment, checking fruits and vegetables for insect infestation, separating terumos and maasros, hafrashas challah, and the laws of Pesach, amongst many others. There is also an emphasis on broader skills that a mashgiach requires, such as a conflict resolution course", "inventory control and invoice tracking" and " knife handling, menu skills, and food safety and handling".
Holland again seeks to limit ritual slaughter and ban export of kosher and halal meat
February 21, 2016: "Arutz7 reported that "Dutch ignore evidence in placing ban on shechita" In addition Arutz 7 reported that Chief Rabbi Pinchas Goldschmidt said that the new ban is contrary to the rules of European Market single market rules that make the baan illegal. Dan Jorgenson, the Dutch Minister for Agriculture an Food was quoted as saying "animal rights come before religion".
February 17, 2016 - JTA reported that the Dutch government is planning to limit ritual slaughter by requiring Netherlands Food and Consumer Product Safety Authority that tried to ban ritual slaughter last year be in charge. "The authority "will oversee compliance with legal requirements connected to animal welfare," the letter read. In slaughter without prior stunning – a requirement in both kosher and halal slaughter – the authority "will permanently oversee the actual practice of the slaughter." Slaughterhouses will bear the costs of any activity connected to the authority, the letter read." The proposed regulation will also ban export of kosher and halal meat,
Research: Nearly all fresh chicken in Israel is contaminated
February 17, 2016: Arutz7 is reporting that the Israeli Egg and Poulty Board has found that 93% of all chicken flocks are contaminated with Campylobacter bacteria. Over 90% of all chicken sold in Israel is sold fresh.This is important because Campylobactor is killed by freezing. "Campylobacter is transmitted through insufficiently cooked food. While the bacteria dies when the chicken is cooked or baked, it primarily is transferred through contamination of the surroundings during the preparation of the chicken." "Campylobacter is currently the leading cause of stomach illnesses in Israel
Feds: New Traceability Rules Would Cut Down Illegal Seafood
February 15, 2016: The FoodManufacturing.com is reporting that National Oceanic and Atmospheric Administration (NOAA) is proposing a traceablity system that "to collect data about the catch, trip ashore, and chain of custody of fish and fish products imported into the U.S." "The new rules would also require importers to file an international trade permit. The information collected under the new standards would help authorities verify that imported fish was lawfully acquired, NOAA said."
Italy To Introduce Extra Virgin Olive Oil Anti-Fraud Label
February 15, 2016: The European Supermarket Magazine is reporting that Italy is introducing anti-fraud labels on bottles of 100% extra virgin olive oil in order to fight fraud. The products bearing this label will have "security against counterfeiting offered by the label itself, traceability via a QR code to provide information on the oil's distribution channels; and a unique numbering that, combined with the control code, enables tracking of the labeled product's history.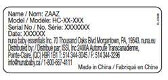 Nuna Baby Essentials Recalls High Chairs Due to Fall Hazard
February 11, 2016: The CPSC is announcing that Nuna Baby Essentials Inc., of Morgantown, Pa. is recalling Numa Baby Essentials High Chairs because the arm bar can bend or detach during use, posing a fall hazard to children.
This recall includes ZAAZTM high chairs in eight models: HC-07-004 (pewter), HC-07-005 (carbon), HC-07-006 (plum), HC-07-009 (almond), HC-08-004 (pewter), HC-08-005 (carbon), HC-08-006 (plum) and HC-08-009 (almond). ZAAZ and the model number are printed under the high chair seat on a white sticker. These high chairs look like a regular kitchen table chair and have removable trays, arm bars footrests, seat pads and harnesses so that they can convert into toddler chairs. "Nuna" is printed above the footrest of the unit.
Nuna has received 50 reports of the arm bar detaching, including six reports of children falling from the high chair. Four incidents resulted in injuries, including bruising and a cut on the forehead. Remedy
Consumers should immediately stop using these recalled high chairs and contact the firm to receive a free new arm bar and instructions on how to replace it.
Sold at Albee Baby, Giggle, Magic Bean, Nordstrom and other specialty stores nationwide and online at www.nuna.eu and www.wayfair.com and other online retailers from February 2013 through November 2015 for about between $250 and $300.
Consumer Contact: Nuna Baby Essentials toll-free at 855-686-2872 from 8:30 a.m. to 4:30 p.m. ET Monday through Friday or online at www.nuna.eu/usa/ and click on "Product Recall" under the "Support" section on the sidebar of the homepage for more information.
Palestinian manufacturers lose kashrut due to security risk
February 7, 2016 - Arutz7 has reported that "Palestinian food producers have not had their kashrut certification renewed for the year of 2016 as the Rabbinate cannot enforce the supervision in the Palestinian Authority (PA) due to the terror wave."
"The Rabbinate responded by confirming the details of the story, and stating that there will be no certification given without supervision. Once it becomes safe for kashrut supervisors to enter the PA without risking their lives, it is expected certification will be reinstated."
Nestlé is buying out Osem Foods for purchasing 840 million dollars
BloombergBusiness and FoodNavigator.com reported on February 4, 2016 that Nestlé has agreed to purchase the remaining 36.3% state in Osem Foods that is doesn't own for 3.3 billion shekels ($8440 million). Osem Foods has been distributing and producing Nestlé products in Israel.