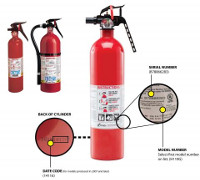 Kidde Recalls Fire Extinguishers with Plastic Handles Due to Failure to Discharge and Nozzle Detachment: One Death Reported
November 2, 2017: The CPSC in conjunction with Healthy Canadians:
Kidde fire extinguishers with plastic handles have been recalled because the fire extinguishers can become clogged or require excessive force to discharge and can fail to activate during a fire emergency. In addition, the nozzle can detach with enough force to pose an impact hazard.
This recall involves two styles of Kidde fire extinguishers: plastic handle fire extinguishers and push-button Pindicator fire extinguishers.
List of recalled models is here.
Plastic handle fire extinguishers: The recall involves 134 models of Kidde fire extinguishers manufactured between January 1, 1973 and August 15, 2017, including models that were previously recalled in March 2009 and February 2015. The extinguishers were sold in red, white and silver, and are either ABC- or BC-rated. The model number is printed on the fire extinguisher label. For units produced in 2007 and beyond, the date of manufacture is a 10-digit date code printed on the side of the cylinder, near the bottom. Digits five through nine represent the day and year of manufacture in DDDYY format. Date codes for recalled models manufactured from January 2, 2012 through August 15, 2017 are 00212 through 22717. For units produced before 2007, a date code is not printed on the fire extinguisher.
Note: This recall includes fire extinguisher models that were previously recalled in March 2009 and February 2015. Kidde branded fire extinguishers included in these previously announced recalls should also be replaced. All affected model numbers are listed in the charts above. Recall information for fire extinguishers used in RVs and motor vehicles can be found on NHTSA's website.
Sold At: Menards, Montgomery Ward, Sears, The Home Depot, Walmart and other department, home and hardware stores nationwide, and online at Amazon.com, ShopKidde.com and other online retailers for between $12 and $50 and for about $200 for model XL 5MR. These fire extinguishers were also sold with commercial trucks, recreational vehicles, personal watercraft and boats.
Consumers should immediately contact Kidde to request a free replacement fire extinguisher and for instructions on returning the recalled unit, as it may not work properly in a fire emergency.
Consumer Contact: Kidde toll-free at 855-271-0773 from 8:30 a.m. to 5 p.m. ET Monday through Friday, 9 a.m. to 3 p.m. ET Saturday and Sunday, or online at
www.kidde.com
and click on "Product Safety Recall" for more information.
Surprise! Shoppers Are Confused About Food And GMOs
October 30, 2017 from Forbes.com:
"Two new surveys come to the same conclusion: The average American shopper is clueless when it comes to having an understanding of what is a genetically modified organism (GMO)"
"A new nationally representative Food Literacy and Engagement Poll ― which is part of Food@MSU, a new initiative based in Michigan State University's College of Agriculture and Natural Resources ― finds more than one-third of Americans do not know that foods with no genetically modified ingredients contain genes. Forty-six percent of poll respondents either don't know whether they consume GMOs or believe they rarely or never do. The other major surprise in the survey is that most of the people who stated this incorrect answer were young and affluent, and described themselves as having a higher-than-average understanding of the global food system."
A study was conducted by the University of Florida Institute of Food and Agricultural Sciences and Purdue University. The "national survey of 1,132 respondents, found that respondents would pay 35 cents more for apples that were labeled "Non-GMO Project" and 40 cents more for those labeled "USDA Organic," there was a frightening finding: When it came to granola bars, the same respondents were willing to pay 35 cents more for a box of 12 bars that were labeled "Non-GMO Project" and 9 cents more for a box marked "USDA Organic."
"Genetically modified material is not allowed in food labeled 'USDA Organic,' while 'Non-GMO Project' means the food has no more than 0.9% GM characteristics."
Fake Alchohol in the US- 2 stories
Counterfeiter Pleads Guilty to Selling Fake Van Winkle Bourbon
October 12, 2017 from Safeproof.com:
"In Franklin County New York, the esteemed bourbon brand, Pappy Van Winkle Bourbon, in conjunction with their partner, Buffalo Trace Distillery were instrumental in a successful prosecution of a liquor counterfeiter. When faced with charges that could result in a jail term, the counterfeiter pled guilty to the charges and awaits sentencing in January 2018"
"The Van Winkle Bourbons have been appearing on secondary market web sites where alcohol sales are permitted. This first successful prosecution spearheaded by Buffalo Trace Distillery was trigged by advertisements on a web site that offered the Van Winkle Bourbon. In a concerted effort to protect its brands, including Van Winkle Bourbons, Buffalo Trace Distillery has budgeted $500,000 towards fake booze sales."
"In Europe and Africa, where the problem of fake alcohol has become rampant, local and national agencies are constantly pursuing the counterfeit alcohol producers. In The USA, the companies themselves are taking the lead in investigating and pursuing the counterfeit liquor industry. It is hard to comprehend the extent of the fake booze problem in the USA without the intense pursuit and publication of investigations."
---
Fake Alcohol Brands Exported from USA
October 30, 2017 from Safeproof.com:
"Customs Officials in the Port City of Walvis Bay, Namibia halted a shipment of Fake Alcohol Brands Exported from USA via Dubai. The destination of the liquor shipment was Zimbabwe. As reported by The Namibian, the shipment was stopped as part of a larger International Customs Operation by The World Customs Organization. "
"The Namibian Customs Officials hit the jackpot at one Custom Brokers warehouse when they uncovered fake alcohol valued at $1.50 Million USD. "
"The inventory seized at a customs broker's warehouse included exact replica of brands owned by Diageo, the world's largest International Alcoholic Beverage Distributor. The fake alcohol brands included, Johnnie Walker Red and Johnnie Walker Black Label Whiskey and Smirnoff Vodka, which are among the world's most coveted brands."
Israel: Taxes Waved On Over 13 Million Eggs To Combat National Shortage
October 27, 2017 from YeshivaWorld:
"The Ministry of Agriculture has stepped in and eliminated import tax on 13.2 million eggs towards alleviating the nationwide shortage that exists in Israel."
"Experts report that due to the change of season, there are far fewer eggs laid and at current, there is a shortage of about 150 million eggs."
Imported candy often contaminated with lead
October 27, 2017 from FoodSafetyNews:
"Researchers at the University of California-San Francisco and the California Department of Public Health recently published a study showing an increase in the amount of lead found in candy. The researchers found that almost all of the candy flagged for lead was imported."
"During the 14-year study period, state public health officials issued 164 health alerts for food contamination. Of these, 60 were lead-related and 55 of those were for imported food, mostly candy from Mexico at 34 percent, China at 24 percent), and India at 20 percent."
"Because the study is not comprehensive, the lead contamination in candy and other products on the market could actually be much higher than many realize."
Frost, Drought Hit Wine Production Hard In Europe
October 10, 2017 from FoodManufacturing.com:
"Hail, frost and droughts have hit Europe's grape harvest hard, making it the smallest in 36 years. The quality of the wines, though, is expected to be excellent."
"The European Union's Copa-Cogeca farm union said Tuesday that the extreme weather means the harvest is expected to be down 14 percent, with some areas seeing a drop of as much as one third. That will cut wine production to a level not seen since 1981 at 145 million hectoliters."
"In France, production will be down 18 percent, and in Italy, the biggest wine producer in Europe, it will have sunk by 26 percent compared with last year. Sicily was hit by a decline of 35 percent."
"The European wine grape harvest has an automatic impact on the global wine market since EU production accounts for some 60 percent of worldwide output."
'Fish Fraud' Is Rampant. Here's How to Fix It
October 24, 2017 from Wall Street Journal:
Fish "Fraud is rampant: A 2016 study by the ocean conservation advocacy group Oceana revealed that as much as a third of seafood sold in the U.S. is mislabeled. Put another way, your "local" red snapper could be farmed Asian catfish or some other bottom-feeding species that was caught using illegal methods or even slave labor."
"Dock to Dish 2.0, uses recent advances in vessel traceability to offer live, public tracking of fishing boats and delivery vehicles, along with information about who caught the fish and how and—perhaps most important—when it was caught."
"Around 90% of the seafood consumed in the U.S. is imported—compared with less than 25% of fresh vegetables and 14% of beef. Fish can pass through a dozen hands and travel thousands of miles before reaching the plate. And there are no legal requirements to document its journey."
"till, it's unclear how far Dock to Dish's technology will spread without government regulations requiring it. Paul Greenberg, who has written extensively about American fisheries, doubts consumers know enough about seafood fraud to place a value on live tracking, and he believes price will be an obstacle. Tracking is designed to promote local, sustainable catch, which is often more expensive than its imported competition, and many people, according to Greenberg, will be unwilling or unable to pay. "
Tnuva Fined 25 Million Shekels For Price Fixing
October 22, 2017 from YeshivaWorld:
"Israel's Antitrust Authority has been investigating Tnuva and concluded the dairy conglomerate is guilty of price fixing, slapping a 25 million shekel fine on the company, which is now partially owned by China. In addition, two senior company executives were fines personally, 75,000 each."
"Tnuva, which dominates the Israeli dairy market, prohibited supermarkets from selling other dairy good for less than their comparable Tnuva product or face a Tnuva boycott. The Antitrust Authority gathered sufficient evidence to announce the clandestine investigation and fine those responsible."
"In a recent and related story, there has been somewhat of a product war with some products from the Tara Dairy as the latter is slowly moving over to the hashgacha of Badatz Eida Chareidis, making those products more desirable in chareidi areas. Tara has begun significantly undercutting Tnuva prices to gain a market share among chareidim, selling in most stores for less than their Tnuva-comparable item."
Thousands of Israeli eggs from Yesh Maof farm contaminated with salmonella
October 23, 2017 from Arutz 7:
The Israeli Health Ministry on Sunday evening warned Israeli consumers again that laboratory tests on eggs from the Yesh Maof farm revealed that between 40,000-80,000 eggs were infected with salmonella enteritidis.
"The public is requested not to consume eggs marked with the number 98 and a use-by date of November 7, 2017, or with the number 67 and a use-by date of November 14, 2017."
"In a statement, the Health Ministry said it will "continue testing and monitoring" in order to protect the public health. They also said they are investigating the claim that the stamps on the eggs were forged."
"Less than 3% of Israel's eggs - less than in Europe and the US - are infected with salmonella."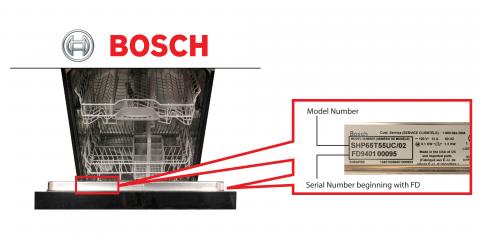 BSH Home Appliances Expands Recall of Dishwashers Due to Fire Hazard
October 20, 2017: The CPSC in conjunction with Healthy Canadians:
Bosch, Gaggenau, Jenn-Air and Thermador brand dishwashers have been recalled because the dishwasher power cord can overheat and catch fire.
This recall expansion involves Bosch, Gaggenau, Jenn-Air and Thermador brand dishwashers sold in stainless steel, black, white and custom panel. The model and serial numbers are printed inside the dishwasher either on the top of the dishwasher inner door panel or on the side of the dishwasher panel.
Brand

Model number beginning with

Serial number range

*indicates models that were included in the previous recall on October 1, 2015. The date range was expanded for these models.

Bosch

SHE33T SHE53T SHE65T SHE68T SHE7PT SHE8PT

SHP53T SHP65T SHP7PT

SHV53T SHV68T SHV7PT SHV8PT

SHX53T SHX65T SHX68T SHX7PT SHX8PT

FD 9209 – 9403

SGE53U SGE63E* SGE68U SGV63E* SGX68U

SHE9PT* SHV9PT* SHX5ER* SHX7ER*

SHX9PT*

SPE5ES* SPE53U SPE68U

SPV5ES* SPX5ES*

SPX68U

FD 9401 – 9501

Gaggenau

DF2417*

DF2607*

DF2617*

FD 9401 – 9501

Jenn-Air

JDB9600CWS

JDB9600CWP

JDB9600CWX

FD 9404 – 9501

Thermador

DWHD44

FD 9209 – 9403

DWHD64*

DWHD65*

FD 9401 – 9501
Sold at Appliance and specialty retailers, department stores, authorized builder distributors, and home improvement stores nationwide and online from January 2013 through May 2015 for between $850 and $2,600.
Consumers should immediately stop using the recalled dishwashers and contact BSH Home Appliances for a free inspection and repair. Consumer Contact:
BSH Home Appliances toll-free at 888-965-5813 from 8 a.m. to 8 p.m. ET any day or online at the brand websites listed below for more information.
Bosch www.bosch-home.com/us and click on Service, then Safety Notices
Gaggenau www.gaggenau.com/us and click on Support, then Safety Notices
Jenn-Air www.jennair.com and click on product recalls at the bottom of the page
Thermador www.thermador.com and click on Customer Care, then Safety Notices