Kosher food to be served in UN cafeterias
October 31, 2016: The Arutz 7:
"Israeli UN Ambassador Danny Danon has won the battle for his newest initiative: kosher food will now be served in UN cafeterias."
"His efforts to promote awareness and acceptance of kosher food succeeded, and religious Jews will now be able to eat in UN cafeterias. The selection of kosher food will include dairy sandwiches, salads, meat, tuna sandwiches, and hot dogs."
---
Israel Envoy Wants Kosher Food at UN Cafeterias
September 26, 2016: The The Forward:
Danny Danon, Israel's Ambassador to the United Nations has written the UN Secretary-General that the U.N. cafeterias offer halal, vegetarian and vegan selections but not kosher. "He also requested that the institution act to lower the high cost of kosher catering at the United Nations by allowing more kosher caterers to work at its headquarters. Danon said that the Israeli diplomatic mission, which only orders kosher food, is limited by the U.N. to one supplier and pays about 40 percent more than other missions who have a choice of caterers."
Religious Freedom? A Judge Bans Kapparos in California
October 21, 2016: The Matzav.com
"In United Poultry Concerns v. Chabad of Irvine, a group of chickens'-rights activists petitioned a federal judge to prohibit a California Jewish organization, Chabad of Irvine, from engaging in Kapparot, a Jewish ritual."
The judge initially granted the plaintiffs' request and prohibited the Chabad rabbi, Alter Tenenbaum, from engaging in the ritual use of live chickens. Eventually the judge lifted the ban, but only after it was already too late for Chabad to perform the ritual this year."
The legal arguments advanced by the chicken people make it clear that they want American courts to view the exercise of religion as an ordinary activity enjoying no special legal, moral, or constitutional status. The chicken people sued Chabad under California's Business and Professionals Code, citing a provision aimed at prohibiting unfair competition."

Cabela's Recalls Food Dehydrators Due to Fire Hazard
October 20, 2016: The CPSC
Cabela's food dehydrators are being recalled because Defective wiring can cause a build-up of heat, posing a fire hazard.
This recall involves Cabela's commercial grade 80-liter and 160-liter food dehydrators. The stainless steel dehydrators have model numbers 541549 on the 80 liter, and 541650 on the 160 liters. Model numbers are located on the back panel of the dehydrator.
Sold At: Cabela's stores nationwide and online at Cabelas.com from August 2016 through September 2016 for about $300 for the 80-liter model and $415 for the 160-liter model.
The firm has received nine reports of the product malfunctioning due to defective wiring. No injuries have been reported. Consumers should immediately stop using the recalled dehydrators and contact Cabela's to receive a replacement product or a refund.
Consumer Contact: Cabela's at 800-237-4444 anytime, or online at www.cabelas.com for more information.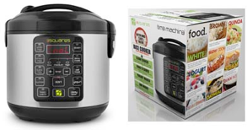 Sherwood Marketing Recalls 3 Squares Rice and Slow Cookers Due to Fire, Electric Shock Hazards
October 18, 2016: The CPSC
3 Squares rice and slow cookers have been recalled because the rice/slow cooker's improperly installed wiring can cause electrical shorting in the unit, posing fire and electric shock hazards.
This recall involves 3 Squares-branded Tim3 Machin3 and Mini Tim3 Machin3 rice and slow cookers with fixed power cords. The 20-cup/4-quart or 8-cup/1.7-quart programmable electric cookers are stainless steel with black molded plastic, have a control panel/keypad on the front and measure about 11 inches in diameter and12 inches tall. The 3Squares logo is printed on the front of the control panel. Model numbers starting with 3RC and ending in 3010S, 3020S, 3434, 5020 and 9010S are included in the recall. The model number is printed on a label on the side of the product.
Sold At: Home, hardware, mass merchandisers and department stores nationwide and online at Amazon, Bed Bath & Beyond, Best Buy, Costco, Get3Squares, Home Depot, Kohl's, Target, Wayfair and other websites from December 2015 through July 2016 for between $30 and $70, depending on the model and capacity.
Consumers should immediately stop using the recalled rice/slow cookers and contact 3 Squares to receive a free replacement cooker, including shipping.
Consumer Contact: 3 Squares at 800-390-0249 from 9 a.m. to 5 p.m. PT Monday through Friday or online at www.Get3Squares.com and click on Recall for more information.
Israeli Finance Minister Exposing Fresh Meat Market to Foreign Competition
October 17, 2016: The Jewish Press:
"At a time when free markets are losing favor in the eyes of GOP voters in the US, Israeli Finance Minister Moshe Kahlon (Kulanu) has decided to open up the fresh meat market to competition from abroad. As part of this move, the quota for duty-free fresh meat imports will be doubled."
"Opening up the Israeli market to supplies from the EU countries is intended to replace the frozen meat market with higher-quality fresh meat, a move similar to the Agriculture Ministry's eliminating the frozen poultry market, which used to encompass the bulk of Israel's poultry market, replacing it with fresh poultry."
"The plan is for the quotas for fresh meat from abroad to be raised in 2020 to 17,500 tons, while duty will be reduced to 12%. In addition, local farmers will be permitted to import up to 10% of the market in fresh meat, to encourage local production and safeguard employment."
Sukkah list
This list is non-complete. Contact the restaurant to confirm.
CHICAGO: October 13, 2016 -From the cRc
The following is a current list of cRc establishments that will, IY"H, have a sukkah up for Chol Hamoed this year. We suggest that you call first to confirm that the sukkah is up.
Chalavi – Main Pizza 773-338-9640
EJ's 224-534-7215
Emma's 847- 673-3030
Evita Grill 773-463-8482
Great Chicago Food & Beverage (773) 465-9030
Park Plaza 773-465-6700
Milt's 773-661-6384
Mizrahi 847-831-1400
Shallot's (847) 677-3463
Taboun 847-965-1818
University of Chicago - @Chabad House,5700 S. Woodlawn
BOSTON AREA:
Milk St. Cafe
50 Milk St , Boston, MA (617)542-FOOD
Under the supervision of the Orthodox Rabbinical Council
Harvard Hillel Sukkah at Rosovsky Hall
BU Hillel Sukkah
213 Bay State Road, Boston, MA 02215
(617) 353 7200
Providence, RI
Roger Williams Park Zoo, located just off exit 17 on route 95 south has a sukkah
MONTREAL - Link to list of sukkahs in Montreal, Quebec
TORONTO AREAA: COR Establishments with a Sukkah
FYI - SUKKOS 5777
October 10, 2016: From the Star-K:
Please note that schach mats are certified by the Star-K only when the letter of certification is attached, and require placement according to the instructions in the letter. Click here to view letter.
Click here for information on the proper storage of schach to avoid infestation.
Please note that if you have an oven with Sabbath Mode, the Sabbath Mode features do not in any way circumvent the regular restrictions involved in food preparation on Shabbos Kodesh. The laws of Bishul, Havarah, Shehiyah and Chazarah must still be observed even when using a Sabbath Mode oven. See memo regarding oven use on Shabbos .
---
cRc Hadassim Alert Click here.
---
Information on Schach from Home Depot from the Atlanta Kashruth Commission:
The Home Depot is selling 6 feet X 16 feet variety with the UPC Code 48037 06164 model Model # 0406164 marked as having a natural finish. This is available online at: here
A second variety is 6 feet X 16 feet with the Backyard X-Scapes brand name, UPC code 71746 00530 marked as being Natural "peeled" Reed Fencing, Model Model # HDD-BIN-RF01. This is available online at here
These varieties may be used as schach only if:

The reeds are placed perpendicular to the schach support‐beams rather than parallel to the beams.
A piece of wood or some other piece of kosher schach should be placed on top of the fencing, so that the fencing is secure enough to not blow off during Succos. [This extra piece of wood should not be nailed or otherwise fastened to the schach, and it should be placed perpendicular to the reeds.] This condition applies to all lightweight schach including mats.
As with all schach, the schach‐portions of the mat must be thick enough that they provide more shaded area than open space [In this context, there is reason to assume that broken reeds do not "count" towards the calculation of shaded areas.] It may be necessary to place a double layer of mats in order to accomplish this.


For more information please contact the CRC at: 773-465-3900 OR crcweb.org
Researchers Create Bioplastic Wheypack from Cheese Waste
October 6, 2016: The DairyReporter:
Researchers in Spain have created a bioplastic "Wheypack" from surplus cheese whey. They fermented the whey, a by-produdct of the cheese industry and produced polyhydroxybutyrate (PHB), a biopolymer. The whey created from making the cheese could replace the plactic in the package precting the cheese.
Public Pre-Yom Kippur 'Kapparot' Ceremonies Banned in 3 Israeli Cities
October 10, 2016: The Jewish Press:
The annual ritual of kapparot has been banned this year – at least in public places in the cities of Petah Tikva, Rishon Lezion and in Tel Aviv.
In Petah Tikva the municipality warned that performance of the kapparot ritual, even without slaughtering the chicken afterwards – as is customary in many places requires the approval of the city's veterinary service.
The issue of religious practice versus "animal rights" has long been a bitter dispute in the United States and Europe, but has gradually become an issue in Israel as well.
---
The Israeli Agricultural Ministry is Launching a Campaign to Discourate Using Chickens for Kapporot
October 6, 2016: The Jewish Press:
"Israel's Ministry of Agriculture and Rural Development has launched a campaign to raise public consciousness regarding the ancient Jewish custom of Kapparot on the Days of Awe between Rosh Hashanah and Yom Kippur, encouraging people to redeem themselves with money instead of chickens."
On a weekday before Yom Kippur, many Jews take a rooster or a chicken (depending on one's sex), recite two biblical passages — Psalms 107:17-20 and Job 33:23-24 — and swing the bird, which one is holding by its feet, over one's head three times while reciting a short prayer three times. The recitation is: "This is my exchange, this is my substitute, this is my atonement. This rooster (hen) will go to its death, while I will enter and proceed to a good long life and to peace.""
"After the Kapparot ritual is concluded, the rooster is slaughtered given to charity, preferably for the meal before the Yom Kippur fast."
"The Agriculture Ministry suggests the ritual is causing the birds needless suffering, which, incidentally, is against Jewish Law. Also, the presence of hundreds of chickens in and out of their cages in the middle of towns and villages may lead to the spread of disease. And so, the ministry would much prefer that faithful Jews donate their money to charity rather than do it with chickens."
"For those Jews in Israel who insist on using chickens, the ministry has issued guidelines to regulate the distribution and slaughtering of the birds in locations outside the supervised abattoirs. The guidelines are intended to prevent the spread of disease, as well as minimize animal suffering."
Agudath Israel Advocacy Continues to Ease Way for Arba Minim
October 7, 2016: The YeshivaWorld:
"As in past years, Agudath Israel of America's Washington Office has worked closely with agencies of the U.S. Department of Homeland Security to help avoid potential problems for travelers carrying arba minim."
Both the Transportation Security Administration (TSA) and U.S. Customs and Border Protection (CBP) have notified their respective field personnel about the upcoming Sukkos holiday and the increased level of travel by persons of the Jewish faith, many of whom will be carrying arba minim. The TSA Notice makes clear that the arba minim carried in airports, through security checkpoints or on aircraft, are not on the "prohibited items list" and provides instructions for travelers needing "special accommodations" in regard to checkpoint screening. The CBP Guidance sets forth detailed information regarding the inspection process for arba minim entering the United States from foreign countries through designated American ports and points out that the agency is "committed to treating all travelers, including travelers who may be observing Sukkot, with respect and dignity at all U.S. ports of entry."
Guidelines for Travel with Arba Minim.