THIS SECTION IS FOR NEWS AND INTERESTING STORIES RELATED TO FOOD, NUTRITION AND FOOD PROCESSING. THEY ARE NOT NECESSARILY RELATED TO KOSHER BUT MAY BE OF INTEREST TO THE KOSHER CONSUMER, MANUFACTURER OR MASHGIACH.
The following news is from the foodnavigator.com on May 6, 2014.
A review article in Journal of Cereal Science has suggested that Genetic Modification of wheat genes using RNA interference technology can silence the gluten proteins in wheat and other cereals and make then useful for people in celiac disease.
The following Canadian news is from the CFIA on April 23, 2014.
The Candian government will require food labels that claim to be Halal to state the name of the certifying agency. This will help prevent mislabeling and give condumers information as to how a product is produced.
The following news is from the Vosizneias.com on April 27, 2014.
An ammendment to the food bill is requiring which requiring the USDA to to purchase and provide food banks emergency supplies of kosher or halal product. This food must be prepared in accordance with the faiths' dietary rules but not be more expensive than regularly produced food. The Kosher or Halal food must be tracked through the distribution chain and properly labeled to ensure it gets to food bank operators and meets the needs of their clients.
The following news is from the foodmanufacturing.com on April 8, 2014.
The FDA has issued an order to prevent food companies from adding sugar or other sweeteners to honey and call it "honey". If other sweeteners are added they will need to be listed in the name or will be subject to FDA enforcement action.
The following news is from the Huffington Post on February 18, 2014 and other sources.
The Danish Agriculture and Food Minister Dan J&oslashrgensen has introduced a ban on non-stun slaughter, stating 'Animal Rights Come Before Religion'. There has not been any kosher slaughter in Denmark, however this does effect Halal slaughter. Kosher meat is imported. The ban was not approved, or even reviewed, by the Danish parliament. Dan J&oslashrgensen felt that the "food law" gives the agency authority to make laws administratively.
The following additional recall is from the CPSC, on February 18, 2014.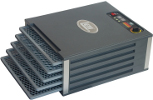 LEM Products has an additional recall of 5-Tray Dehydrators with Digital Timers. This recall involves 5-tray food dehydrators with model number 1009 and serial numbers between 20110506 and 20121008. These food dehydrators were previously recalled and repaired as part of a May 2013 recall. The dehydrators are gray and are made of plastic and metal. The model and serial numbers are located on a label on the back panel. LEM is embossed on the top of the unit, which has a panel with the digital timer, the on/off switch and a temperature control knob. The UPC code 734494910094 is on the bottom of the packaging. Only dehydrators within the serial number range between 20110506 and 20121008 and with a sticker on the back panel stating "Read Manual Before Operating" are included in this recall.
These were sold at Buchheit, Gander Mountain, Rural King, Sportsman's Warehouse and Theisen Supply stores and other mass merchandisers and retailers nationwide and online at www.lemproducts.com from June 2011 through December 2013 for between $125 and $160.
---
The following safety alert from the CPSC, on May 2, 2013.
LEM Products Distribution is recalling a 5-Tray Dehydrator with Digital Timer because the fan can fail causing the unit to overheat and pose a fire hazard.
This recall involves 5-tray food dehydrators. The dehydrators are gray and are made of plastic and metal. The model number 1009 is on a label located on the back panel with the company's contact details. The "LEM" logo is embossed on the top of the unit, which has a panel with the digital timer, the on/off switch and a temperature control knob. The UPC code is printed on the bottom of the packaging and reads 734494010091. Incidents/Injuries
LEM Products Distribution has received two reports of fan failure both resulting in fire in the units. In one incident the consumer was close by and prevented a fire by carrying the unit outside. There were no injuries reported. Remedy
Consumers should immediately stop using the dehydrator and contact LEM Products Distribution for instructions on free shipping and repair of the recalled product. LEM is offering a one year warranty extension and a $10 discount coupon, which can be used towards a LEM catalog or online purchase, to all consumers who return their recalled units for repair. Sold at
These were sold at Bass Pro Shops, Gander Mountain, Sportsman's Warehouse and other mass merchandisers and retailers nationwide and online at Amazon.com and www.lemproducts.com from August 2010 through February 2013 for about $160.
Consumer can contact LEM Products Distribution toll free at (877) 536-7763 from 8 a.m. to 5 p.m. ET Monday through Friday or online at www.lemproducts.com and click Warranty and Recall at the bottom of the page for more information.
The following new story is from Forward on February 6, 2014.
Chabad in Sochi is providing kosher food and minyanim. They launched a website www.jewishsochi.com to provide information on the kosher resources that they provide.
The following new story is from FoodManufacturing.com on December 11 2013.
3-D Printing is starting to be looked at to beused for 3-D printed confections, chocolate based sculptures, pasta and NASA. 3-D printing can produce unique foods on demand.
---
The following new story is from Forbes and gizmag on December 11 2013.
A Spanish company named Natural Machines Foodini has developed a 3-D printer called a Foodini can can "print" food. This product extrudes ingredients that put into the machine like play dough. The product then needs to be baked. It will be interesting to see how this technology will be used in the future in the food industry.
The following news is from Israelhayom on February 4, 2014.
"Religious Services Minister Naftali Bennett (Habayit Hayehudi), his deputy MK Rabbi Eli Ben-Dahan (Habayit Hayehudi) and Chief Ashkenazi Rabbi David Lau on Monday presented a reform in the kashrut system and in the labeling of kosher food." The new system, is designed to increase transparency and uniformity in kosher labeling.
"Among the planned changes is the introduction of a definitive three-tier kosher rating scheme. Businesses selling kosher food products will label their food with Stars of David. One star will represent the most basic level of kashrut, two stars will represent the stricter mehadrin level and three stars will represent the highest standard, known as mehadrin min hamehadrin."
"The labeling is meant to push out the private rabbinical designations of kashrut, which promise stricter levels of observation, and to return authority to the rabbinate."
"Another major change is in the way kashrut supervisors are paid. Currently, business owners pay the supervisors directly. They determine the fee between them, and there is no regulating body to oversee the supervisors. According to the Religious Services Ministry, this system leads to a lack of motivation on the part of supervisors to visit businesses and regulate them, and creates inconsistencies in standards and requirements between cities and between rabbis."
"The Religious Services Ministry plans to regulate the relationship between supervisors and businesses by creating a company dedicated to employing kashrut supervisors, which will pay them and eliminate the employer-employee relationship they now have with business owners."
There are also plans underway to create online databases accessible to the public that give information about kosher standards in various businesses. Kosher standards will also be enforced with the addition of more inspectors."
The following safety alert from the CPSC, on January 28, 2014.

Bodum® rose gold glass coffee presses have been recalled because the glass carafe can fall out of the metal frame and plastic base of the coffee press and break or shatter, posing laceration and burn hazards to consumers.
This recall involves Bodum® rose gold Chambord locking lid 8-cup glass coffee presses. The coffee press' glass carafe, screen and plunger are held in place by a metal frame which is rose gold-colored with a black molded plastic base. Consumers put ground coffee and hot water in the glass carafe and push the plunger and screen down through the water to brew coffee. The coffee presses are 10 inches high by about 4 inches in diameter. The coffee press has a locking lid. Bodum is printed on the glass carafe. Bodum and SKU number 11029732 are printed on a white label on the bottom of the base. Bodum and Made in Portugal are embossed on the bottom of the black plastic base.
Consumers should stop using the recalled coffee presses immediately and return them to the Starbucks store where purchased or contact Bodum for a full refund. Consumers who purchased the coffee presses online should contact Bodum for a pre-paid return label to return the coffee presses to receive a full refund. The product wazs sold exclusively at Starbucks nationwide and online at starbucks.com from November 2013 through December 2013 for about $40.
Consumers can contact Bodum toll-free at (855) 378-6864 from 10 a.m. to 5 p.m. ET Monday through Friday, email Bodum at recall@bodum.com, or online at www.bodum.com and click on Product Advisories for more information.