THIS SECTION IS FOR NEWS AND INTERESTING STORIES RELATED TO FOOD, NUTRITION AND FOOD PROCESSING. THEY ARE NOT NECESSARILY RELATED TO KOSHER BUT MAY BE OF INTEREST TO THE KOSHER CONSUMER, MANUFACTURER OR MASHGIACH.
Brazilian Federal police drop dragnet on meat inspectors
March 20, 2017- from the Barfblog and FoodSafetyNews:
Brazilian "Federal authorities announced Friday they're investigating evidence that companies including JBS SA and BRF SA, the nation's largest meat producers, bribed government officials to approve the sale and export of soiled meat. Federal police served hundreds of court orders, including more than 30 detention warrants, in what local media says is the largest police operation in the country's history."
"Evidence turned up in the police action shows there was bribery of both health officials and politicians. In exchange, the officials were overlooking unsanitary practices, and allowing both rotten and contaminated meat to be shipped."
USDA on Tainted Brazilian Meat: None Has Entered US, 100 Percent Re-Inspection Instituted
March 23, 2017 from Food Manufacturing.com
"Although none of the establishments implicated in the Brazil scandal have shipped meat products to the United States, effective March 18, FSIS instituted 100% point-of-entry re-inspection of all Brazilian beef imported into the United States, including conducting product examination on 100% of the lots. This re-inspection includes 100% testing of beef trimmings from Brazil for Salmonella, E. coli O157:H7, and non-O157 shiga-toxin producing E. coli (STEC). The 100% re-inspection also includes 100% testing of ready-to-eat products from Brazil for Salmonella and Listeria monocytogenes. FSIS will take immediate action to refuse entry of product into the United States if there are findings of food safety concern."
EU headscarf ban ruling sparks faith group backlash
March 14, 2017- from the Reuters:
The European Union's High Court ruled Tuesday that companies may ban Islamimic headscarfs and other visibel religous symbols "it fairly applied a broad dress code for all customer-facing staff to project an image of political and religious neutrality." "National court cases across Europe have included questions on the wearing of Christian crosses, Sikh turbans and Jewish skullcaps."
Tevilas Keilim Advisory
March 6, 2017- from the the Atlanta Kashruth Commission:
Candy dishes and trays (made from materials that require tevilah) that you buy or receive as a Purim gift directly from a kosher business will likely need tevilas keilim if you wish to reuse it.
Israel Police Confiscate 3 Tons Of Meat
March 2, 2017: From The YeshivaWorld:
Israeli "Border Police working with state veterinary inspectors located 3.5 tons of meat, some not stored in suitable conditions, which was all confiscated and an investigation launched, following which the meat will be destroyed."
"The meat was smuggled into Yehuda and Shomron from Brazil and made its way to the Atarot industrial park on Jerusalem's northern border. It is pointed out the meat that was confiscated was not fit for human consumption and yet, it was being prepared to be shipped around the country."
Chief Rabbinate considers kashrut supervision reforms
February 26, 2017: From Jerusalem Post:
"The Chief Rabbinate has stated that it is considering the settlement of Efrat's kashrut procedures as a model for the rest of the country."
"But more than a decade ago, the system in Efrat was changed so that the local religious council, which employs kashrut supervisors, pays them itself and designates which of the 35 businesses requiring supervision around the town those supervisors will oversee." "The businesses themselves pay an hourly fee for the supervisor to Efrat's religious council.The businesses themselves pay an hourly fee for the supervisor to Efrat's religious council." This eliminates the corruption of the current system where the establishment being supervised pays the supervisor directly.
Olive oil prices are surging in Europe — Will your next bottle come from California?
February 18, 2017: From MarketWatch:
"The countries best known for olive oil — Italy, Spain and Greece — have had bad harvests this year from unruly weather""and the prices for olive oil have jumped in response. Meanwhile, California has been steadily increasing its olive oil manufacturing, and implemented strict standards for the oil."
"More domestic players are joining the U.S. olive oil production business, which has seen a 9.2% increase in revenue over the past five years, and demand and revenue are expected to continue to rise through 2021, though at a slower pace, according to research firm IBISWorld. California alone makes up more than 99% of U.S. olive oil production, according to the California Olive Oil Council. "
Farmers must go through rigid certification testing by the California Olive Oil Council, which is celebrating its 25th anniversary this year, including a chemical analysis of the oil as well as a sensory evaluation after every olive harvest. The California Olive Oil Commission, an industry group of olive farmers, created standards the California Department of Food and Agriculture approved in 2014."
Belgian court protects kosher slaughter
February 22, 2017: From Arutz 7 and YeshivaWorld:
"Belgium's Wallonia District Constitutional Court ruled that slaughter of animals in accordance with Jewish law is permitted in Belgium and will continue to be permitted."
"A month ago, a few Wallonian senators came out against religious slaughter and attempted to pass a law forcing Jewish slaughterhouses to stun the animal before slaughtering it, despite the fact that this would invalidate the slaughter and cause it to be non-kosher."


Calphalon Recalls Cutlery Knives Due to Laceration Hazard
February 22, 2017: The CPSC:
Calphalon Corp., of Atlanta, GA is recalling Contemporary Cutlery knives because the blade on Contemporary Cutlery knives can break during use, posing a laceration hazard.

This recall involves Calphalon Contemporary Cutlery carving, chef, paring, santoku and utility knives sold individually and in sets made between August 2008 and March 2016. The models listed here are included in the recall.
Calphalon has received 27 reports of finger or hand lacerations; including four injuries requiring stitches. In addition, the firm has received about 3,150 reports of broken knives.
Consumers should immediately stop using the recalled cutlery and contact Calphalon for a replacement cutlery product.
Sold At: J.C. Penney, Kohl's, Macy's and other stores nationwide and online at www.Amazon.com from September 2008 through December 2016. The recalled knives were sold from September 2008 through December 2016 for $25 for a single knife to $300 for a knife block set.
Consumer Contact: Calphalon at 800-809-7267 from 8 a.m. to 5 p.m. ET Monday through Friday or online at www.calphalon.com and click on "Customer Support" at the bottom of the page then "Recalls" for more information. About 2 million (in addition, about 7,000 were sold in Canada)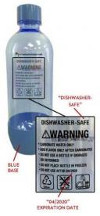 SodaStream Recalls Carbonating Bottles Due to Injury Hazard
February 21, 2017: The CPSC:
SodaStream USA Inc., Mount Laurel, N.J. is recalling carbonating bottles because the bottles can burst under pressure, posing an injury hazard to the user or bystanders.
This recall involves SodaStream one liter, blue tinted, plastic carbonating bottles. "SodaStream" and "Dishwasher safe" are printed on the recalled bottles. Only bottles with an expiration date of "4/2020" printed on the warning label are included in the recall. The recalled bottles have a blue cap and blue bottom base.
Consumers should immediately stop using the recalled carbonating bottles and contact SodaStream for a full refund. Consumers should immediately stop using the recalled carbonating bottles and contact SodaStream for a full refund.
Sold At: Bed Bath & Beyond, Target, Walmart and other stores and online at www.amazon.com and www.sodastream.com from February 2016 through January 2017 for about $15.
Consumer Contact: SodaStream USA toll-free at 866-272-9417 between 9 a.m. to 7 p.m. ET Monday through Friday or online at www.sodastream.com and click on the recall at the top of the page or www.sodastreamvoluntaryrecall.com for more information.
Restaurant And Hotel Associations Petition The Israeli High Court Against Chief Rabbinate Kashrus
February 15, 2017: The YeshivaWorld:
"The associations representing Israel's hotels and restaurants have petitioned the High Court of Justice against the Chief Rabbinate of Israel's monopoly on kashrus. This follows the original petition filed by Jerusalem restauranteurs against the kashrus system."