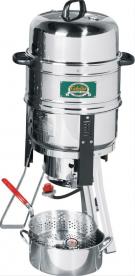 Masterbuilt Recalls LP Gas Smokers Due To Fire Hazard
December 8, 2016: The CPSC
Masterbuilt and Cabela's 7-in-1 gas smokers have been recalled because the smoker's gas hose can disconnect posing a fire hazard.
The recalled Masterbuilt 7-in-1 smoker comes in green or stainless steel with a Cabela's logo, or black with Masterbuilt logo. The three-piece cylindrical body design consists of a lid, center body, and base which sits on the LP gas burner stand. It also has a porcelain flame disk bowl, water bowl, cooking grates, 10- quart pot and basket, thermometer, burner, a PVC hose and weighs about 32 pounds.
Masterbuilt has received five reports of the PVC gas hose becoming disconnected during use, including one report of property damage from a fire. There have been no reports of injuries.
Consumers should immediately stop using the recalled smoker and contact Masterbuilt for a free replacement rubber LP gas hose.
Consumers should immediately stop using the recalled smoker and contact Masterbuilt for a free replacement rubber LP gas hose.
Consumer Contact: Masterbuilt at 800-489-1581, from 8 a.m. to 5 p.m. ET Monday through Friday, or online at www.masterbuilt.com and click on Support then choose Contact on the upper right hand corner of the page for more information.
Few pesticide worries in latest California sampling data
December 19, 2016: From FoodSafetyNews and California Department of Pesticide Regulation:
"Almost four out of 10 samples of both domestically grown and imported fruits and vegetables that were put to the test by California showed no signs of pesticide residue — whatsoever."
"California has one of the world's most comprehensive programs to regulate and monitor pesticide use. The state's pesticide residue monitoring for 2015 involved DPR collecting 3,600 samples of more than 145 different fruits and vegetables intended for human consumption."
"About 56 percent, or 2,071 of the samples, were domestically grown; 42 percent, or 1,509 samples, were of foreign origin; and 1 percent or 20 samples, were undetermined. Forty-four percent of the domestic samples were labeled as 'California grown.'"
"In addition to finding 39.8 percent had no detectable pesticide residue, the testing by the California Department of Food and Agriculture found:
55.8 percent, or 2,010 of 3, 600 samples, had one or more pesticide residues below or equal to established tolerance levels;
The majority of the samples contained residues that were less —usually much less —that 10 percent of the tolerance level.
1.2 percent, or 43 out of 3,600 samples, contained one or more illegal pesticides in excess of tolerance levels.
3.1 percent , or 113 out of 3,600 samples, had one or more illegal residues not approved for use.

"The Alliance for Food and Farming, which includes both conventional and organic farms, was quick to depict the California findings as evidence "97.3 percent of tested California-grown produce had little or no pesticide residues."" The Alliance said California's findings "mirror national results" released just two weeks ago by USDA's Pesticide Data Program. It said the national data shows 99 percent of fresh produce sampled had no residue or residue levels well below tolerance levels.
"Organic fruits and vegetables were completely free of pesticides in 85.4 percent of the California samples."
A high level of illegal pesticides were found in a handful of products including:
Mexico — cactus pad, lime, tomato, chili peppers, summer squash, chayota and blackberry;
U.S. — spinach, kale and Daikon; and
China — Ginger.
Is it legal to call plant-based beverages from nuts, seeds and legumes, "'milk"?
December 19, 2016: From FoodSafetyNews:
"The issue of whether plant-based 'milks' mislead shoppers and violate FDA standards of identity has been tested a few times in the courts."
"The issue in the courts has been less clear cut. "In a December 1, 2015 order dismissing allegations (Gitson v Trader Joe's 3:13-cv-0133) that Trader Joe's had misled consumers and violated FDA standards of identity by using the term 'soymilk' on food labels, for example, US district judge Vince Chhabria said no 'reasonable consumer' would confuse soy with dairy milk."
"Meanwhile, the fact that there is a federal standard of identity for 'milk' which limits it to lacteal secretions from cows 'does not categorically preclude a company from giving any food product a name that includes the word milk'"
"The standardization of milk simply means that a company cannot pass off a product as 'milk' if it does not meet the regulatory definition of milk. Trader Joe's has not, by calling its products 'soymilk,' attempted to pass off those products as the food that the FDA has standardized (that is, milk)."
"He added: "The threshold question in this case… is whether the use of the word 'soymilk" in the Trader Joe's products could conceivably violate the federal Food, Drug and Cosmetic Act. The answer to that question is no."
"The court agrees with the defendents that the names 'soymilk', 'almondmilk', and 'coconutmilk' accurately describe defendents products."
Israeli list of fraudulent olive oils
December 18, 2016: The Israeli Chief Rabbinate has published a list of products claiming to be olive oil that have fraudulent heckshers.
Jerusalem Kosher News has the following translation of what is in the notice:
"Following is a list furnished by the Chief Rabbinate of Israel National Kashrut Division exhibiting photos of olive oils that found to present bogus hechsherim or using a legitimate hechsher without authorization. It is pointed out that such products often present many problems including; orla, shmitah produce, unauthorized ingredients, kashrus for Pesach and contain non-kosher ingredients (additives used in addition to the oils, which are often not olive exclusively).
These bogus olive oils are often detected by their price, selling for NIS 10- NIS 20 a liter, way too inexpensive. " The following link will take you to a Israel Ministry of Health page, showing oils labeled "olive oil" that are not pure olive oil.
"In the case of the above oils, the hechsher is usually not legitimate either since a mashgiach watching a run will make sure of the ingredients entering the bottles, which in this case is something other than indicated on the label."
"Rabbonim who advise me explain if one can, best to buy from large stores like supermarkets, as they usually make purchases through authorized buyers and it is considerably more difficult to get these prohibited oils into such stores as opposed to small grocery stores and vendors at the shuk."
The Top 10 most important foodborne outbreaks of 2016
December 19, 2016: From FoodSafetyNews:
"The Top 10 most important outbreaks of 2016, according to the editors of Food Safety News, are presented here. Outbreaks were chosen for the list on a subjective basis, ranked by the number of fatalities and then the number of illnesses for outbreaks involving more than a single state."
"The 2016 Top 10 outbreaks include a total of 10 deaths. Four of the outbreaks involved salmonella, three listeria, two Hepatitis A, and one E. coli. Interestingly, salmonella resistant to antibiotics came into play in one of the Top 10 and the single E. coli outbreak did not involve beef, but flour."
Live poultry and backyard flocks: "There were actually eight multi-state outbreaks of human Salmonella infections linked to live poultry and backyard flocks. They received barely a moment's notice when the casualties were announced on Oct. 2, 2016. The report said three people died among the 895 confirmed cases of Salmonella, of which 209 required hospitalization."
Frozen vegetables linked to outbreak of Listeria: "More than 350 consumer products sold under 42 brand names and at lesst 100 other products prepared with ingredients from CRF Frozen Foods were recalled, but not before nine people in four states were put in hospitals with Listeria. Three died."
Hepatitis A from raw scallops
Listeria linked to Dole packaged salads: "One death was confirmed among 19 Listeria cases in nine states that were linked to packaged salads produced at the Dole processing plant in Springfield, OH. First reported on Jan. 22, 2016, all 19 Listeria victims required hospitalization."
Listeria outbreak linked to raw milk from Miller's Organic Farm: "CDC stuck to its science that the two cases, including a death in Florida, were linked to unpasteurized raw milk from Miller's."
Hepatitis A linked to frozen strawberries: "134 illnesses in nine states. Of those, 129 people reported eating a smoothie containing strawberries from a Tropical Smoothie Café. And 52 people with Hepatitis A symptoms, including yellow eyes or skin, abdominal pain, pale stools and dark urine, required hospitalization. On Oct. 30, 2016, The International Company for Agricultural Production and Processing (ICAPP) recalled strawberries imported from Egypt going back to Jan. 1, 2016. 134 illnesses in nine states. Of those, 129 people reported eating a smoothie containing strawberries from a Tropical Smoothie Café. And 52 people with Hepatitis A symptoms, including yellow eyes or skin, abdominal pain, pale stools and dark urine, required hospitalization. On Oct. 30, 2016, The International Company for Agricultural Production and Processing (ICAPP) recalled strawberries imported from Egypt going back to Jan. 1, 2016."
E. coli infections linked to flour: "When it was declared "over," the flour outbreak had seen 63 confirmed illnesses in 24 states. No deaths were reported, but 17 victims required hospitalization. One victim developed the sometimes fatal hemolytic uremic syndrome or HUS. The epidemiologic, laboratory and traceback evidence all pointed at the General Mills facility in Kansas City, MO, as the source of the outbreak. "
Salmonella Virchow linked to Garden of Life organic product: "Six of the 33 Salmonella Virchow cases linked to Garden of Life Raw Meal Organic Shake & Meal Products from 23 states required hospitalization."
Salmonella linked to sprouts from contaminated seed lot: "One seed lot was found responsible for alfalfa sprouts that were contaminated with Salmonella Muenchen and Salmonella Kentucky. The final CDC report on the outbreak came out on May 13, 2016, and said there were 26 confirmed cases across 12 states. There were no deaths, but eight people required hospitalization."
Multi-drug resistant Salmonella Heidelberg infections linked to bull calves: "The CDC announced 21 confirmed cases of Salmonella Heidelberg in eight states that were notable for being resistant to multiple drugs and involving contact with bull calves."
Small reminders may go a long way in encouraging healthier purchases
December 13, 2016: from The Newhope and Nutrition Education and Behavior
"For the study, published in the Journal of Nutrition Education and Behavior, the researchers placed large green arrows, with instructions like "Follow green arrow for health" or "Follow green arrow for a healthy heart," in different grocery stores. The first two stores, owned by the same chain, were relatively close to each other and served a similar demographic of customer—with poverty levels between 33 and 44 percent. To confirm the initial results, two other stores were chosen in different neighborhoods, serving areas with lower poverty rates."
Customers shopping at stores with green arrows pointing to product "ended up spending a greater portion of their total purchase on produce, but their total spending did not change significantly. In other words, in stores that promoted the benefits of fruits and vegetables, customers spent the same amount at checkout but chose to use more of that bill to pay for produce."
"The takeaway? It may not be all about cost after all, and small health reminders—or for some customers, maybe it's primary education more than reminders—may go a long way in encouraging people to buy healthier foods."
An (Edible) Solution to Extend Produce's Shelf Life
December 13, 2016: from The New York Times
Apeel Sciences is using leaves, stems, banana peels and other fresh plant materials left behind after fruits and vegetables are picked or processed to extend the life of produce like green beans and berries by as much as five times. Apeel can even deliver a day-of-the-week bunch of bananas, each ripening on a different day.
"Apeel's products, sold under the brand names Edipeel and Invisipeel, take plant materials and extract all liquids from them to produce tiny pellets. The company then uses molecules from those pellets to control the rate of water and gases that go in and out of produce, thus slowing down the rate of decay."
"Invisipeel can be applied while crops are still in the field. Edipeel can be applied after a harvest; crops can be coated while on a conveyor belt or dipped in the solution."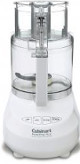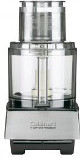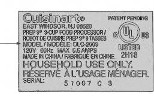 Cuisinart Food Processors Recalled by Conair Due to Laceration Hazard
December 13, 2016: The CPSC
Cuisinart® food processors have been recalled because the food processor's riveted blade can crack over time and small, metal pieces of the blade can break off into the processed food. This poses a laceration hazard to consumers.
This recall involves the riveted blades in Cuisinart food processors with model numbers that begin with the following: CFP-9, CFP-11, DFP-7, DFP-11, DFP-14, DLC-5, DLC-7, DLC-8, DLC-10, DLC-XP, DLC-2007, DLC-2009, DLC-2011, DLC-2014, DLC-3011, DLC-3014, EV-7, EV-10, EV-11, EV-14, KFP-7 and MP-14. The model number is located on the bottom of the food processor. The blades have four rivets and are silver-colored stainless steel and have a beige plastic center hub. Only food processors with four rivets in the blades are included in this recall. Cuisinart is printed on the front and on the bottom of the food processors.
Conair has received 69 reports of consumers finding broken pieces of the blade in processed food, including 30 reports of mouth lacerations or tooth injuries.
Sold At: Department, gourmet and specialty stores nationwide and on various websites from July 1996 through December 2015 for between $100 and $350.
Consumers should immediately stop using the food processor's riveted blade and contact Cuisinart for a free replacement blade.
Consumer Contact: Cuisinart toll-free at 877-339-2534 from 7 a.m. to 11 p.m. ET Monday through Friday and from 9 a.m. to 5 p.m. ET Saturday and Sunday or online at www.cuisinart.com and click on Product Recalls at the bottom of the page for more information on the voluntary recall.
Israeli Health Minister Rabbi Litzman: Drop That Jelly Doughnut
December 12, 2016: The Hamodia and Matzav.com
" After taking on fast food, junk food and chocolate milk, Health Minister Rabbi Yaakov Litzman is targeting another tasty, if high-calorie and unhealthy, snack – the classic sufganiyah, the Chanukah-season doughnut most usually filled with jelly. Now, in the weeks before Chanukah, the doughnuts are everywhere, including schools, offices and stores." Sufganiot are "Fried in cheap oils, the average doughnut contains between 400 and 500 calories. Those are empty carbohydrates that raise blood sugar levels, guaranteeing the eater will hit a sugar high and then sink down – and that s/he will be hungry again within a short period of time."
"According to statistics supplied by the Central Bureau of Statistics and analyzed by the Ministry, 44 percent of Israelis – nearly one out of two – are overweight or obese, and the same is true of 21 percent of first-graders. By seventh grade, 30 percent of kids are overweight. Rabbi Litzman – along with many health professionals – believes that junk food is largely responsible for this situation, and he is considering numerous legislative initiatives to curb consumption of junk food. Among those initiatives are labeling – cigarette pack-style – the packages of snack food to emphasize their calorie and fat level, along with a "health score," to be determined by professionals, which will rank food products on a scale between 1 and 10 (or 1 and 100) on its desirability. The healthier a food – taking into account its nutrient level, calorie, fat, sugar, salt and other factors – the higher a score it will get."
"In the past, Rabbi Litzman said that among the biggest "victims" of junk food was the chareidi public. Children are often "treated" to snacks at Talmud Torahs or shuls after they participate in learning sessions, and that practice needed to stop, or at least to b"e adjusted in order to prompt children to eat more healthily.
Pesticide data report starts new debate cycle on fresh produce
December 9, 2016: The FoodSafetyNews and USDA
The USDA's Pesticide Data Program's (PDP) has been collecting data on pesticide residues in food for 25 years. "The PDP provides reliable data to help assure consumers that the food they feed themselves and their families is safe. Over 99 percent of the products sampled through PDP had residues below the EPA tolerances. Ultimately, if EPA determines a pesticide is not safe for human consumption, it is removed from the market.
The report "shows American-grown fruits and vegetables are safe because pesticide levels are kept below levels permitted by the Environmental Protection Agency (EPA), which has the most stringent restrictions in the world."
"It's a simple consumer message: Fruits and vegetables are good for you and you don't have to pay higher prices for "organics" to get the benefits."
"In 2015, over 99 percent of the samples tested had residues well below the tolerances established by EPA with 15 percent having no detectable pesticide residue."
Residues exceeding EPA levels were found in 54 samples, which is less than 1 percent of all samples tested. One third of the the 54 samples with excessive residues, 18 samples, were from imports, meaning two-thirds of the samples with residues exceeding EPA levels were from the U.S.