The following news story is from Foodmanufacturing.com on January 21, 2013.
The kitchen of the hotel where Pope Francis lives was kashered by Rabbi Yaakov Spizzichirino because Pope Francis hosted a dinner for about sixteen Argentine rabbis who came to Rome from Buenos Aires to visit their old friend. A Rome kosher restaurant Ba'Ghetto catered the dinner.
The following information from yeahthatskosher was posted on January 20, 2013.
The Conference of European Rabbis has established a database of kosher products in Europe. A link to the database can be found here.
The following news is from the bloomberg news on December 20, 2013.
The New York City Council voted on Dec 19th to prohibit restaurants, food carts and stores from selling or providing single-use cups, clamshells and trays, as well as peanut-shaped packing materials, made from a type of thermoplastic petrochemical called expanded polystyrene.
"An amendment gives officials a year to determine whether the substance can be recycled in an "environmentally effective, economically feasible and safe" way. If not, the ban will take effect as passed July 2015."
The following safety alert from the CPSC, on December 18, 2013.

Libbey Glass Inc., Toledo, OH is recalling Bristol Valley Cocktail Glasses with Sheer Rim have been recalled because the glasses can break unexpectedly, posing a laceration hazard. This recall involves Bristol Valley, model 8555SR, cocktail glasses with sheer rims. The glasses are made of clear, colorless glass in a 7.75 ounce cocktail design with a thin rim. The glasses measure about 6¼ inches high, 3¼ inches wide at the base, and 4¼ inches wide at the top. They were sold individually and in 24-piece cartons for commercial users.
Consumers should immediately stop using the recalled glasses and return them to the store where purchased for a refund. Commercial customers should contact Libbey Glass Inc. to arrange for destruction of the product and receipt of a credit, refund or replacement. Consumers can contact Libbey Glass at (800) 982-7063 between 8 a.m. and 5 p.m. ET Monday through Friday or visit the firm's website at www.libbey.com and click on "Product Recall" for more information.
The following health alert is from Barfblog.com on December 16 2013.
Barfblog.com reported that there has been an ongoing Hepatitis A outbreak in Europr that has been linked to frozen fruits. Barfblog reports that the best guesses at this time are that the fruit was from Eastern Europe possibly Poland and were crops that were irrigated with sewage.
The following new story about kosher from Forbes on December 2, 2013.
Laura Faw has written an interesting article "Is Kosher The Next Big Food Trend?" describing food trends in the United States and offers suggestions on how to make this happen and to educate consumers on how kosher products can be useful to them.
The following safety alert from the CPSC, on November 21, 2013.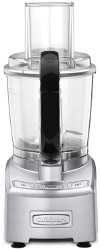 Cuisinart 7-cup food processors have been recalled because the reversible slicing/shredding disc can loosen when in use and the blade can strike and break the food processor's cover. The cover's broken plastic pieces can hit consumers, posing a laceration hazard.
This recall involves nine models of Cuisinart food processors including, MFP-107, MFP-107BC, MFP-107BCWS, MFP-107BK, MFP-107BKWS, MFP-107DCWS, MFP-107MGSLT, MFP-107MR or MFP-107WS. The model number is on the underside of the food processor base. The food processors were sold in white, black, brush chrome, metallic gray, metallic red and silver colors. They have a seven cup plastic work bowl and three push buttons "On," "Pulse" and "Off." Cuisinart is stamped on the front.
Consumers should immediately stop using the recalled food processors and contact Cuisinart to receive a free replacement lid and reversible slicing/shredding disc. Consumer can contact Cuisinart toll-free at (877) 339-2534 from 7 a.m. to 11 p.m. ET Monday through Friday, and from 9 a.m. to 5:30 p.m. ET Saturday or Sunday, or online www.cuisinart.com and click on Recall for more information.
These products were sold at Belk, Best Buy, Dillards, J.C. Penney, Macy's, Sears, Williams-Sonoma and other stores nationwide, and online at Amazon.com and Zappos.com from October 2012 through June 2013 for about $100.
FDA guidance on acrylamide in food at Processing Magazine and FDA posted on November 21, 2013.
The FDA has issued a draft guidance on acrylamide in food. "Acrylamide forms from sugars and an amino acid (asparagine) during certain types of high-temperature cooking, such as frying, roasting, and baking." Acrylamide at higher levels than found in food have been found to cause cancer in laboratory animals.
"Food choice and acrylamide exposure
Acrylamide has been found primarily in food made from plants, such as potatoes, grain products, and coffee. Acrylamide is not typically associated with meat, dairy, or seafood products.
Acrylamide is typically found in plant-based foods cooked with high heat (e.g., frying, roasting, and baking), not raw plant-based foods or foods cooked by steaming or boiling.
Some foods are larger sources of acrylamide in the diet, including certain potato products (especially French fries and potato chips), coffee, and foods made of grains (such as breakfast cereal, cookies, and toast). These foods are all part of a regular diet. However, if you want to lower acrylamide intake, reducing consumption of these foods is one way to do so, keeping in mind that it's best to limit intake of foods that are high in saturated fats, trans fats, cholesterol, salt (sodium), and added sugars. FDA does not recommend reducing intake of healthful grain products (e.g., whole grain cereals) that are a good source of whole grains and fiber."
Food storage and preparation methods to reduce acrylamide exposure
"Comparing frying, roasting, and baking potatoes, frying causes the highest acrylamide formation. Roasting potato pieces causes less acrylamide formation, followed by baking whole potatoes. Boiling potatoes and microwaving whole potatoes with skin on to make "microwaved baked potatoes" does not produce acrylamide.1
Soaking raw potato slices in water for 15-30 minutes before frying or roasting helps reduce acrylamide formation during cooking. (Soaked potatoes should be drained and blotted dry before cooking to prevent splattering or fires.)
Storing potatoes in the refrigerator can result in increased acrylamide during cooking. Therefore, store potatoes outside the refrigerator, preferably in a dark, cool place, such as a closet or a pantry, to prevent sprouting.
Generally, more acrylamide accumulates when cooking is done for longer periods or at higher temperatures. Cooking cut potato products, such as frozen French fries or potato slices, to a golden yellow color rather than a brown color helps reduce acrylamide formation (see Picture A). Brown areas tend to contain more acrylamide.
Toasting bread to a light brown color, rather than a dark brown color, lowers the amount of acrylamide (see Picture B). Very brown areas should be avoided, since they contain the most acrylamide.
Acrylamide forms in coffee when coffee beans are roasted, not when coffee is brewed at home or in a restaurant. So far, scientists have not found good ways to reduce acrylamide formation in coffee."
Information on new FDA Food Code information is at ConsumerFoodSafety.orge and FDA posted on November 21, 2013.
The FDA has issued a new revsion to the Food Code to ensure food is unadulterated and honestly presented when offered to the consumer. "The Food Code represents FDA's best advice for a uniform system of provisions that address the safety and protection of food offered at retail the_code01and in food service, and has been widely adopted by state, local, tribal and territorial regulatory agencies that regulate more than one million restaurants, retail food stores, vending operations and food service operations in schools, hospitals, nursing homes, and child care centers. " The following are major changes:
"Restaurants and food stores must post signs notifying their customers that inspection information is available for review."
"Nontyphoidal Salmonella is added to the list of illnesses that food workers are required to report to their management and that prompts management to exclude or restrict employees from working with food."
"New requirements that better address emerging trends in food establishments such as the use of reduced oxygen packaging methods and the reuse and refilling of take-home food containers."
"Revisions to the minimum cooking temperatures associated with procedures such as non-continuous cooking and circumstances under which bare-hand contact with ready-to-eat foods is permitted."
"Stronger requirements for cleaning and sanitizing equipment used in preparing raw foods that are major food allergens."
The following safety alert from the CPSC, on November 19, 2013.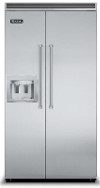 Viking built-in side-by-side refrigerator freezers with in-door dispensers have been recalled because electrical connectors in the refrigerator freezer wiring harness can overheat, posing a fire hazard.
This recall involves Viking 42-inch and 48-inch built-in side-by-side refrigerator freezers with in-door water and ice dispensers. The recalled refrigerator freezers come in a variety of colors, stainless steel or a custom finish. They were manufactured between October 2012 and May 2013 and have the model numbers listed below. The first six numbers in the serial number are the manufacture date of the unit in MM/DD/YY format. Both sizes of refrigerator freezers have a serial number/date code range from 101712 through 052913. The model and serial numbers are located inside the refrigerators on a label on the ceiling behind the light housing.
| | | |
| --- | --- | --- |
| Size | Model Numbers begin with | Color/Finish |
| 42-inch | FDSB5421D | Custom |
| | VCSB5421D | Various colors |
| 48-inch | FDSB5481D | Custom |
| | VCSB5481D | Various colors |
Consumers should immediately turn off and unplug the recalled refrigerator freezers and contact Viking to schedule a free, in-home repair. Theser refrigerators were Sold at Appliance and specialty stores nationwide from November 2012 through May 2013 for between $5,400 and $6,400. The refrigerators were manufacturered by Viking Range LLC, Greenwood, MS.
Consumer can contact Viking toll-free at (877) 266-1086 from 8 a.m. to 5 p.m. ET Monday through Friday, or online at www.vikingrange.com.