The following product safety alert is from the CPSC on February 3, 2015.

The PouchPop™ Topper has been recalled because the tube of the pouch topper that screws onto the food pouch can separate from the round base, posing a choking hazard to young children. The recalled PouchPops are silicone toppers that screw onto a baby food pouch that allow infants to feed themselves. The PouchPops were sold in a four-pack of four colors including green, orange, red and yellow and have a cylinder-shaped tube stem that attaches to a round base. The pouch toppers have a "SipP" logo and smiley face embossed on the circular base.
The firm has received four reports of breaks above the round base of the toppers. No injuries have been reported. Remedy
Consumers should immediately stop using the recalled PouchPop toppers and contact Performance Packaging for instructions on receiving a free replacement product or full refund. This product was sold exclusively at Online at www.Amazon.com, www.littlegreenpouch.com and www.jackbenatural.com from May through September 2014 for about $10.
Consumers can call Performance Packaging toll-free at (844) 560-7227 from 8 a.m. to 4:30 p.m. PT Monday through Friday or go to www.pouchpop.com and click on "PouchPop Product Recall" for more information.
The following product safety alert is from the CPSC on January 21, 2015.

Mean Green® Super Strength Cleaner & Degreaser and Mean Green® Industrial Strength Cleaner & Degreaser have been recalled because the products are labeled |Does not contain Ammonia." The products may contain ammonia. The mislabeling of the bottles can pose a chemical hazard to consumers. If ammonia is mixed with bleach or other household chemicals, irritating or toxic gases could be produced.
The recalled cleaning products came in white plastic spray bottles and white or green plastic containers. The words "Mean Green Super Strength Cleaner & Degreaser" or "Mean Green Industrial Strength Cleaner & Degreaser" are on a label on the front and the UPC number is on the back. The recall involves products with date codes 4225, 4226, 4227, 4228, 4229 and 4230. The date code is printed on the back of the bottle near the QR code. The recalled units include:
| | | |
| --- | --- | --- |
| | Size | UPC |
| Mean Green Super Strength Spray | 20oz | 720547001208 |
| Mean Green Super Strength Spray | 40oz | 720547001406 |
| Mean Green Super Strength | 128oz | 720547001017 |
| Mean Green Industrial Strength | 128oz | 720547001024 |
Consumers who have a product with the UPC and date code should immediately discontinue use of the product and return it to the retailer for a replacement. Products were sold at Dollar General, Dollar Tree, Family Dollar, Fred's, Walmart and small retailers nationwide from August 2014 to November 2014 for between $1 and $8.
Consumers can contact CR Brands toll free at (866) 447-3369 from 9 a.m. to 4 p.m. ET Mondays through Fridays or online at www.crbrandsinc.com and click on Safety Letters for more information.
The following news is from the FoodManufacturing.com on January 15, 2015 and packagedfacts.com on January 1, 2015.
"In the retail sector, sales of gluten-free foods posted an impressive compound annual growth rate (CAGR) of 34% over the five-year period ended in 2014, when market sales reached $973 million, according to market research publisher Packaged Facts in the recently released report Gluten-Free Foods in the U.S., 5th Edition." The data indicate that more than a third of consumers had looked for the gluten-free/wheat free claim on consumer packaging."
"Driving the increased sales of gluten-free products are an escalating prevalence of health problems associated with diet; more and better-quality gluten-free food products and their increasing availability in mainstream retail channels; and favorable rulings on the definition of "gluten free" by the FDA. There is a slight drag on sales among consumers who are disappointed in the benefits derived from a gluten-free diet, although such disappointments are typically the result of misconceptions about gluten-free foods."
Despite the increase in demand, the leadership arena for gluten-free foods is still largely populated by specialty marketers, the vast majority of which compete in the Salty Snacks category. The diversified, multi-national conglomerates that otherwise dominate the food industry at large have only a limited presence in the gluten-free market, although that presence is clearly on the rise.
The following news is from the FoodSafetyTech on January 12, 2015.
Dr. David Acheson who was a former director of the FDA has speculated that they cumin that was contaminated with nut allergins may have been a case of in intentional economic adulteration with someone dding peanut shells or almond husks to ground cumin. This dilutes a product with a high value with a product with no value. "At the time of this writing, a quick Internet search revealed the price of ground cumin to be $3,500 to $4,000 per ton – I don't know if this is a realistic price, but at that price adding 1 percent peanut shells at zero costs is essentially a profit of $350-$400 on a sale of ten tons of ground cumin. Not a bad margin at zero cost for the grinder to put in their pocket."
This has resulted in many recalled products and possible severe health outcome for someone with a peanut allergy.
The following news is from the foodmanufacture.uk on January 12, 2015.
Nutrinsic has developed a protein called ProFloc which is made by bacterial fermentation of food waste. Their initial market is animal feed, but they are planning on seeking approval from the FDA for use in human food.
The following news is from the DNAinfo on January 6, 2015.
Streit's is closing the company's 90-year-old matzah factory on New York's Lower East Side following the Passover baking season in April and shifting all production and their offices to their other facility in New Jersey. Streit's now produces approximately 40 percent of the matzah consumed in the United States.
The following news is from the CPSC on October 23, 2104.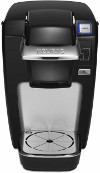 Keurig® MINI Plus Brewing Systems Water have been recalled because can overheat during brewing, spray out and burn consumers.
This recall involves Keurig® MINI Plus Brewing System with model number K10 (previously identified as model number B31). Recalled brewers have an identification number starting with "31" followed by a range of numbers printed on a white sticker on the bottom of the brewer. They are single-serve, hot beverage brewers and were sold in 13 different colors with silver trim. Colors include black, red, white, cobalt blue, aqua blue, purple, platinum, emerald, yellow, orchid, bayberry, mauve and poinciana. The recalled brewers measure about 11 inches tall, have a "Brew" button, three cup size brewing options (6 oz., 8 oz. and 10 oz.), and a removable drip tray. The water tank is located on top of the unit towards the back. K10 is marked on the packaging. Recalled units were produced between December 2009 and July 2014 and can be identified by the serial number printed on a white sticker on the bottom of the brewer:
Keurig MINI Plus Brewing System Serial Number Ranges
31.0000.0000001 through 31.0000.0250560
31.0001.0000001 through 31.0001.0010328
31.0002.0000001 through 31.0002.0081312
31.0003.0000001 through 31.0003.0010328
31.0004.0000001 through 31.0004.0263772
31.0014.0000001 through 31.0014.0001250
31.0015.0000001 through 31.0015.0001250
31.1000.0000001 through 31.1000.0015984
31.1002.0000001 through 31.1002.0002664
31.2000.0000001 through 31.2000.1977238
31.2001.0000001 through 31.2001.0174310
31.2002.0000001 through 31.2002.0745280
31.2003.0000001 through 31.2003.0055668
31.2004.0000001 through 31.2004.1156585
31.2015.0000001 through 31.2015.0081287
31.2017.0000001 through 31.2017.0047310
31.2019.0000001 through 31.2019.0117035
31.2020.0000001 through 31.2020.0019028
31.2021.0000001 through 31.2021.0076016
31.2022.0000001 through 31.2022.0022444
31.2030.0000001 through 31.2030.0032028
31.2031.0000001 through 31.2031.0042714
31.2033.0000001 through 31.2033.0018685
31.2034.0000001 through 31.2034.0016074
31.2035.0000001 through 31.2035.0013366
31.3000.0000340 through 31.3000.1524059
31.3001.0000001 through 31.3001.0021252
31.3002.0000001 through 31.3002.0510030
31.3004.0000001 through 31.3004.0016532
Consumers should contact Keurig for a free repair. While waiting for a free repair, consumers can contact Keurig about steps to avoid a burn injury.
The recalled items were sold at Kmart, Kohl's, Target, Walmart and other retailers nationwide, and online at www.keurig.com, www.greenmountaincoffee.com and www.keurig.ca from December 2009 through December 2014 for about $100.
Consumer Contact is Keurig Green Mountain at toll-free at (844) 255-7886 Monday through Friday from 8 a.m. to 8 p.m. ET, and from 8 a.m. to 3 p.m. ET on Saturday or Sunday or online at www.keurig.com and click on "Product Recall" for more information.
The following news is from liebertpub.com on December 18, 2014.
A microbiological study of raw "organic" or "antibiotic-free" or conventional chicken breasts purchased at grocery stores found that "commonly contaminated with enteric pathogens associated with foodborne illness and commensal bacteria harboring genes conferring resistance to critically important antimicrobial drugs."
The following news is from Barfblog on December 14, 2014.
"The $35 billion U.S. organic-food industry has nearly tripled in size in the past decade, challenging the Agriculture Department's ability to monitor the more than 25,000 farms and other organizations that sell organic crops and livestock."
"There are currently 81 accredited 'certifying agents,' or groups that stamp food as organic in the U.S. But of the 37 that had a complete review this year, 23 were cited for failing to correctly enforce certification requirements on farms in audits, according to an internal Agriculture Department report. The 23 firms didn't properly conduct onsite inspections or correctly review applications for organic certification."
A Wall Street Jounal investigation found that "40% of these 81 certifiers have been flagged by the USDA for conducting incomplete inspections; 16% of certifiers failed to cite organic farms' potential use of banned pesticides and antibiotics; and 5% failed to prevent potential commingling of organic and nonorganic products."
---
The following news is from Foodmanufacturing.com on December 10, 2014.
"For a farm to be certified as "organic," it must comply with the Organic Foods Production Act of 1990 and the USDA National Organic Program (NOP) rules and regulations. 7 U.S.C. § 6501 et seq.; 7 C.F.R. Part 205. An operator who makes a false statement or knowingly sells or labels a product as organic that does not comply with the Organic Foods Production Act of 1990 or the NOP regulations may be subject to criminal prosecution and fined up to $10,000 per violation." The govenment is also using criminal prosecution as a tool. "Criminal prosecutions generally receive significant press attention and have a strong deterrent effect, which could make them a powerful tool for ensuring the integrity of organic food labels." Companies must ensure their supply chain and if they see a problem, contact the appropriate authorities and seek restitition.
The following news is from Foodnavigator.con on December 15, 2014.
Mintel has reported that "Non-GMO, Kosher, gluten-free, ethical, environmentally-friendly, lactose-free, vegan, no additives/preservatives, and on-the-go claims are all gaining more traction on US food labels; while growth in 'all-natural'- antioxidant- and low/no/reduced sugar/sodium/fat claims has been pretty flat over the past six years.
Mintel found that the label mention of kosher was 2014 (40.6%), 2013 (36.3%), 2012 (26.8%), 2011 (27.4%), 2010 (29.3%), 2009 (26.6%). This was the highest label claim. They found that vegan or no animal ingredient claims are low but on the rise.