Don't be a turkey, practice food safety for Thanksgiving meals (and other meals)
November 20, 2017 from FoodSafetyNews
"Proper handling and cooking can prevent foodborne illness from spoiling a table of food, family, friends, and fun. Tips and tricks for a successful turkey day aren't just for the kitchen."
Traveling: "Do not drink water, coffee, tea or anything with ice on a plane. In an Environmental Protection Agency study, one in eight planes do not meet water safety standards." "Do not eat directly off the tray table." Tray tables house almost 10 times more bacteria than the flusher for the toilet."
""Research shows that washing meat or poultry can splash bacteria around your kitchen by up to 3 feet, contaminating countertops, towels and other food." The only way to eliminate bacteria is to cook your turkey to the correct internal temperature."
"The turkey's temperature should be taken in three areas to make sure the entire bird is done: the thickest part of the breast, the innermost part of the wing and the innermost part of the thigh. All three of these locations must reach 165 degrees F."
"All perishable foods should be tossed after sitting out for longer than two hours at room temperature. After two hours, these foods reach the "Danger Zone" of temperatures between 40 degrees and 140 degrees where bacteria multiplies the quickest."
Germany consumed more UCO biodiesel last year than RME
November 6, 2017 from Biodiesel Magazine
Germany's Office for Agriculture and Food (BLE) has said that "for the first time, consumption of biodiesel from used cooking oil (UCO) in Germany exceeded that of rapeseed biodiesel (RME). The total consumption of waste oil biodiesel in 2016 was approximately 868,000 metric tons (more than 260 million gallons) while use of rapeseed biodiesel topped off at 860,000 tons."
Ed. note: Biodiesel is produced from waste cooking oils and is traife. A bi-product is glycerin which may end up being used in foods.
Allergic Reaction: Allergens Cause Dangerous Spike In FDA Recalled Food Units In Q3
"Recalled FDA food units increased 19 percent to 106.6 million in the third quarter of 2017 — higher than 20 of the last 22 quarters — and public health risks rose sharply due to a spike in undeclared food allergens found in food products, according to the Q3 2017 Recall Index from Stericycle Expert Solutions."
"Of the FDA recalled food units in Q3, 95.6 percent were considered Class I threats – the most serious health-threatening classification. Nearly all (96.9 percent) of the recalled units were because of undeclared allergens, which have been a consistent cause of all food recalls (38.9 percent) for the last four quarters. The top allergens from Q3 2016 through Q3 2017 were milk, followed by nuts, soy, and wheat. The number of pounds of food recalled by the USDA dropped (by 27 percent) but allergens accounted for 62.5 percent of recalls."
Knesset Debates Complaints that Restaurants Employing Olim Lose Kosher Certification
November 9, 2017 from the JewishPress:
"The Committee on Immigration, Absorption and Diaspora Affairs on Tuesday heard complaints that kosher certifications of restaurants are being revoked because they employ new immigrants."
"It is illegal to discriminate against anyone in employment, school, wages, or kosher certification, regardless of whether the person is a new immigrant or a long-time resident of Israel"
"According to Amichai Kreiger, head of the Chief Rabbinate's Kashrut Fraud Division, the Jewishness of an employee in the food industry affects the measure of kashrut at the place of business. There are many non-Jewish workers in the food industry, and those who do not prepare food need not be Jewish. These procedures are anchored in regulations that were approved by the Knesset in 1988 in the framework of the Law Against Kashrut Fraud, way before the immigration from the Commonwealth of Independent States."
"Jerusalem Religious Council Chairman Yehoshua Yishai said, "According to the Halacha, only the person who cooks the food must be Jewish; the other workers do not have to be Jewish. "
Can frozen cod be just as good as fresh?
November 7, 2017: The FoodIngredientsFirst:
"New research reveals that frozen cod can be just as good as fresh, as long as it is handled properly. On average it takes three days for a fresh cod to reach most sales counters. And for both retailers and customers, a three-day-old fresh fish is stretching it a bit. However, if the fish is frozen on board the vessel and thawed properly before it reaches the sales counter, its quality can be just as good as if it had never seen the inside of a freezer. "
The following factors should be done for an optimal product:
"Firstly, the fish must be frozen as soon as they are hauled on board the fishing boat. In other words, they must be frozen on the vessel before rigor mortis sets in."
"The fish must then remain frozen at a stable and low temperature for the entire time leading up to thawing. There can be no interruptions in what researchers call the 'cooling chain.'"
"Thawing itself must then take place immediately before the fish are put on sale, and carried out in water under controlled conditions. If air bubbles are added to the water, the quality of the cod will be even better."


Researchers now recommend that fish should not be thawed for longer than 28 hours at 10 degrees C..
Study Reveals Contaminants in Baby Foods
November 3, 2017: The FoodQualitySafety:
"A new study by Clean Label Project, a national non-profit that analyzes consumer products for the purposes of public education, found that more than 25 percent of 500 infant formulas and baby foods it tested exceed state or federal safety guidelines. Lead, arsenic, mercury, bisphenol A (BPA), and acrylamide were among the contaminants."
"More than 35 percent of baby food products tested contained quantifiable levels of lead, a statistic more than 40 percent higher than the recent Environmental Defense Fund summary report of products published in June."
"One in 10 tested products contained acrylamide, a neurotoxin and carcinogen. And over half of the products contained some level of arsenic. As many as one-third of the more than 500 products tested exceeded at least one state or federal guidance level."
"While BPA was found in less than 5 percent of tested samples, the most interesting finding was that in 60 percent of BPA cases, the product in question made an on-pack claim of being BPA-free."
"To prevent future contamination, the onus is on brands to do their own proactive due diligence before sourcing ingredients."
Pesticide report shows no residue on 50% of U.S. food tested
November 7, 2017: The FoodSafetyNews:
"The annual analysis of pesticide residues in domestic and imported foods, with the results for fiscal year 2015 showing 98 percent of tested foods produced in the United States do not violate federal limits."
"Of the 835 domestic food samples tested from 39 states, almost half, 49.8 percent, were completely free of pesticides for the period from Oct. 1, 2014, through Sept. 30, 2015, according to the annual report released Monday by the Food and Drug Administration."
"Fifteen of the U.S. food samples had pesticide residues in excess of the legal limits, representing less than 2 percent of the domestic samples tested. The remainder of the samples of U.S. foods had residues within allowable levels. Fruits and vegetables accounted for 58.7 percent of domestic samples."
"The FDA analyzed 4,737 from 111 foreign countries during FY 2015. Of those samples, 444, or 9.3 percent, had pesticide residues in excess of allowable limits. Overall, 90 percent of the foreign foods tested were within allowable U.S. limits."
"However, the imported foods did better than U.S. foods tested in terms of being completely free of pesticide residues, with 56.8 percent of them in that category."
"'"Historically, the violation rate of import samples is 3 to 5 times higher than the rate for domestic samples. For example, from FY 2011 to 2014 the violation rate for domestic samples ranged from 1.4 percent to 2.8 percent, whereas the rate for import samples ranged from 7.1 percent to 12.6 percent.'"
---
Nearly half of British foods contain pesticide residue
November 3, 2017 - New Food Magazine:
"A report analysing 3,448 samples of British produce has found traces of pesticides on 48 per cent of them." Expert Committee on Pesticide Residues in Food (PRiF) "tested 3,450 samples of 41 different food types, finding residues in 47.86 per cent of them – with 3.22 per cent registering above the maximum recommended level (MRL)."
"Food from outside the UK proved to be more likely to contain traces of pesticides with 53.46 per cent of the 1,719 samples testing positive. Of the 1,729 food products from inside the UK, that figure stood at 42.26 per cent."
By percentage of products containing pesticides Bread, breakfast cereal and grapes were the worst offenders.
"By percentage of samples tested, cumin was the most likely to have a residue level above the MRL. Twelve of the 24 samples analysed showed signs of pesticide traces. Other notable products that frequently exceeded the MRL included: buffalo, ewe and goat cheese (11 per cent); rye four (21 per cent); beans with pods (24 per cent); and okra (26 per cent)."
Is 'Natural Flavor' Healthier Than 'Artificial Flavor'?
November 3, 2017: NPR:
Most processed foods have either natural or artificial flavors. "The U.S. Food and Drug Administration defines "natural flavor" as oils, resins or other extracts derived from natural sources like plants, meat or seafood. Processes like heating or fermentation are used to extract the flavor. The function of these products is flavoring, not to add any nutritional content."
"The food industry does this on a massive scale — scientists find the chemical responsible for a specific flavor in nature, extract it, and then add it to candy, beverages and throngs of other processed products."
"When consumers see "natural flavor" on a beverage label, they shouldn't assume that someone is zesting oranges into their bottle, says Mattel. Even though natural flavor must come from natural sources, it need not all come from the plant or meat whose flavor is being mimicked. For example, orange flavor might contain not only orange extract, but also extracts from bark and grass." This is done for availablity, cost, flexibility and to produce a particular desired flavor.
"Ultimately, natural and artificial flavors are not that different. While chemists make natural flavors by extracting chemicals from natural ingredients, artificial flavors are made by creating the same chemicals synthetically." "The reason companies bother to use natural flavors rather than artificial flavors is simple: marketing."
"In some cases, natural flavors may have more detrimental environmental consequences than artificial flavors. Mattel explains that because natural flavors must come from resources in nature, they may involve more forest clear-cutting and carbon emissions from transport than flavors created from scratch in the lab."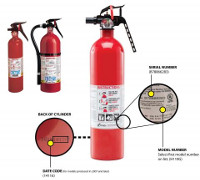 Kidde Recalls Fire Extinguishers with Plastic Handles Due to Failure to Discharge and Nozzle Detachment: One Death Reported
November 2, 2017: The CPSC in conjunction with Healthy Canadians:
Kidde fire extinguishers with plastic handles have been recalled because the fire extinguishers can become clogged or require excessive force to discharge and can fail to activate during a fire emergency. In addition, the nozzle can detach with enough force to pose an impact hazard.
This recall involves two styles of Kidde fire extinguishers: plastic handle fire extinguishers and push-button Pindicator fire extinguishers.
List of recalled models is here.
Plastic handle fire extinguishers: The recall involves 134 models of Kidde fire extinguishers manufactured between January 1, 1973 and August 15, 2017, including models that were previously recalled in March 2009 and February 2015. The extinguishers were sold in red, white and silver, and are either ABC- or BC-rated. The model number is printed on the fire extinguisher label. For units produced in 2007 and beyond, the date of manufacture is a 10-digit date code printed on the side of the cylinder, near the bottom. Digits five through nine represent the day and year of manufacture in DDDYY format. Date codes for recalled models manufactured from January 2, 2012 through August 15, 2017 are 00212 through 22717. For units produced before 2007, a date code is not printed on the fire extinguisher.
Note: This recall includes fire extinguisher models that were previously recalled in March 2009 and February 2015. Kidde branded fire extinguishers included in these previously announced recalls should also be replaced. All affected model numbers are listed in the charts above. Recall information for fire extinguishers used in RVs and motor vehicles can be found on NHTSA's website.
Sold At: Menards, Montgomery Ward, Sears, The Home Depot, Walmart and other department, home and hardware stores nationwide, and online at Amazon.com, ShopKidde.com and other online retailers for between $12 and $50 and for about $200 for model XL 5MR. These fire extinguishers were also sold with commercial trucks, recreational vehicles, personal watercraft and boats.
Consumers should immediately contact Kidde to request a free replacement fire extinguisher and for instructions on returning the recalled unit, as it may not work properly in a fire emergency.
Consumer Contact: Kidde toll-free at 855-271-0773 from 8:30 a.m. to 5 p.m. ET Monday through Friday, 9 a.m. to 3 p.m. ET Saturday and Sunday, or online at
www.kidde.com
and click on "Product Safety Recall" for more information.
Surprise! Shoppers Are Confused About Food And GMOs
October 30, 2017 from Forbes.com:
"Two new surveys come to the same conclusion: The average American shopper is clueless when it comes to having an understanding of what is a genetically modified organism (GMO)"
"A new nationally representative Food Literacy and Engagement Poll ― which is part of Food@MSU, a new initiative based in Michigan State University's College of Agriculture and Natural Resources ― finds more than one-third of Americans do not know that foods with no genetically modified ingredients contain genes. Forty-six percent of poll respondents either don't know whether they consume GMOs or believe they rarely or never do. The other major surprise in the survey is that most of the people who stated this incorrect answer were young and affluent, and described themselves as having a higher-than-average understanding of the global food system."
A study was conducted by the University of Florida Institute of Food and Agricultural Sciences and Purdue University. The "national survey of 1,132 respondents, found that respondents would pay 35 cents more for apples that were labeled "Non-GMO Project" and 40 cents more for those labeled "USDA Organic," there was a frightening finding: When it came to granola bars, the same respondents were willing to pay 35 cents more for a box of 12 bars that were labeled "Non-GMO Project" and 9 cents more for a box marked "USDA Organic."
"Genetically modified material is not allowed in food labeled 'USDA Organic,' while 'Non-GMO Project' means the food has no more than 0.9% GM characteristics."