THIS SECTION IS FOR NEWS AND INTERESTING STORIES RELATED TO FOOD, NUTRITION AND FOOD PROCESSING. THEY ARE NOT NECESSARILY RELATED TO KOSHER BUT MAY BE OF INTEREST TO THE KOSHER CONSUMER, MANUFACTURER OR MASHGIACH.
Rabbi Eliyahu Iluz Assumes Responsibility for Israeli Chief Rabbinate's Nationwide Kashrus
February 14, 2017: The YeshivaWorld:
"hief Rabbi Dovid Lau Shlita has been in charge of the Rabbinate's "nationwide kashrus" but signaled he cannot sign teudot kashrus in cases in which he does not have firsthand knowledge of the factory. The decision was made to place the responsibility in the hands of another, and after phone polling members of the Chief Rabbinate Council, Chief Rabbi of Ohr Akiva Rabi Eliyahu Iluz was approved." The Israeli Chief Rabbinate provides certification in areas where there is no local council and to Ben-Gurion airport.
International Olive Oil Prices Surge
February 10, 2017: The Bloombergand Specialtyfood.com
Poor weather in Spain and Italy have reduced olive oil output, which as increased prices internationally. In the United States, the strong dollar has reduced prices for consumers.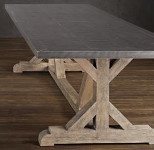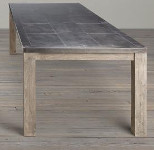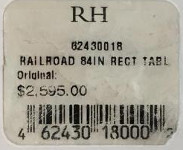 Restoration Hardware Recalls Metal Top Dining Tables Due to Risk of Lead Exposure
February 10, 2017: The CPSC
Restoration Hardware Inc., of Corte Madera, CA is recalling metal top dining tables because the table's metal top can contain lead and presents a risk of lead exposure to children. Lead is toxic if ingested and can cause adverse health effects.
This recall involves Restoration Hardware's Railroad Tie & Parsons Railroad Tie dining tables. The recalled tables are round or rectangular with thin sheets of zinc/dark gray color metal on the table tops. The item number is printed on a white sticker underneath the tabletop. Tables with the item numbers listed here are included in this recall.
Incidents/Injuries: Restoration Hardware has received reports of elevated blood lead levels in four children in two homes where a recalled table was present. One incident involving two children occurred in Cranston, R.I. and another incident involving two children occurred in Beverly Hills, CA.
Consumers should immediately stop using the recalled tables, cover the tables and place the table out of the reach of children and contact Restoration Hardware to receive a free replacement table or a full refund.
Consumer Contact: Restoration Hardware toll-free at 888-728-8419 from 8 a.m. to 5 p.m. PT Monday through Friday or online at www.restorationhardware.com and click on Safety Recalls at the bottom of the page for more information.
CANCELLED: Pesach Program Forced to Terminate After Hotel Refuses to Deactivate Sensors for Shabbos
February 9, 2017: from Matzav.com:
The Dolce Hotel and Conference Center in Basking Ridge, NJ's refusal to properly disable its motion sensors has forced a popular Pesach program to cancel its plans due to halachic concerns. This hotel recently installed motion and RF sensors in all their sleeping rooms which program organizers were told would be a clear violation of Shabbos and Yom Tov. The Dolce refused to accommodate requests by the Tennenbaums to disengage the system, claiming that none of their other kosher groups were bothered by it.
"Sensors control all amenities in a hotel room, such as lights and heat. When the door closes and no motion is detected, these amenities are shut in order to save money. As soon as the door is opened, before the door is even fully extended, all amenities return to the state in which they were left. Most systems have a VIP override for individual rooms and a full override for the entire hotel that disables the system."
Israeli Police Confiscate 6 Tons of Illegally Slaughtered Meat
February 3, 2017: The YeshivaWorld:
"Police and inspectors of the Ministry of Agriculture and veterinary services confiscated six tons of illegal slaughter, which was taken to be destroyed. The operation took place on Wednesday, 5 Shevat, in Tamra. The owner of the establishment, 31, a local resident, was taken for questioning."
"5.5 tons were apprehended in Tamra and another half-ton in nearby villages. Ads By Artscroll: Click Here!
"Tamra is an Arab city located in the lower Galil, about 20km east of Akko."
Exploring the legal status of edible insects around the world
February 1, 2017: From Food Navigator:
This article reports on how insects in food are regulated around the world. The major differences are in Aglo-Saxon countries including the US, non-English speaking countries and non-Western countried.
Robot Barista Serves Quick Cappuccinos at Cafe X

January 31, 2017: From PC Magazine:
"Cafe X Technologies on Monday opened its first robotic coffee bar in the US, promising speedy specialty brews." "The robot arm prepare the drink—grabbing a cup, initializing pouring, waiting patiently for final delivery."
USDA Strengthens Rules for Organic Livestock and Poultry, Ensures Fairness for Organic Producers and includes Religious Slaughter
January 19, 2017: From FSIS and Halalfocus.net and USDA:
The USDA has published final regulations on how Organic Livestock and Poultry need to be handled. As part of the regulation they are allowing religiously slaughtered animals to be labeled as organic.
Ritual Slaughter: "The final rule adds the term "ritual slaughter" and references the definition in the Humane Methods of Slaughter Act (7 U.S.C. 1902(b)). This Act defines ritual slaughter as "slaughtering in accordance with the ritual requirements of the Jewish faith or any other religious faith that prescribes a method of slaughter whereby the animal suffers loss of consciousness by anemia of the brain caused by the simultaneous and instantaneous severance of the carotid arteries with a sharp instrument and handling in connection with such slaughtering. Organic livestock and handling operations may use ritual slaughter to convert their livestock to meat or poultry without loss of organic status."
A New Study Finds Mislabelled Fish
January 11, 2017: From TechnologyNetworks:
"A new study from researchers at UCLA and Loyola Marymount University checked the DNA of fish ordered at 26 Los Angeles sushi restaurants from 2012 through 2015, and found that 47 percent of sushi was mislabelled. Salmon was found to be mislabelled one in 10 times, and out of 43 orders of halibut and 32 orders of red snapper they were all a different kind of fish. A one-year sampling of high-end grocery stores found similar mislabelling rates."
"The fraud undermines environmental regulations limiting overfishing, introduces unexpected health risks and interferes with consumers' decisions. Over the four-year study, only bluefin tuna was always exactly as advertised. Different kinds of tuna occasionally swapped places, including samples of species classified as endangered and critically endangered. Out of nine orders of yellowfin tuna, seven were a different kind of tuna. Salmon had 6 of 47 orders going awry. However, all halibut and red snapper orders failed the DNA test, and in 9 out of 10 cases, diners ordering halibut were served flounder. About 4 in 10 halibut orders were species of flounder considered overfished or near threatened."
"While some mislabelling could be unintentional, fraud could also result from the desire to skirt environmental regulations or the ability to sell a cheaper fish as a more expensive product." "New federal regulations governing monitoring of seafood imports went into effect Jan. 9 to address the problem. "
Bought Blue Diamond Almond Breeze or Nut-Thins? You may be eligible for settlement
January 17, 2017: From Al.com:
"Blue Diamond, maker of Almond Breeze and Nut-Thins, has settled a class action lawsuit over claims it advertised the products as "all natural" or "natural" even though they actually contain synthetic agreements. The suit also questioned how much almonds actually went into Almond Breeze, a plant-based alternative to traditional dairy milk."
"The class action suit claimed Almond Breeze advertised itself as being made "from almonds" when in fact the nuts made up only a small portion of the ingredients. An analysis by Food Navigator-USA showed the exact amount of almonds in Almond Breeze was about 2 percent, with the rest being made up of water, sugar, carrageenan (a seaweed-based ingredient widely used for thickening), and sunflower lecithin. Other brands of almond milk contain about 30 percent, the suit claimed."
"The settlement doesn't include an admission of wrongdoing by California-based Blue Almond."
"Blue Diamond has agreed to change its advertising and packaging and pay a $9 million settlement. A portion of the money will go towards payments for anyone who purchased the Blue Diamond Almond Breeze and/or Blue Diamond Nut-Thins products from May 28, 2009 to Nov. 18, 2016."
"Claimants are eligible to receive refunds of up to $20 - $10 for those without a receipt, $20 for those who can prove they bought the items."
"The deadline for claims is April 13." Information on settlement.